When:
October 16, 2021 2:00 PM @ 2:00 PM – 6:00 PM
2021-10-16T14:00:00-05:00
2021-10-16T18:00:00-05:00
Where:
Towne Center Park
200 Laurence Dr.
Heath
TX 75032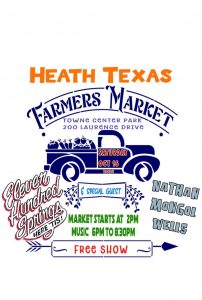 The original, one and only Heath Farmers Market is back this fall, once again bringing Heathens safely together in the beautiful, wide-open spaces at the heart of our city, in Town Center Park.
Come meander down the path, dotted with superb makers, bakers, farmers, and ranchers, with a bounty of delightful offerings for every age, one to a hundred. Find fall memories easy to make with friends and family at this community staple, play yard games, sit a spell in the fall breezes and porch-style lounges.
Come and go or stay all day, as you won't want to miss this season's free Heath Farmers Market Concert Series, where once again, outstanding music will fill The Field, and friends and families can sip and snack, or even supp picnic style – tote your own or enjoy brats, tacos, jambalaya, and more, plus cold beer, fine wine, and tea of every type.
Sway and dance the sun to sleep to under Heath's gorgeous slice of sky. The Heath Farmers Market is, after all, a love song to you, our dear community. All are invited, everyone is welcome.
Exclusive Five Market Run
Each Saturday, October 16 through the Grand Finale, November 13, featuring a fireworks display!
Market Hours: 2 – 6 p.m.
Concert Hours: 6 – 8 p.m.
(except October 30, which is RHHS Homecoming)
October 16 Opening Day Concert
Eleven Hundred Springs with Special Guest, Nathan Mongol Wells.