When:
September 25, 2021 12:00 AM
all-day
2021-09-25T00:00:00-05:00
2021-09-26T00:00:00-05:00
Where:
Harry Myers Park
901 E Washington St.
Rockwall
TX 75087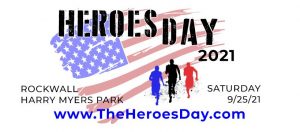 The community is invited to join Rockwall County first responders on Saturday, Sept. 25 for a full day of family fun in the park – a special event to celebrate our local heroes and thank them for their service and sacrifice.
The Heroes Day event on Sept. 25th kicks off with a 5K race, with proceeds benefiting scholarships for the next generation of first responders. A Little Heroes Marathon is underway, in which children 13 and younger sign up to run 25 miles on their own time between now and race day. Then at the event, kids will complete their last 1.2 miles to earn a marathon medal. Heroes Day will also feature field day activities that allow kids to step into the shoes of a firefighter, police officer, and paramedic.
Teams are currently registering for an officially sanctioned cornhole tournament that will take place at the event, sponsored by Texas Cornhole League.
A three part, timed competition will determine who's the fittest – police, fire, EMT, or the general public? Participants will compete in a firefighter challenge, a police officer challenge, and general fitness test. The individual that completes all three challenges the fastest will leave with an epic grand prize.
Food trucks, live music and bounce houses will add to the family festivities. Rounding out the day will be a Movie in the Park.