When:
October 15, 2021 12:00 AM – October 17, 2021 11:59 PM
all-day
2021-10-15T00:00:00-05:00
2021-10-18T00:00:00-05:00
Where:
Rockwall Golf & Athletic Club
2600 Champions Dr.
Rockwall
TX 75087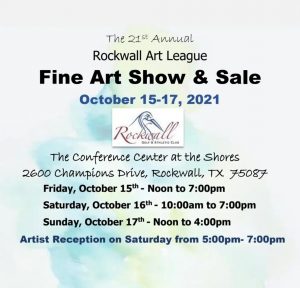 The Rockwall Art League Fine Art Show & Sale is one of the signature events of the year. It celebrates contemporary art in a variety of mediums. Now more than 20 years since its inception, the show continues to showcase regional artists and provide art collectors a wonderful venue to purchase art for their homes and businesses.
​
The exhibition will run in the Community Room at Rockwall Golf & Athletic Club from October 15-October 17, 2021, and will also be featured in a digital online gallery.
Schedule
Friday, Oct. 15 – 12 p.m.  to 7 p.m.
Saturday, Oct. 16 – 10 a.m. to 7 p.m.
Sunday, Oct. 17 – 12 p.m. to 4 p.m.
A public Opening and Awards Presentation will be held Saturday, October 16, 2021 from 5:00-7:00pm, and is open to the public.
PRIZES
$2700 in prize money will be awarded to the winning artists this year! In 2021, prizes will be as follows:
​
Best in Show $500
1st in each category $200
2nd in each category $100
People's Choice Award $100
Categories include: Oil, Acrylic, Drawing, Watercolor, Photography/Digital Art, Sculpture, and Mixed Media