(ROCKWALL, TX – March 22, 2016) After meeting its cookie sales goal, Girl Scouts of Northeast Texas Troop 7780 enjoyed a fun and educational tour of the vast Black Star Sport Horses equestrian facility (5565 FM 549) on Tuesday, March 22. The girls delighted in learning all about caring for horses on the sprawling 250+ acreage at Black Star, getting to groom and ride the horses inside Black Star's large arena.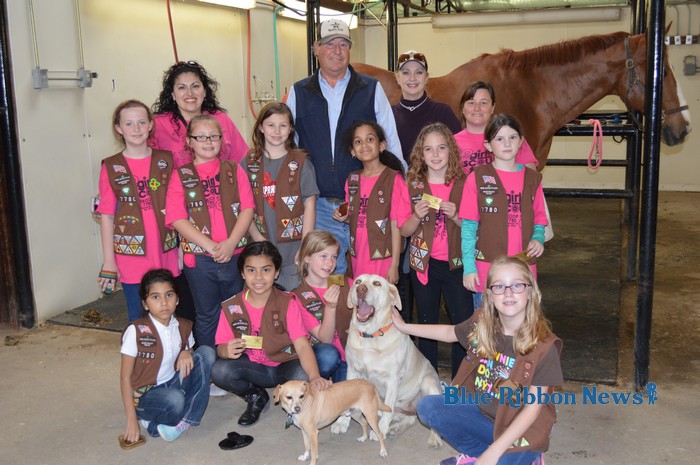 GS Troop 7780, led by Scout Leader Patricia Mojica and Scout Co-leader Christine Durham, surpassed its cookie sales goal by nearly 400 boxes, selling a grand total of 2,716 boxes of cookies. The troop split the funds made from the sales in three ways: giving back to the community, supporting the needs of the troop and a fun activity for meeting their cookie sales goal.
"This year the girls wanted to go horseback riding," Patricia said. "I called Black Star Sport Horses and owners Jackie and Lisa welcomed us with open arms!"
Black Star Sport Horses is a full service training, show and sales dressage facility offering riding lessons for all ages and skill levels, equestrian facility consulting and general contracting. The facility consists of a 14-stall training barn, a 40+ stall boarding barn and a 2.5-acre indoor arena with cushion footing.
Here's what some of the girls had to say about their visit to Black Star:
"The horses were so gentle and my favorite thing to do was ride. I liked the English and Western saddles." – Emersen Kelly
"I love Black Star Sport Horses because they teach horses impressive moves and they groomed them really pretty with braids in their hair. When I grow up I want to compete there!" – Ava Mojica
"We got to learn about the different kinds of horses. I learned how to groom the horse and had to pick up after them. My favorite part was getting to ride the horses with two different saddles." – Leah Bell
"I really had fun and I hope we could do that again! We got to see lots of horses and learn about the horses, I got to ride them and brush them and clean them. We got to learn about other horses that were there. I hope that we can do it again and then I can come with my family and they can learn about horses, too! We got to play and I think it's really cool to learn about them." – Madison Dilley
"Loved riding the horses and learning about horses." Madison Reggia
"It was a great experience riding a horse for the first time for me and learning more about horses. It was a great reward for selling 240 boxes of cookies."  Mia Flores
The girls had the opportunity to pet and brush the horses, use a hook pick to clean their hooves, and learn the difference between English versus Western riding. They were even treated to a display of tricks courtesy of one of Black Star's beautiful Friesian horses.
"We are so grateful for all the trainers at Black Star for hosting a learning workshop for us at their equestrian facility," Patricia said. "The girls truly enjoyed this learning experience and will remember it forever. We hope to visit them again soon for a dressage competition."
Around 10 percent of the profits from Troop 7780's cookie sales went towards helping with the December tornado relief effort, as well as a donation of two birthday gift bags (valued at $50 each) for a K-6th grade boy and girl from the troop's school, Springer Elementary, who didn't have funds to celebrate their birthday. The troop went shopping and filled the bags with cake mixes, candles, party décor, games, crafts, and toys.
Since the girls will be promoted to Junior Scouts at the end of May, part of the cookie sales funds also went towards purchasing their new Junior uniforms.
To find out more about Rockwall Girl Scouts visit su170.org.
For more information about Black Star Sport Horses, visit blackstarsporthorses.com.
Story and photos by Austin Wells, Blue Ribbon News editor.
Your #1 source for positive hometown stories, entertainment and events.
Our print edition is delivered free to 18,000+ homes in Rockwall and Heath, TX.
To share your good news and events, email editor@BlueRibbonNews.com.
For advertising inquiries both online and in print, call 214-342-8000 or email advertising@BlueRibbonNews.com.
Download the FREE Official Rockwall Area App for Apple iPhone or Android.