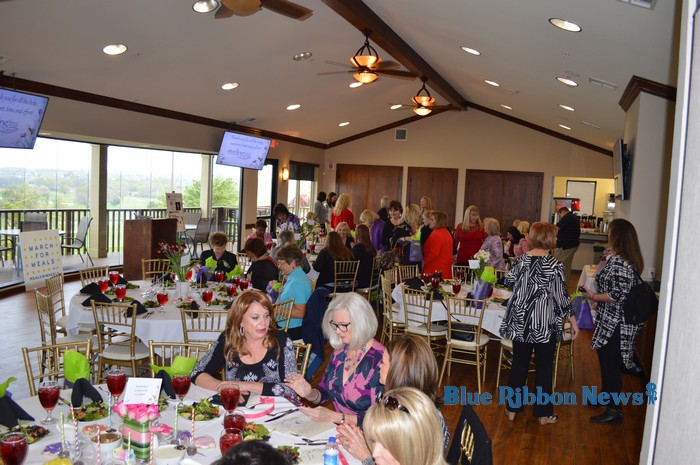 (ROCKWALL, TX – March 18, 2016) Attendees of the 3rd Annual Meals On Wheels Senior Services of Rockwall County (MOWSS) Gardening Tea Luncheon on Thursday, March 18, learned some interesting facts about the second most popular beverage in the world – tea.
MOWSS welcomed Sterling Tea Gallery owner Brenda Meyers as the keynote speaker for the event which took place at the Rockwall Golf and Athletic Club (2600 Champions Dr). Guests enjoyed a wonderful meal and some refreshing teas provided by the Sterling Tea Gallery, including an iced Maui Breeze herbal tea containing hibiscus, rosehip, coconut and pineapple flavors, and a few hot varieties – apricot peach oolong tea and vanilla spice rooibos tea.
Meyers began her presentation by distinguishing the difference between high tea and low tea. Many, many years ago when workers would return from a hard day's work in the fields, weary and starving, they would sit down to a large meal. This meal was known as high tea. At low tea, light refreshments are served on low tables (hence the name) in a relaxing social environment usually in the early afternoon.
Tea was discovered over 5,000 years ago by the legendary Chinese emperor and herbalist Shennong, and is the most popular beverage worldwide next to water. According to Meyers, the popularity of tea in the U.S. has steadily been on the rise, with around 3.6 billion gallons of tea served in the country in 2014.
Tea comes in several varieties, depending on where it's processed. China and Japan produce mostly green, black and oolong tea, India mostly black tea, Taiwan mostly oolong tea and Sri Lanka Ceylon black tea.
"Whether it's black or green tea, it all comes from the same plant – the Camellia Senensis plant," Meyers said. "So they're really all the same tea, they're just processed differently."
When brewing white tea, Meyers said to steep it in low temperature water for about two to three minutes in order to create a nice golden brew that is creamy and very light. She warned that steeping white tea in higher temperature water for longer will make it taste bitter.
Meyers said white tea is considered the champagne of tea and is the most expensive tea – for good reason.
"When you buy it you're getting a lot for your money, because one ounce of white tea is like three ounces of black tea," Meyers said. "All they do is they pluck the leaf so it's in its most natural form, steam it and dry it. So they're not really messing with it too much."
Green tea is mostly harvested in Japan and China, and is either steamed or pan fired. Steaming green tea produces a grassy more vegetable-like look and taste, where pan fired gives a nuttier taste. Green tea will be golden green and gets stronger the longer it sits in a cup, until it eventually looks like black tea.
Black tea looks very different depending on the region where it's processed. To make black tea, the tea leaf is plucked, broken and the cells of the leaf then exposed to hot air to turn the leaf black. Black teas need to be steeped in higher temperature water (below boiling) for three to five minutes. Steep it less time for a less bitter taste.
"When you're drinking black tea, you're actually drinking stronger green tea," Meyers said. "You're getting a little bit more caffeine than in green tea and about half as much as coffee. Green and white teas have even less caffeine."
While not an actual type of tea, herbal tea is not produced from a tea plant at all and therefore has no caffeine. Herbal teas typically have a great deal of health benefits depending on the brew – some are high in vitamin C and very hydrating to regulate body temperature, while others can help for a restful night's sleep.
Meyers was first introduced to tea at the age of 8, when she sat down to afternoon tea with her dear aunt to taste an amber-colored brew with sugar and milk.
"I just fell in love with the experience," Meyers said. "It wasn't so much about the drink, it was about the experience. But I loved it and when all of my friends were drinking coffee as we were growing up, I just kept drinking tea."
For more information about Sterling Tea Gallery, visit sterlingtea.com.
Guests also enjoyed a raffle drawing with some valuable prizes including gift baskets, gift cards, and a tea tasting for eight people at Sterling Tea Gallery. Sponsors of the event included:
Orchid Sponsors — Clear Choice Senior Care, Sara Taylor of Ebby Halliday, Whitmore Mfg, Toyota of Rockwall
Rose Sponsors — Midsouth Bank, Housewarmers, Melange Beauty LLC, Automotive Toys & Accessories, Lyons Heating and Air
Lilly Sponsors — Leigh Plagens in memory of Clarence Plagens, Nancy Jennison in memory of her son Robert Lemko, Elissa Bauer in memory of violet Tappenden, Maria Dempsey in memory of Virginia Jeffers, Sheri Franza, Kara Fox
The month of March denotes the initiation of MOWSS's March for Meals campaign, during which hundreds of local Meals on Wheels programs across the country reach out to their communities to build the support to enable them to deliver nutritious meals, friendly visits and safety checks to America's seniors all year long. To find out more visit marchformeals.com.
Story and photos by Austin Wells, Blue Ribbon News staff writer.