Navy veteran looks to bring country music back to its roots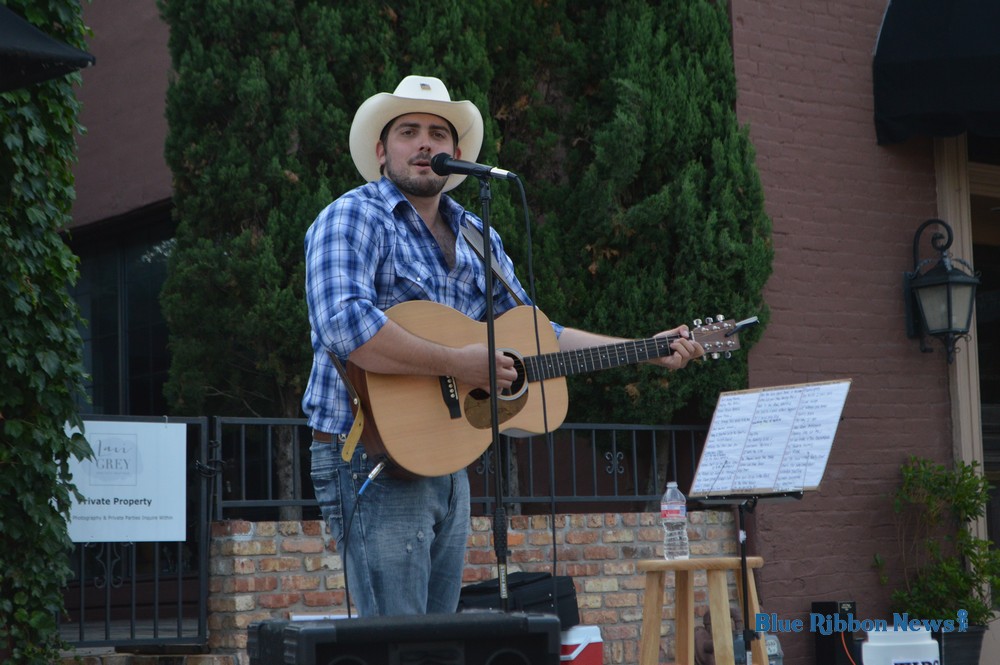 (ROCKWALL, TX – June 2, 2017) While 25-year-old Rockwall native Brandon Bamburg may be an up-and-comer in the music scene, he's certainly no stranger to serving his country.
Bamburg spent five years in the U.S. Naval Sea Cadet Corps and the local Civil Air Patrol prior to joining the U.S. Navy after high school. His service in the Navy included a nine-month-long deployment overseas to southeast Asia and Australia.
"Probably the most fun I ever had, being able to go overseas and see all of the different places I thought I'd never get to go to," Bamburg said. "I made a lot of friendships. It was the most rewarding experience I've ever been a part of in my life."
It was during his time in the Navy that Bamburg began developing another one of his passions – music.
"Pretty much that's all I would do in my off time in the Navy. I would sit around and play the guitar, whether I was out on deployment in the middle of the ocean or just in my apartment."
While out in California, Bamburg started performing in front of crowds in bars and other live music venues and was encouraged by the feedback from his audiences. That's when he decided to take his hobby to the next level.
"From the reception of it, people liked what I was singing," he said. "So I decided to make it a part time gig of mine. I started playing anywhere I could. When I came back to Rockwall I did the same thing, playing at the Wylie Opry and in the San Jacinto Music Series they have here every year, really anywhere there was live music."
Bamburg said the Rockwall community always shows a lot of support to music artists at the San Jacinto Plaza Music Series, making it one of his favorite local gigs. Bamburg was the featured artist for the San Jacinto Music Series concert on Thursday, June 1.
"It was a great crowd. Everybody out here is very supportive of the local talent, which I really like a lot," he said.
Bamburg grew up listening to traditional country music artists such as Merle Haggard, George Jones and George Straight. He describes Haggard as his hero growing up because his music was simple yet meaningful.  "His music really connected with me. I was going through some hard times in my life. I was married but it didn't work out. Merle Haggard's music really motivated me and kept me going.
"I love music like that – songs that really reach out to people, that have a meaning and a story behind them. That's the kind of music I play."
Although he learned how to play the guitar mostly by teaching himself, Bamburg said he also picked up a few pointers through jam sessions with his older brother, who was in a KISS tribute band in high school.
"We didn't grow up together, so it was kinda hard with him having his own life," Bamburg said. "He's 18 years older than me. But every chance we could we'd hang out and play around on the guitars."
The brothers shared a love of music, but had different tastes when it came to genre. Unlike his brother who grew up listening to rock n' roll, Bamburg's musical interests steered more towards old bluegrass and country songs. His grandparents were avid Jim Reeves fans and through his own research, Bamburg discovered similar country music artists from that era and found he really enjoyed the meaning behind the lyrics to their songs.
"It was really a lot of research on my end, then really connecting with their music, listening in depth to how the sound was, and actually paying attention to the very poetic lyrics. That's what got me, is that they actually meant something," Bamburg said.
Bamburg is currently working on recording an original song called "I Ain't Ever Gonna Change," which tells about how he plans to stick to the more traditional style of country he grew up listening to, no matter what critics say.
"Basically the song talks about how country music has really changed over the years. It talks about how artists who have gone before wrote songs with meaning and truth behind them, how I'm going to stick to my roots of singing that kind of real country music and I'm not going to change no matter how much criticism I might get," he said.
That kind of simple yet meaningful music – "three chords and the truth," as Bamburg describes it – is something he hopes to bring back to today's country music scene.
"That's what I hope to do, is keep country the way it should be," he said.
Check out Bamburg's music on:
Youtube – https://www.youtube.com/channel/UCTP4u281oJSMNtMsy_P255w
Facebook – https://www.facebook.com/Brandon.Bamburg
Instagram – https://www.instagram.com/brandonbamburgmusic/
Story and photo by Austin Wells, Blue Ribbon News.