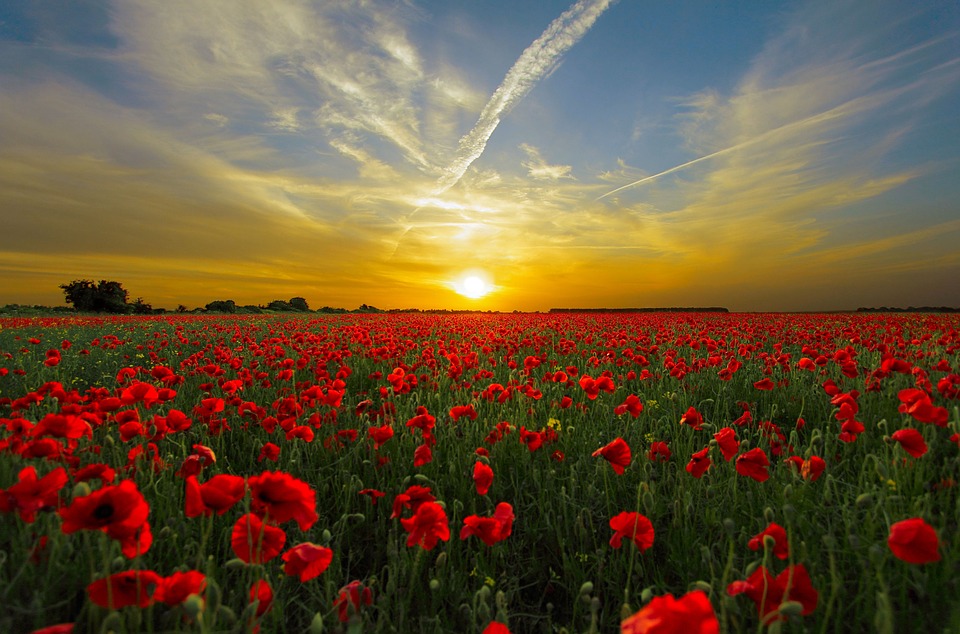 (ROCKWALL, TX — September 4, 2018) I've been enjoying the constraints and freedoms of summer.  I regard the constraints as they relate to the heat…escaping the streets of Rockwall for the coolness of northern NM; wearing as few clothes as necessary to obey public policy regarding decency (though I feel that definition is changing from what I see at Kroger!); remaining in air conditioned spaces as much as possible, though that car seat does feel good on my achy back when I return from the cool constraints of COSTCO!
Our okra plants are growing to a point over my head (5 ft. 1 in.).  Summer foods are true freedom for me, i.e. peaches from Hamm's, cantaloupe from Pecos, blueberries from East Texas, and raspberries from Mora, NM.  That's true freedom for a weight watcher!
As I cut okra last evening I was struck once again with a childhood memory.  The cicadas were singing just as the sun set.  I was enjoying a nice breeze (probably only 96 degrees of coolness across my sweaty skin).  That sight and sound took me back to 2506 Marie Street, Wichita Falls, TX.  I could hear Ronnie Hamilton counting, "5, 10, 15, 20.  Twenty-five, thirty, thirty-five, forty."  On and on he would count until he got to 100 yelling, "Ready or not.  Here I come!"
All of us kids in the neighborhood were hiding in the shadows.  As he took his foot off the coffee can in the middle of Marie Street, he began walking toward either the Henderson's or the Youngs looking for us.  As his back was turned Marvin or Cathy Lou would begin running toward that coffee can.  The first one to kick it would no longer be IT.  They would get to hid next time.  Kick the Can was a staple for hot summer evenings on Marie Street.  True freedom of summer.
Probably about 9:30 I would hear another sound.  P a u l a  J e e e e a n!!!!!  That sound was a constraint that brought an end to summer fun for that day.  After Labor Day school would begin, and we could no longer play out that late.  It was no fun to play in the day light anyway.  Daylight ended hiding easily BECAUSE YOU WERE IN PLAIN SIGHT!
As Mother drew me a warm (not hot) bath to cool me down from a hard evening of hiding & kicking, I would share those joys with her, hearing the singing cicadas, needing calamine lotion on the mosquito bites (no W. Nile then), sharing how Larry's stuttering was better, her listening heart hearing of every detail.
After donning a cool, light-weight summer night gown, I'd crawl into my bed, receive her evening blessing over me, and sleep the sleep of freedom from the cares of the world.  Those cares existed.  I just didn't become aware of them until years later.
Today those cares could constrain me into a bucket of tears or a ball of anxiety in my bed.  But I choose to throw off those constraints as I, "Cast all my cares upon Him because He cares for me."  I Peter 5:7 He cares for you also.  Are your constraints far heavier than the temperature of the day?  He so desires to carry them for you so you can enjoy the freedom we have in Him.  Stop kicking the can down the street.  Even the darkness won't hide you.  Run into the Light.  YOU'RE IT!!!  That's a good word.
By Paula Lively. Paula is a Volunteer Chaplain at Broadmoor Medical Lodge in Rockwall. She is a VERY retired RN who loves serving the residents at Broadmoor. She and her husband, Fred, have lived in Rockwall for 15 years.
Our monthly print edition is delivered free to ~20,000 homes in Rockwall and Heath, TX.
To share your good news and events, email editor@BlueRibbonNews.com.
Subscribe to our email newsletter here.
Advertising: 214-342-8000 or advertising@BlueRibbonNews.com.