This slideshow requires JavaScript.
Robert Harling's "Steel Magnolias" will return to the stage at Rockwall Community Playhouse on Jan. 31. This will be the fourth production of the adored story at RCP, and the fourth time for Darlene Singleton to direct the show.
"Steel Magnolias" is set in Truvy's beauty salon where all the ladies who are "anybody" come to have their hair done. Join Annelle, Truvy, Ouiser, Clairee, M'Lynn, and Shelby and watch as their friendships draw on underlying strength—and love—which give the play, and its characters, the special quality to make them truly touching, funny and marvelously amiable company in good times and bad.
Did you know that Rockwall had its own group of "Real Magnolias?" Here are some other fun facts you probably haven't heard about Harling's beloved tale, and it connects to the Rockwall community.
The play is based on the death of Robert Harling's sister.
Robert Harling wrote the play not long after the passing of his sister, Susan, in 1985. Susan had diabetes but desperately wanted a child of her own, despite her doctors' concerns that a pregnancy could negatively affect her condition. She gave birth to a baby boy in 1983, but her circulatory system and kidneys began to fail shortly after. A kidney transplant from her mother wasn't enough to stem her serious condition, and she died after minor surgery two years later.
Susan's husband remarried not long after her death, and her then 2-year-old son began calling his new stepmother "Mama." Harling was fearful that his loving, selfless sister Susan would soon be forgotten by his little nephew.
A couple of playwright friends suggested he should write something to honor Susan, something which told what she and her family went through during her sickness. Harling had never written a play before, and in fact was pursuing a career as an actor in New York when his sister got sick. But the powerful story of his sister's passing was so inspirational, it ended up taking Harling only 10 days to write it. He based the character Shelby on Susan, and a lot of his other characters were based on people he knew growing up in Natchitoches, Louisiana.
The play captured the hearts of audiences everywhere, and eventually was made into a hit movie released in 1989 and starring Sally Field as M'Lynn, Julia Roberts as Shelby, Dolly Parton as Truvy, Daryl Hannah as Annelle, Olympia Dukakis as Clairee, and Shirley MacLaine as Ouiser.
The story hits close to home for the RCP production's director.
The true story behind "Steel Magnolias" speaks directly to the heart of director Darlene Singleton. In fact, she spent the majority of her youth around four ladies who she considers to be Rockwall's "Real Magnolias": Mattie Mays, Jane Bounds, Sammie Vaught, and Mary Ellen Hall. In those days, she would often hang out with her friend Nancy in a beauty shop ran by Mattie (Nancy's mom) out of an attached room in Mattie's garage. Mattie was the hairdresser for her three close friends Jane, Sammie and Mary Ellen, and Singleton would spend hours in that beauty shop enjoying the hilarious back-and-forth banter between the four women.
Mattie, Jane, Sammie and Mary Ellen were honored during RCP's past two productions of "Steel Magnolias" – in 2007 and posthumously in 2014, as they had all passed away at that time.
Singleton has actually experienced firsthand many of the play's more tragic and heartbreaking scenes. She lost her 5-year-old son Wesley to Leukemia in 1982 and has lived through the scenes in the show where the mother grieves her lost child, only to be uplifted by the supportive, loving ladies from the beauty shop.
"The show can really bring you to the edge of your seat with sadness, and then make you laugh," Singleton said.
The cast members visited Robert Harling's hometown.
During early rehearsals of this year's production, Singleton took her cast members on a trip to Natchitoches to visit locations where the 1989 movie was filmed. This is a tradition she started back in her first year directing the play for RCP, as a way for the cast to bond together with the story and with one another.
"Experiencing those places from the story just gives you a really good visual," Singleton said. "You find such a passion for the story, just as Robert Harling had a lot of passion for telling his sister's story so that her 2-year-old boy would know who his mother was."
The cast and crew also welcomed a special guest during their recent rehearsals: John Harling, the brother of Robert Harling. They enjoyed a visit with John as he told of how Robert came up with the story for "Steel Magnolias."
The 2020 cast includes Deb Ballard as Clairee, Regina Beasley as Shelby, Stacey Kluttz as Truvy, Heather Smothers as Ouiser, Brandy Wells as M'Lynn, and Sydney Wheat as Annelle.
The show will run for four weekends beginning Jan. 31, Friday and Saturday nights at 8 p.m. and Sundays at 2 p.m. For tickets visit rockwallcommunityplayhouse.org.
Story by Austin Wells, Blue Ribbon News. Submitted photos.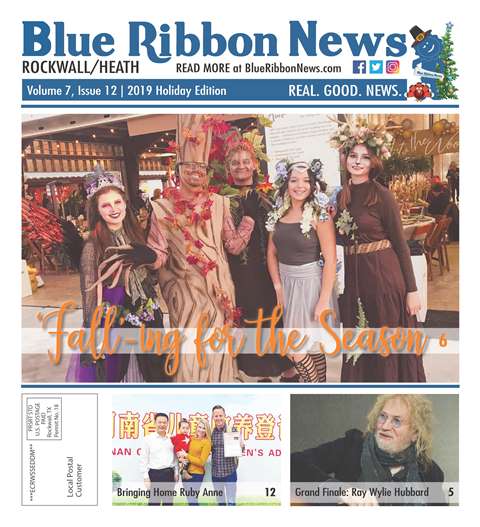 Our monthly print edition is delivered free to ~22,000 homes in Rockwall and Heath, TX.
To share your good news and events, email editor@BlueRibbonNews.com.
Subscribe to our email newsletter here.
Advertising: 214-342-8000 or advertising@BlueRibbonNews.com.