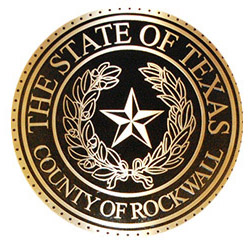 Judge Sweet issues disaster declaration for Rockwall County to enhance preparedness and response to COVID-19 outbreak
In a special meeting on Monday, March 16, Rockwall County Judge David Sweet issued the following declaration of a state of disaster in public health for Rockwall County regarding the novel coronavirus (COVID-19), to go into effect Tuesday, March 17:
"WHEREAS, the novel coronavirus, now designated as SARS CoV-2 which causes the virus COVID-19, has spread through the world and has now been declared a global pandemic by the World Health Organization; and
WHEREAS, President Donald Trump has proclaimed the COVID-19 outbreak a national emergency in the United States, and Governor Greg Abbot has declared a state of disaster for all counties in Texas; and
WHEREAS, costs incurred to prepare for and respond to COVID-19 are beginning to mount at the county municipal levels; and
WHEREAS, Rockwall County has already taken significant measures to prepare for and prevent the spread of COVID-19; and
WHEREAS, it is critical to take additional steps to prepare for, respond to, and mitigate the spread of COVID-19 to protect the health and welfare of Rockwall County citizens; and
WHEREAS, declaring a state of disaster in Rockwall County will facilitate and expedite the procurement, use and deployment of resources to enhance preparedness and response.
NOW, THEREFORE, I, David Sweet, County Judge of Rockwall County, Texas, do hereby certify that COVID-19 poses an imminent threat of disaster to Rockwall County. In accordance with Section 418.018 of the Texas Government Code, I hereby declare a state of disaster and public health emergency for Rockwall County.
Furthermore, consistent with the guidance from the Centers for Disease Control and Prevention, I recommend the postponement of all public and community events greater than 10 people.
This declaration shall take effect immediately within its issuance and shall continue for a period of not more than seven days unless continued or renewed by the Commissioners Court of Rockwall County, Texas.
In accordance with the statutory requirements, this declaration shall be given prompt and general publicity and shall be filed promptly with the County Clerk of Rockwall County.
Adopted this 17th day of March, 2020"
At the time of this writing, there are no confirmed cases of COVID-19 within Rockwall County.
The county has been actively monitoring the evolving situation through conference calls with Rockwall County Health Authority Dr. Gary Bonacquisti, city leaders, and ISDs. The Rockwall County Health Authority strongly encourages the practice of social distancing by reducing face-to-face contacts whenever possible. He also recommends to:
Conduct business online or over the phone whenever possible
Avoid crowded public places (including extracurricular activities)
Cancel all nonessential travel
Individuals experiencing mild symptoms are encouraged to call their primary physician.
If you have shortness of breath, go to the emergency room. But call first so the hospital can take precautions to prevent community spread. 
County departments have been proactive in taking measures to limit exposure and interaction among county employees and the general public, while still providing their services to the public. More specific information is available on the Rockwall County website, rockwallcountytexas.com.
Judge Sweet recognized and applauded county elected officials and department heads for their leadership. "With proper planning and preparation, and a focus on prevention, there's no reason to panic. We'll get through this tough time."
Judge Sweet will join State Representative Justin Holland in a Facebook Live discussion tonight, March 17, at 6:30 p.m. about emergency declarations, schools, testing, helpful tips about COVID-19 and how the community can help support local businesses. Catch the Facebook Live broadcast in Group Watch Parties on Rockwallian, Blue Ribbon News and the Rockwall Area Chamber of Commerce. Rep. Holland and Judge Sweet will also have the broadcast available on their respective Facebook pages.
Every Texan plays an important part in keeping our communities as safe as possible – practice good hygiene, stay home if you are sick, and stay informed.  This is not the time to panic, but the time to prepare.
Get prepared by: 
Ahead of any pandemic, the U.S. Department of Homeland Security says families should check their prescription drug supplies, store two weeks supply of water and food, and have non-prescription drugs and health supplies on hand, including pain relievers, cough and cold medicines, and fluids with electrolytes.
Sign up to receive Rockwall County employee emergency notifications by texting "Rockwall" to 888777.
Follow Rockwall County Office of Emergency Management on Facebook, https://www.facebook.com/rcemo
Texas Health Coronavirus Hotline is available 24/7; call 682-236-7601 to speak to a nurse; or residents can contact the DSHS-COVID-19 Call Center: 1-877-570-9779, Hours 7am-6pm Monday-Friday.
Submitted press release by Rockwall County.
---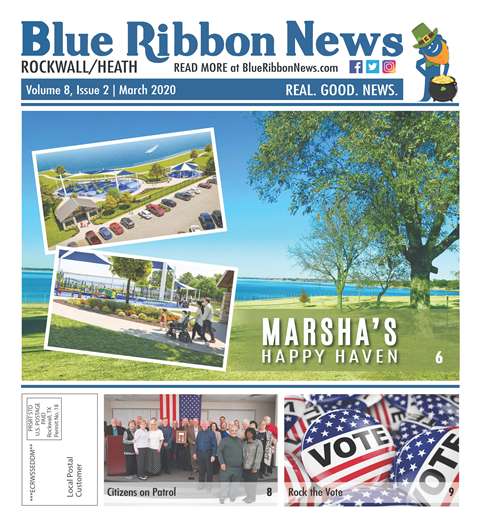 Our print edition is delivered free to ~15,500 homes in Rockwall and Heath, TX.
To share your good news and events, email editor@BlueRibbonNews.com.
Subscribe to our email newsletter here.
Advertising: 214-342-8000 or advertising@BlueRibbonNews.com.