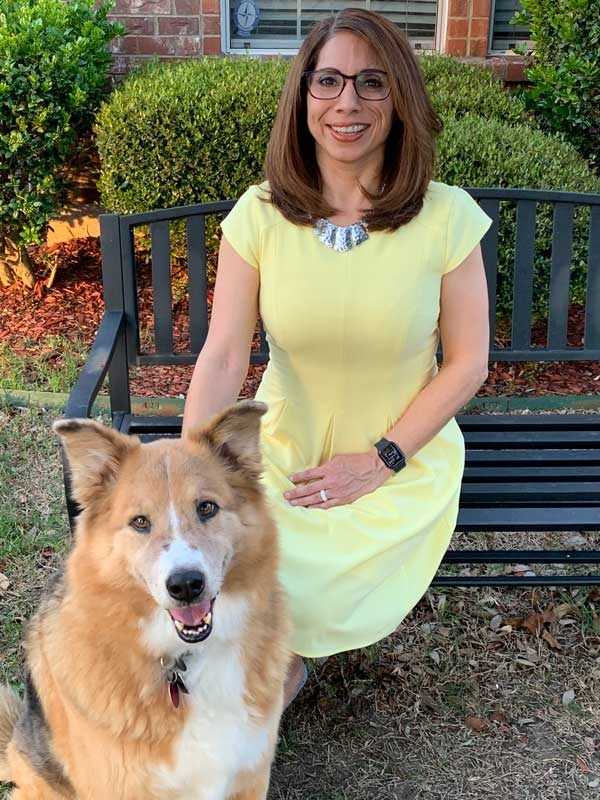 (ROCKWALL, TX — April 24, 2020) Meet Sylvia Morton, Lone Star CASA (Court Appointed Special Advocates) Volunteer of the Year. For the past five years Sylvia has served as a volunteer for Lone Star CASA, a local non-profit dedicated to helping abused and neglected children in Rockwall and Kaufman Counties.
Sylvia lives in Forney and has resided there for 15 years. She has worked at Forney ISD for 11 years in the Human Resources Department, and currently serves in the Information Services Department.
Sylvia is happily married to her husband and Helping Hearts of CASA volunteer Mike Morton. They are proud parents of five children – Jessica, son-in-law DJ, Michelle, Mark and Meghan – and have two grandchildren, AJ and Ava. Sylvia and Mike also have an Australian Shepherd mix rescue named Minion.
Tell me about your role with CASA – what all do you do as a volunteer?
As a CASA volunteer, I am appointed by a district judge to represent the best interest of abused and neglected children in court. I investigate a child/children's situation by getting to know the child/children who have been placed in CPS care. I speak to everyone involved in the child's/children's life, including family members, teachers, doctors, lawyers, social workers, and others. I gather information. The information I gather is used to make recommendations. My recommendations help the court make informed decisions regarding the child's/children's placement. I commit to a child/children until the case is closed and the child is in a safe, permanent home.
How did you first become involved with CASA?
I read an ad placed in my local online news source in Forney. I have been a CASA volunteer for almost five years. November 23, 2020, will be my five-year anniversary with Lone Star CASA. I was drawn to the organization because I recognize it could have been me. I could have been a child in CPS care or a parent being investigated by CPS. Everyone needs an advocate at some time in their life.
What do you find the most fulfilling about your role with CASA?
I find when the child/children I was appointed to advocate for are in a safe, permanent home I am fulfilled.
How did it feel to learn that you were named CASA's Volunteer of the Year? 
I am humbled to be chosen as the Lone Star CASA Volunteer of the year. This honor is so unexpected, but I appreciate being recognized for my effort to help protect our children. I am deeply troubled by the need for CPS and volunteers like us. But it brings me great joy to know I am not the only person who will pick up the torch and fill the need as CASA volunteer.  We are that one constant in a child's life as he/she moves through the foster care system.  Working alongside the wonderful staff and volunteers of Lone Star CASA gives me hope that we will change the world, one child, at a time.
COVID-19 has impacted so many nonprofits and businesses in different ways. How would you say the pandemic has impacted CASA? In what ways has it impacted you as a volunteer for CASA?
CASA is a nonprofit that relies on monetary donations from the public and requires volunteers. Lone Star CASA, like many other nonprofits, has had to adapt, improvise, and overcome the challenges COVID-19 has put in place. Lone Star CASA has adapted by rescheduling one of the largest fundraisers for the Lone Star CASA organization, Cars for CASA, from May to a tentative date of October 11. 2020. By announcing the Volunteer of the Year on social media and by email rather than making the announcement at the annual volunteer banquet, Lone Star CASA improvised. Lone Star CASA has overcome the volunteer training issue by training volunteers in zoom meetings and with online classes.
Speaking of the pandemic – what's the first thing you hope to go do once life begins to turn back to normal?
I hope that I will be attending an adoption for one of my CASA kids. I have been with this child for almost three years. My CASA kid is in a wonderful foster home that has petitioned the court for adoption!
What has been your favorite activity to do during the quarantine?
Spending time with my immediate family and connecting with relatives via phone, text, or social media.
What's something about you that people would be surprised to learn about?
Well, I do not want to brag but I believe people would be surprised to learn that I have Multiple Sclerosis.
What would you say you are most passionate about?
I am most passionate about being of service to others, especially children. Children are the future and need to be nurtured and protected because they are innocent.
Watch the announcement of Sylvia as Lone Star CASA Volunteer of the Year in the video below, shared by CASA on their Facebook page:
This weekend, Lone Star CASA will host a Virtual Happy Hour event to raise awareness during Child Abuse Prevention Month. Grab your favorite drink, share with your friends and donate a "tip" to your waiter at http://lonestarcasa.org/help. Proceeds from the event will benefit Lone Star CASA's operations.
Learn more about Lone Star CASA at their upcoming Information Session on May 6 at 12 p.m. via Zoom. Here is the link: https://zoom.us/j/94380598457  Meeting ID: 943 8059 8457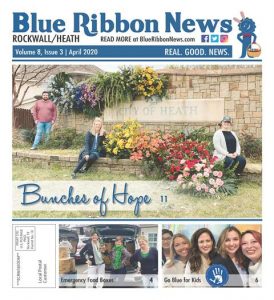 Our print edition is delivered free to ~15,500 homes in Rockwall and Heath, TX.
To share your good news and events, email editor@BlueRibbonNews.com.
Subscribe to our email newsletter here.
Advertising: 214-342-8000 or advertising@BlueRibbonNews.com.