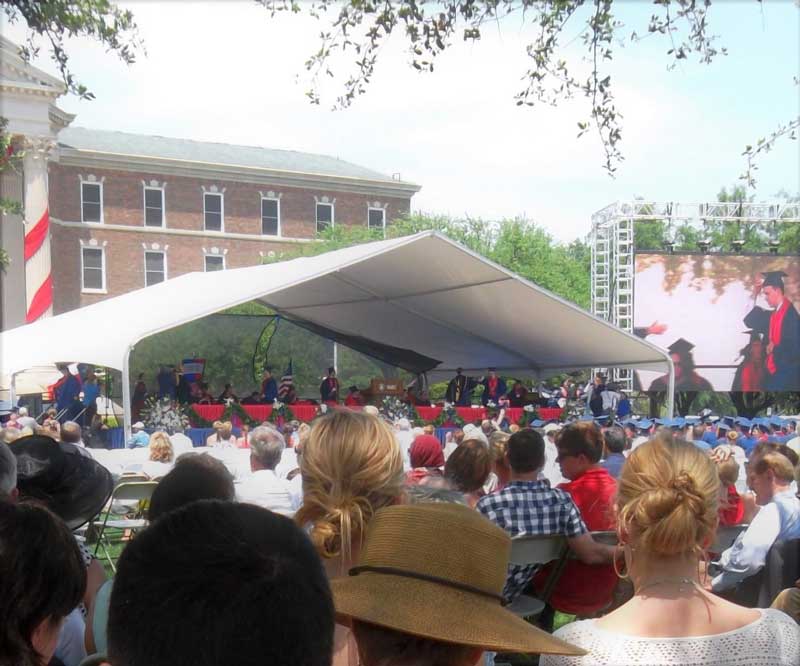 (ROCKWALL, TX — May 5, 2020) Out for a walk one April morning, I stopped to greet a neighbor from a safe, COVID-19 distance. When I inquired about her well-being during these trying days, she burst into tears. Her daughter, she explained, is a high-school senior—was a high-school senior. Everything is upended in their world. And graduation is nowhere to be seen in the blurry picture.
Though it has been some years since my youngest child's graduation, I totally understood. These commencement ceremonies mark a new beginning for our children, and they further serve as an invisible bookend to Volume I of motherhood. The parenting journey that began with a stack of diapers and swaddling blankets reaches a pinnacle at the toss of a tassel.
When my son donned a satin robe and mortarboard to receive his college diploma, he thought it was no big deal, just a necessary bit of pageantry. I, however, considered it monumental, a milestone for both of us. I wanted to see his tassel swing with each of his long-legged strides across the stage. And I had begun celebrating weeks ahead of the event while I addressed linen envelopes. Before sliding the announcements inside them, I rubbed my index finger across the gold-embellished emblem atop each one.
Motherhood usually begins with celebration, as it should. Friends and family come together to shower the mother-to-be with things she will need—about a dozen pages of store registry items these days. But the new mother may soon realize the astounding array of items filling the nursery has given her a false sense of confidence. The room is equipped, but is she?
On the other hand, some of us join the ranks of motherhood with an over-confidence in our abilities.  We believe we're up to the challenge. This likely makes heaven—and our own mothers—smile.
Children have the power to turn their parents into desperate creatures. At first, we're sleep-deprived. Then we move from that phase to a long succession of others, as if jumping from one stone to the next across an incredibly wide creek. But desperation drives prayer, which means that raising children may compel us to pray more earnestly and more often.
Mothers are well-acquainted with fear and trembling brought on by children and their circumstances, whether real or imagined. Seeking God in prayer will keep our hearts from fainting over any offspring-induced distress. And reading his Word relieves our fears and anxieties as we ingest his wisdom and promises.
The last chapter of Proverbs includes a long passage that praises the qualities of a godly woman. It further suggests the attire she needs to run well in the long-distance marathon of motherhood: "strength and dignity," which help her to "laugh at the days to come" (Pr. 31:25*).
In the future, if not now, "Her children arise and call her blessed" (Pr. 31:28). However, it's the next line that likely holds the key to her success: "A woman who fears the Lord is to be praised" (v. 30).
For the mother with a heavy heart over a child's lost opportunities, may you experience God's comfort. Psalm 94:19 says, "When anxiety was great within me, your consolation brought joy to my soul." Meanwhile, please remember the closing verse of Proverbs, which may indeed include a graduation ceremony: "Give her the reward she has earned, and let her works bring her praise at the city gate" (Pr. 31:31).
*Bible verses from the New International Version. Note: This article is the author's 2020 revision of the one published by Blue Ribbon News in 2014.
By Patti Richter. Patti writes and edits Christian faith articles and has co-authored Signs of His Presence: Experiencing God's Comfort in Times of Suffering (March 2019). Read more of her essays at blueribbonnews.com/category/faith.
---
---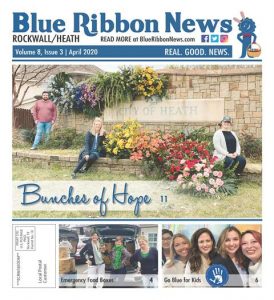 Our print edition is delivered free to ~15,500 homes in Rockwall and Heath, TX.
To share your good news and events, email editor@BlueRibbonNews.com.
Subscribe to our email newsletter here.
Advertising: 214-342-8000 or advertising@BlueRibbonNews.com.