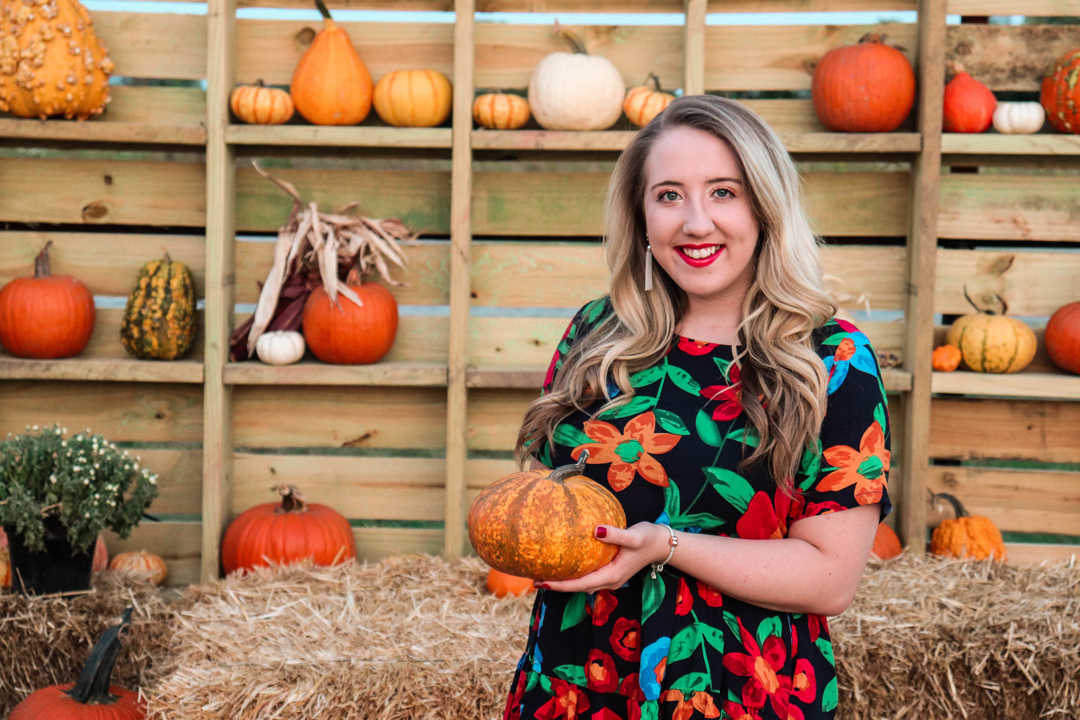 ROCKWALL, TX – There hasn't been much good about the year 2020, but there is one bright jack-o-lantern light amidst all the heavy darkness. 2020 is the inaugural year of the new Pitchfork Pumpkin Patch!
I'm always looking for local pumpkin patches and fall festivities to celebrate the beautiful weather, warm colors, and inviting flavors of the season. So I was extra excited to hear the news about the brand new Pitchfork Pumpkin Patch opening in Royse City this year! But what delighted me the most about Pitchfork was their Murder Mystery Dinner series.
We attended the first of their four murder mystery parties on Saturday, October 2nd. Here's what we experienced and all the information you need to score tickets and become an amateur detective!

Pitchfork Pumpkin Patch
The Pitchfork Pumpkin Patch offers a huge selection of gourds, fall photo ops, pumpkin carving, pumpkin painting, and even pumpkin smashing. They also host family-friendly Halloween movie nights and adults-only murder mystery dinner parties every weekend in October.
Our murder mystery party started at 7:00, so we arrived a little bit early to snap some pictures in front of the pretty pumpkin walls before heading inside. I would recommend arriving 15 – 30 minutes in advance if you want to take pictures or purchase any pumpkins.
We didn't have any trouble finding a parking spot even though the event was sold out and was sharing the venue with a Ghostbusters outdoor movie screening.

Maui Murder Mystery
When we arrived inside the dinner party room, we were sent to collect our character name tags and our food. Each guest feasted from their own personal charcuterie tray to avoid contact and promote social distancing. Guests also wore masks while inside the dining room interacting with each other, and took masks off while sitting down to eat dinner.
Each party guest received a character identity – the role they would play for the evening. I was Stevie Pink, cafeteria worker and notorious party girl. Austin was Ryan Charcoal, a professional baker with a bad attitude. We read our clue cards and hammed it up as much as possible.

Solving the Mystery
As the night went on, each guest was allowed to read more of their own personal clues and was given instructions about which other party guests to speak to. Everyone seemed to be hiding secrets: there were tales of blackmail, slander, inheritance, mafia ties, and more! Eventually one guest was found "murdered" and one of the Pitchfork Pumpkin Patch staff members arrived to be the "detective" on the case.
After interviewing all of the other party guests in character, we each wrote down our guilty suspect of choice and submitted our responses to the detective. At the end of the party, the guilty suspect confessed to the crime!
As a self-proclaimed mystery novel addict, I loved every second of it. While Austin and I have attended other events where professional actors are murder suspects, we had never been to a dinner party where we had the pleasure of joining the mystery cast in character. It really added to the atmosphere and made the event ten times more fun.
If you're looking for more fall fun in the Dallas area, be sure to check out my Dallas Fall Bucket List for 2020.
Happy sleuthing from the Wells family!
By Julie Anne Wells.