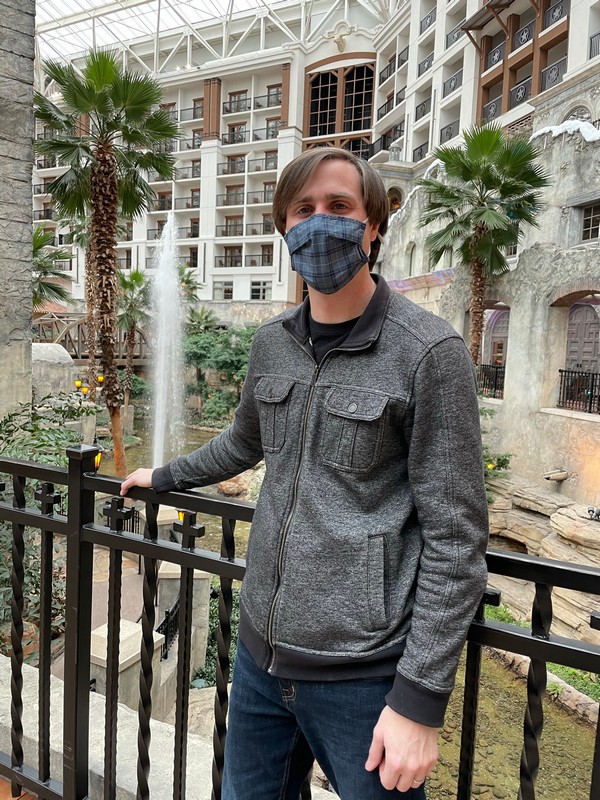 ROCKWALL, TX – Jan. 18, 2021 — To kick off the New Year, my wife Julie and I were invited to a one-night stay at the Gaylord Texan Resort & Convention Center to experience the all-new Winterfest event! Winterfest takes place every weekend in January and February at the Gaylord Texan (1501 Gaylord Tr. in Grapevine), and features lots of safe, wintry-themed fun for the whole family (with social-distancing in mind, of course).
Julie and I have visited the Gaylord Texan before, and usually go during Christmastime to experience the beautiful lights and decorations, but we've never had the pleasure of staying overnight. So needless to say, we were pumped to get to have the full experience.
Families can enjoy a plethora of exciting experiences during Winterfest weekends at the Gaylord Texan, including the following:
School's Out! Winter Breakout Escape Room – Guests have 40 minutes to crack the code that unlocks a teacher's desk in a classroom.
Cool Critters Animal Encounters – Guests can meet and hold wild animals in the hotel atrium.
The Jason Bishop Show – Jason Bishop, famous for his off-Broadway runs and for being featured on CW's Masters of Illusion, performs a one-hour show full of dazzling magic.
Jack Frost's Frigid Finds Scavenger Hunt – Guests hunt down clues all over the resort. At the end, they earn a prize for their winning detective skills!
Winter Art Studio – Families can create kid-oriented winter art projects.
Snow Much Fun Family Trivia and Brrr Family Bingo
Winter Family Movies
A Winter Wonderland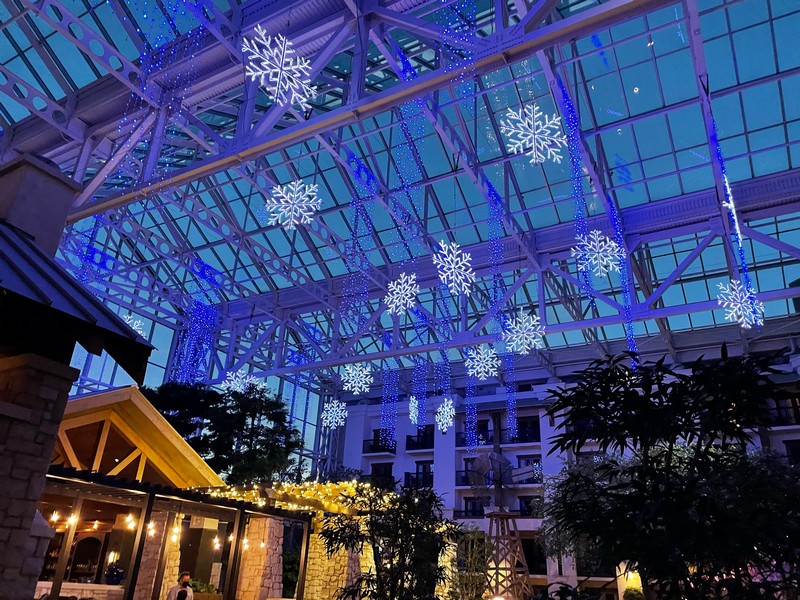 I haven't visited the Gaylord Texan very often, but every time I first walk into the atrium, it takes my breath away. This time was certainly no different; There's just so much to take in – wonderful waterfalls and fountains, a scenic Riverwalk, a replica of the Alamo, and the Gaylord Texan's signature giant star fixed at the center of the atrium. For Winterfest, they have lots of lights strung everywhere and fun winter-themed décor, including some giant hanging snowflakes which sparkle against the atrium windows at night.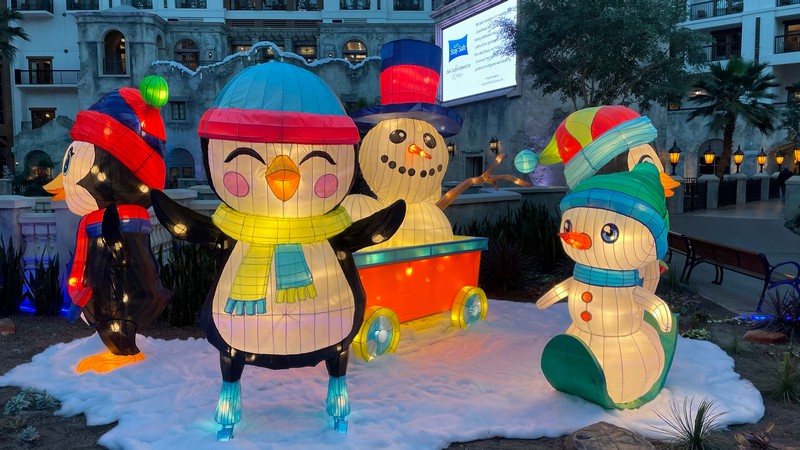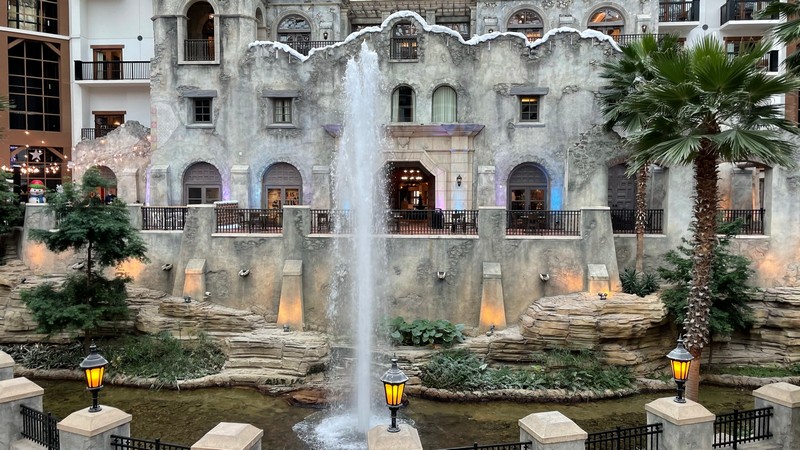 Since the weather forecast was calling for a rain/snow mix, Julie and I had packed lots of layers and coats to keep warm during our stay. But when we first stepped into the Gaylord, we were pleasantly surprised at how warm it was inside; You could walk around in a thin long sleeve shirt or even a t-shirt and be fine. The sound of the rushing water from the various small falls throughout the resort was very relaxing, and just walking around taking in the sights was a lot of fun!
Winter Breakout Escape Room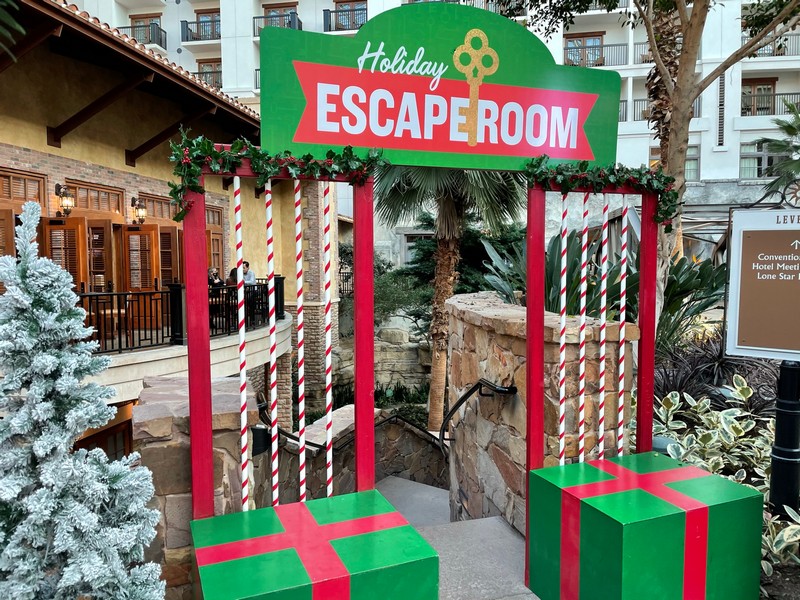 This was the first activity on our itinerary, and boy was it challenging! This Escape Room takes place at a local school after class at the start of winter break. We were given 40 minutes to obtain a phone locked inside the teacher's desk, by finding clues hidden or locked away inside the classroom.
We got stumped on one particular clue having to do with Morse Code and unfortunately ran out of time. But I feel like we were very close to solving it, and we still had fun putting our heads together to navigate the various challenges within the room.
To ensure a safe experience for guests, the Gaylord only allows folks to participate in their own private groups. That means you can experience the Escape Room with people you know, and not get paired with random strangers. I really appreciated this aspect of the experience because it meant we could enjoy the challenge together without having to worry about potentially spreading germs to other folks.
Dining at Zeppole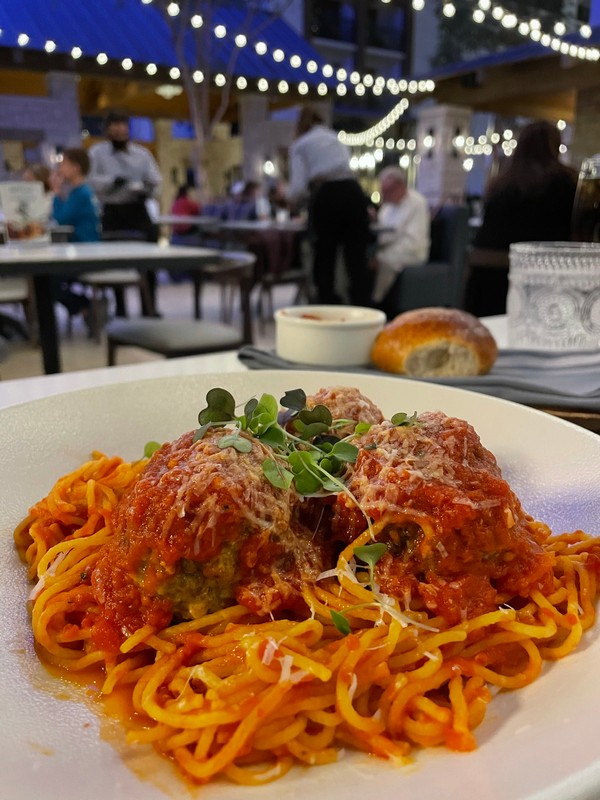 The next thing on our itinerary was the Illusionist Show, and we decided to grab some dinner before the show. The Gaylord Texan offers four restaurants, each serving a limited menu during the slower winter season. The Italian restaurant Zeppole caught our eye, so we decided to give it a try.
The atmosphere was wonderful, as we got to dine under the giant dangling snowflake lights, with plenty of room between tables for social distancing. We enjoyed their spaghetti and homemade meatballs. These weren't your run-of-the-mill meatballs, mind you; They were full of flavor!
After a nice meal, we headed to the main event of our evening: a show put on by grand illusionist Jason Bishop!
The Jason Bishop Show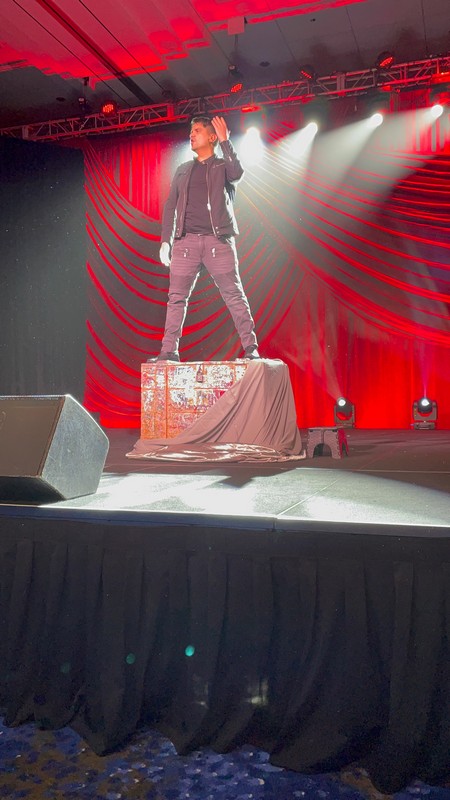 We had amazing seats in the front row for this show, so you would think we could've spotted the secrets behind Jason Bishop's tricks. But let me tell you, this guy is a TRUE master illusionist! His acts often left me wondering how he could've possibly pulled them off and made it look so easy.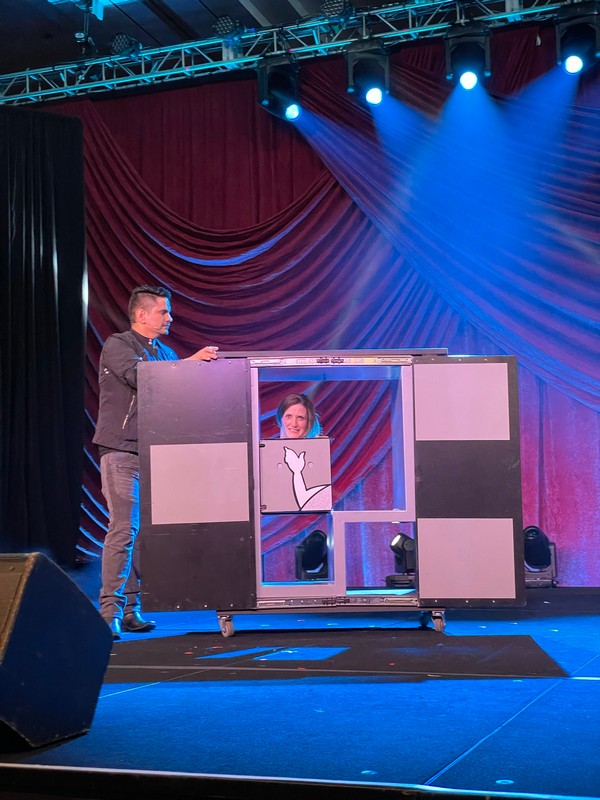 The one thing that really stuck out to me was his amazing sense of showmanship and ability to connect with the audience. He made lots of witty remarks that had me laughing out loud. While his bigger acts like making his Yorkie named Gizmo disappear were no doubt mesmerizing, his less grand sleight-of-hand tricks to me were the real highlight of the show.
Cool Critters Animal Encounters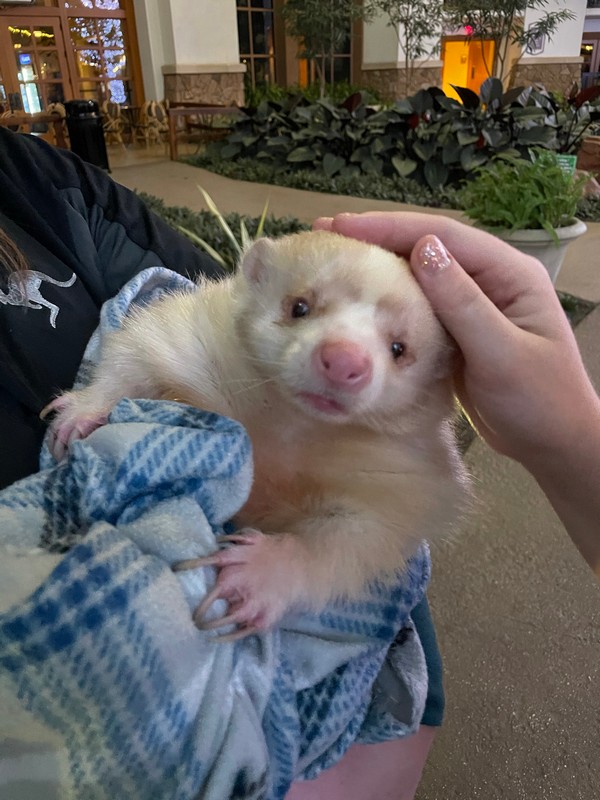 This was definitely one of the most memorable and exciting offered at Winterfest at the Gaylord Texan – to an avid animal lover like me, anyway.
While Julie and I were walking around the atrium, we came across some handlers wandering around with exotic animals that you could pet. One had an adorable Lemur, which was only too happy to hold Julie's hand with its finger-like toes. Another had a badger, and I immediately wanted to take him home!
Experience Winterfest at the Gaylord Texan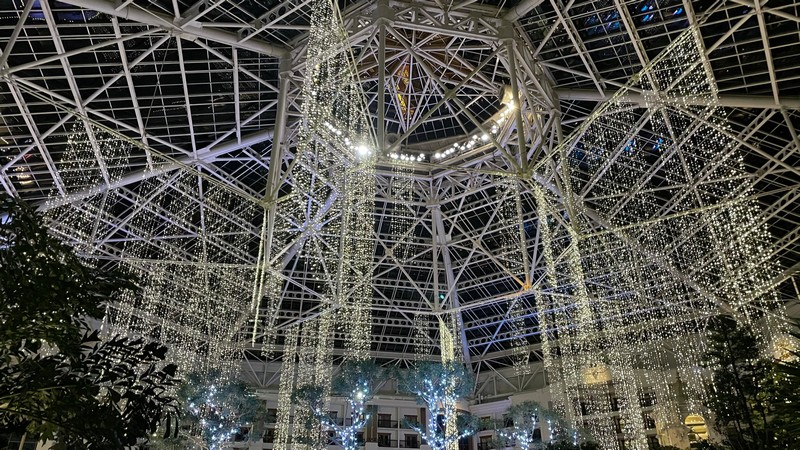 Winterfest at the Gaylord Texan made for a lovely staycation to kick off 2021! To learn more about the Winterfest experience, check out the Gaylord Texan Resort and Convention Center's website at GaylordTexan.com.
By Austin Wells, Blue Ribbon News editor. Austin is a native of Rockwall and graduated from Rockwall High School in 2007. He has worked for the Rockwall Herald Banner and CBS Radio. He is the author of Images of America: Heath, which captures the history of Heath, TX through vintage photos. He is married to his wife of three years, Julie Anne, who he met while she was interning as a staff reporter at Blue Ribbon News.