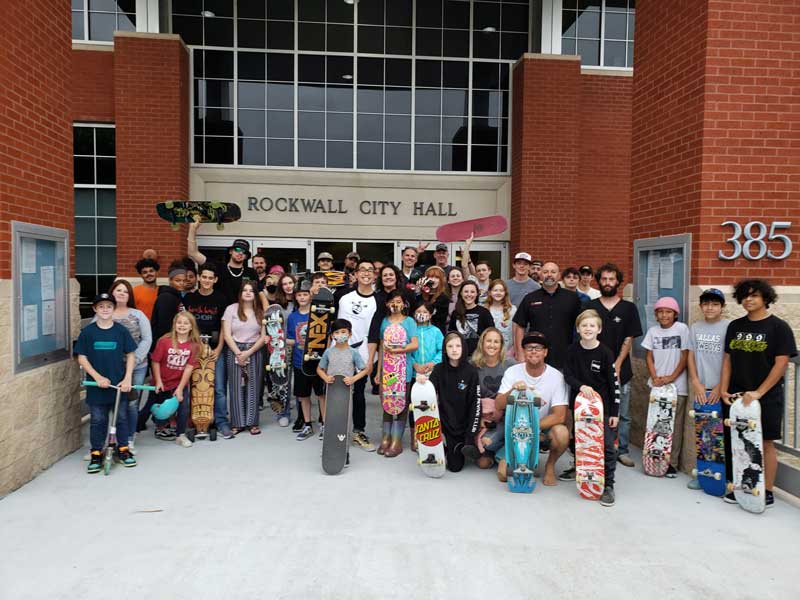 ROCKWALL, TX – June 2, 2021 — The Rockwall Parks and Recreation Board had perhaps its largest attendance ever during its meeting last night, as the community showed up in a big way to advocate bringing back a skatepark to Rockwall.
The Board welcomed lots of families and kids, many of whom brought their skateboards and helmets, to discuss the development of a Rockwall Skatepark. Local pediatric dentist Paul Field – who has taken the lead in the movement to bring a skatepark back to Rockwall since the original park at Harry Myers was torn down nearly 10 years ago – spoke about his newfound passion for skateboarding and why residents would benefit from the development.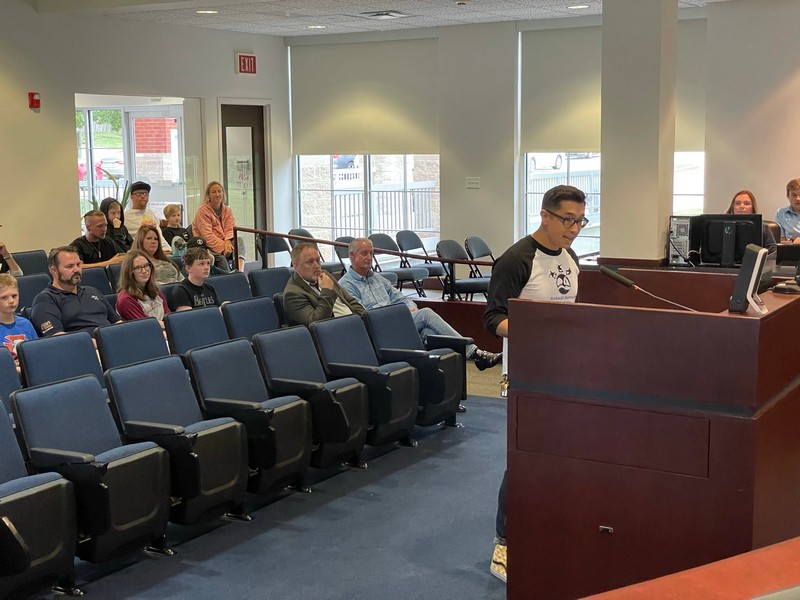 Field – a father of three – said he and his family found their love for skateboarding during the pandemic shelter-in-place last year. He said it's an activity that not only can his kids do and enjoy, but that he can do and enjoy with them. And in just the past year they have been skateboarding, Field said he noticed a wide range of benefits to his kids.
"Just in seeing my kids for the short amount of time they have been skateboarding, things I've noticed are better balance and coordination, a sense of accomplishment in mastering new skills, cardiovascular exercise, benefits to mental health and stress relief, and also confidence in overcoming fear," Field said. "Skateboarding is not just a sport – it allows expression and creativity. It's the same open format that provides a place in the community for children who do not feel comfortable, interested, or have the monetary means to take part in traditional organized sports."
Field stated that one of the reasons the skatepark at Harry Myers had to be torn down was because it was made of prefabricated wooden ramps, which proved costly to upkeep and maintain.
"Those types of skateparks in the skateboarding industry are referred to as temporary skateparks because they just don't withstand the test of time," Field said. "That's why moving forward, any skatepark that we develop I highly recommend that it would be a concrete skatepark."
---
---
Many in attendance at the meeting spoke in favor of bringing a skatepark back to Rockwall, including Rockwall EDC Chairman Rick Johnson, who used to skateboard all the time as a kid and at the old Harry Myers skatepark. According to Johnson, having a skatepark in Rockwall would keep local youth skaters out of trouble.
"I got my first trespassing ticket when I was 11 years old jumping a fence to go skate a pool," he said. "And that's where this leads, is when these skateboarders don't have anywhere else to go, it can turn bad. I went way downhill because of that, because there was no place where I could legally do the stuff I wanted to do. Until they started building skateparks and I had a place to go. That's when I stopped getting tickets and vandalizing and doing those types of things. If we can give these kids some place to go, I'm all for it."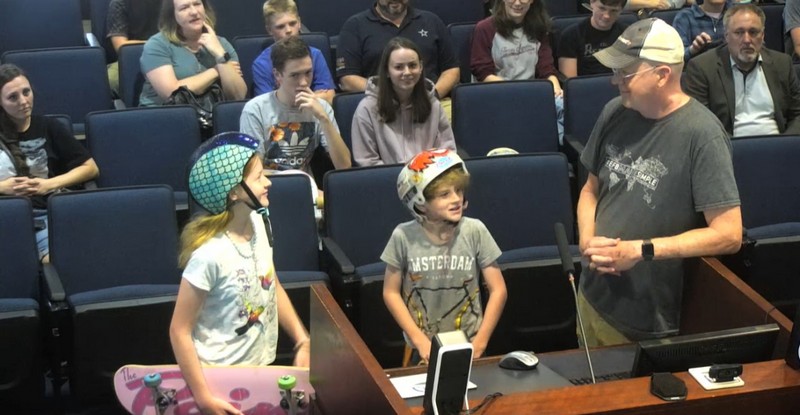 Several of the local skatepark supporters in attendance stated that they often have to travel an hour or more to other skateparks just to do what they love, because they get into trouble or suffer injuries trying to skate in parts around Rockwall where there aren't dedicated ramps, such as The Harbor.
"I think a skatepark would be great for the community because us kids have nowhere to skate," said local young skater William Riggs. "I don't want my parents to have to spend a ton of money just to get the stuff to build ramps. I've spent a ton of time with my dad building quarter pipes and ramps, and the wood's all rotted so I can't really skate that anymore. I just feel like we should have a skatepark in Rockwall."
---
---
Rockwall Parks Director Travis Sales said that since none of the local area parks are large enough to accommodate a skatepark plus parking, and considering the considerable amount of funding a project like this would need, it would likely take time for a skatepark to be developed.
"The biggest challenge for us is that we feel this is going to be a community park-type situation, and we just don't have that land right now," Sales said. "That and the funding are the biggest challenges for us."
Parks and Recreation Board Chairman Kevin Johnson said a good next step for Field and the rest of the community to make the skatepark a reality is to continue having conversations with city officials and showing their strong support for it.
"I think it's great to see all of these families and skaters of all ages being passionate about the community and about our kids," he said. "I think continuing to talk to us on the Parks Board, with city council members, with Travis as the Parks Director is the best way to go about it. We're not going to be able to do anything without you as a community showing us what's desirable, and us figuring out how we're going to pay for it and what our priorities are. We've got to have you all involved, and it's very much appreciated."
By Austin Wells, Blue Ribbon News.
---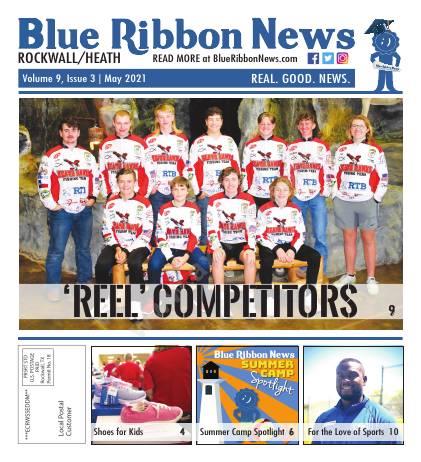 Our print edition is delivered free to ~15,500 homes in Rockwall and Heath, TX.
To share your good news and events, email editor@BlueRibbonNews.com.
Subscribe to our email newsletter here.
Advertising: 214-342-8000 or advertising@BlueRibbonNews.com.