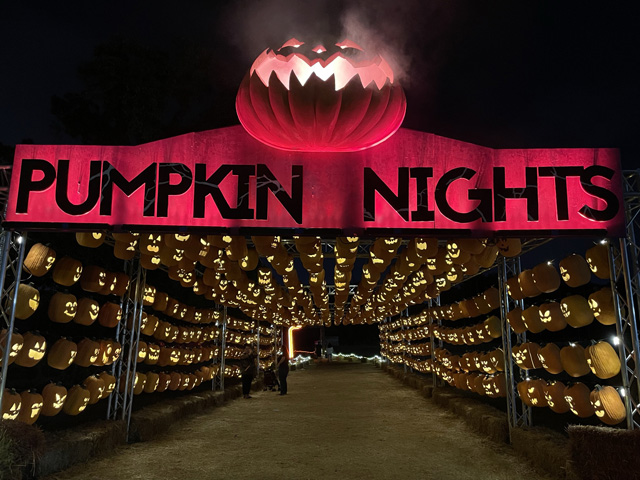 ROCKWALL, TX – October 11, 2021 — Recently, my wife Julie and I were invited to explore the fantastical lands featuring over 5,000 hand carved real and artificial pumpkins at Pumpkin Nights in Dallas/Fort Worth. The experience set at Howell Family Farms in Arlington (4016 W Division St, Arlington, TX 76012) lets folks walk through a guided path into several themed areas featuring sculptures and all kinds of gourd-geous creations made from pumpkins.
---
---
To start off our adventure, Julie and I grabbed some food from the vendors set out on the vast lawn near the parking area. We enjoyed a fabulous fire show while we munched on our snacks before setting off to see the magical pumpkin lands.
One of the first areas we walked through happens to be one of the most photogenic spots on the whole tour: an archway decked out with carved jack-o-lanterns!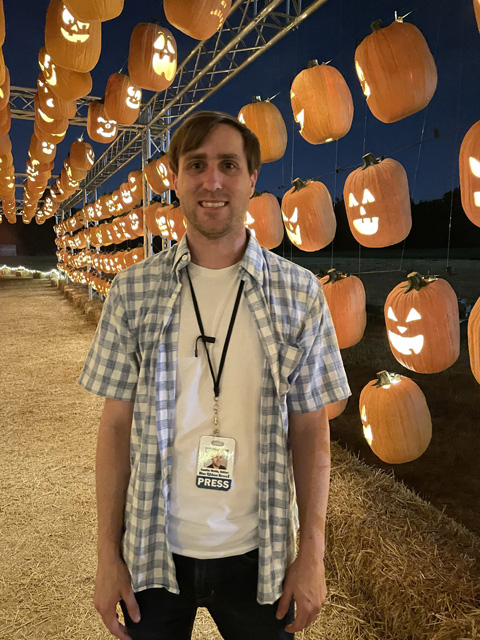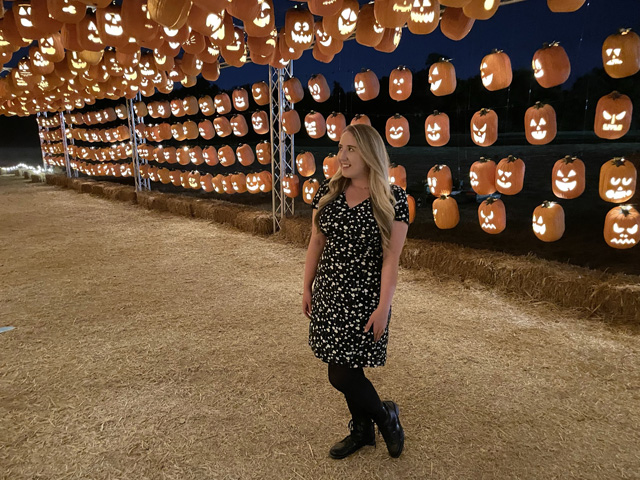 Next up was perhaps one of my favorite areas of the exhibit – a couple of massive, smoke breathing dragons made entirely out of pumpkins! The whole scene is just magical, with the smoke billowing out of the dragons' mouths settling on a pond with pumpkin turtles. Of course I made it a point to get my picture with one of the dragons!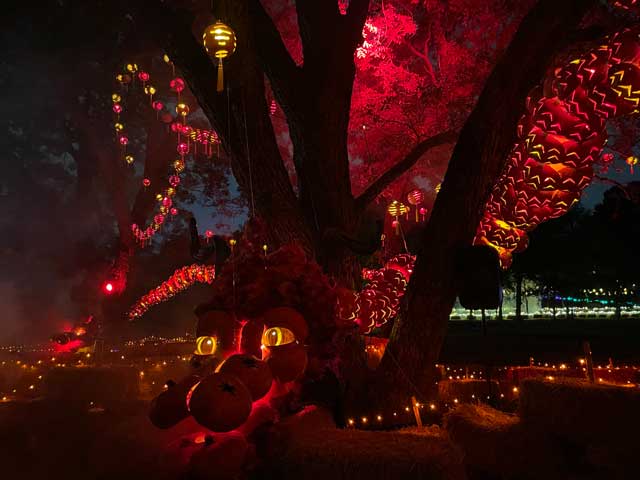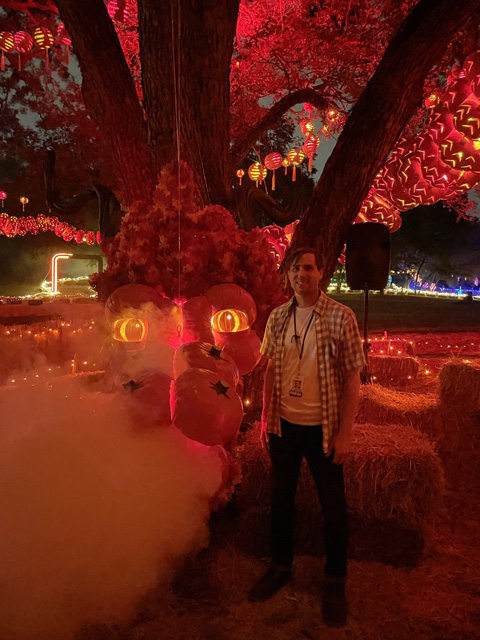 ---
---
If you're a Harry Potter fan like Julie and I, you'll appreciate the intricately carved pumpkins strung across like floating candles along the path. If you look closely you can spot several pumpkins carved with nods to the Harry Potter series, such as one that read, "Mischief managed" and another pumpkin with a beautiful owl carved into it.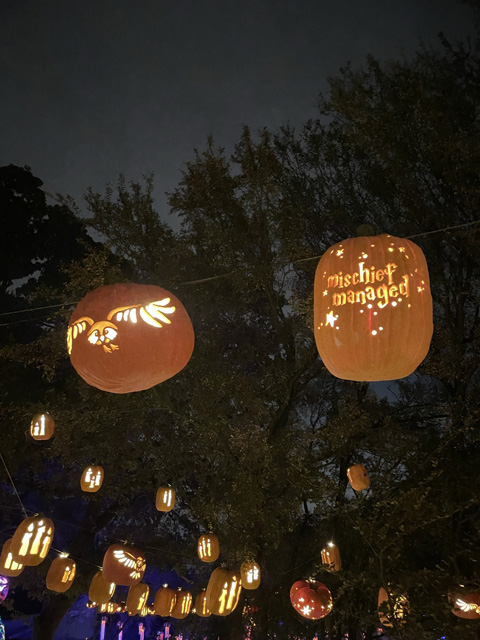 One of the most beautiful lands in the exhibit features pumpkin jellyfish in true under-the-sea type fashion! I just loved the sea flora and streaming, glowing tentacles of the jellyfish as they floated through the air. And of course the giant pumpkin octopus at the end of the display made for a fun photo opp, with bubbles shooting into the air adding to the ambiance.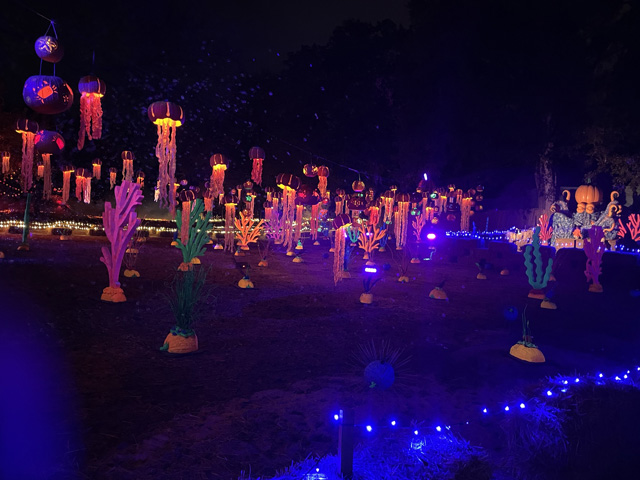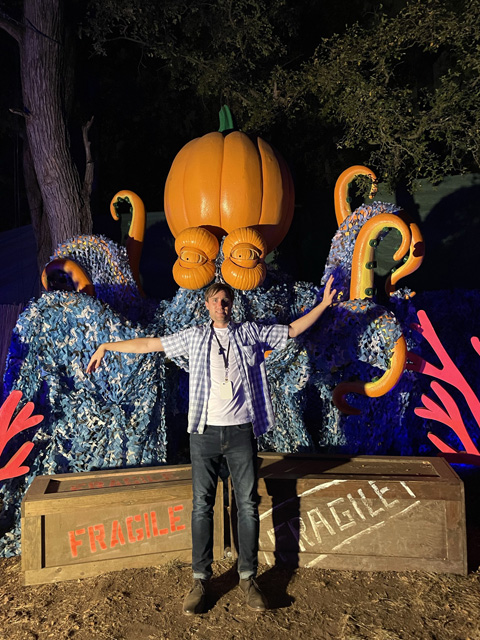 Pumpkin Nights features lots of fun for folks of all ages, as evidenced by the pirate-themed land which had an area where kids could dig for buried treasure.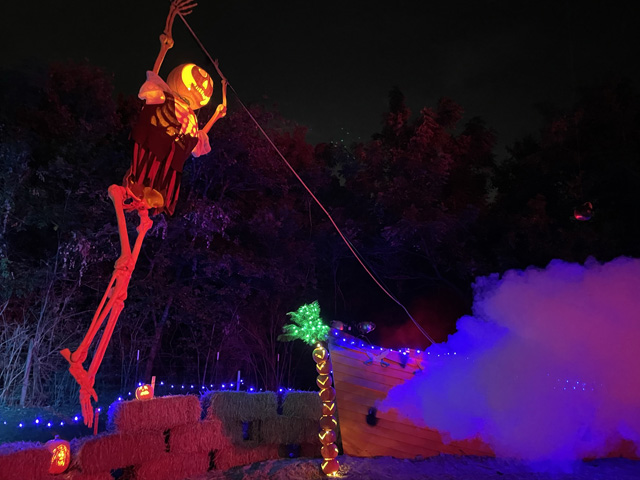 The attention to detail in every distinct land was awe-inspiring, with lots of colorful lights and carved pumpkin masterpieces everywhere we looked! If you want to see how all of these fabulous creations were made, be sure to catch the live pumpkin carving by professional artists located near the entrance to the exhibit.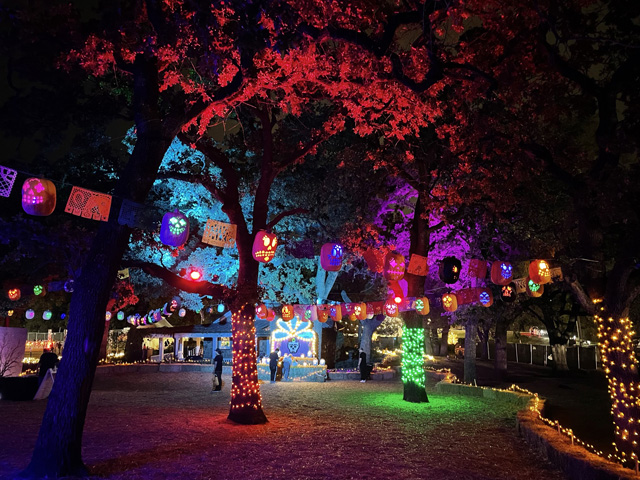 ---
---
Pumpkin Nights was founded in 2016 at the Minnesota State Fairgrounds with a mission to showcase local artists and celebrate the most magical time of year without the gore and scares. It runs in cities across the U.S. all throughout the month of October. For tickets and more information visit pumpkinnights.com/dallas/.
By Austin Wells, Blue Ribbon News.
---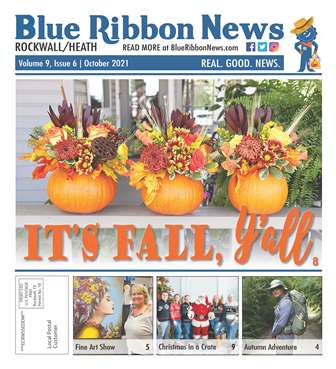 Our print edition is delivered free to ~15,500 homes in Rockwall and Heath, TX.
To share your good news and events, email editor@BlueRibbonNews.com.
Subscribe to our email newsletter here.
Advertising: 214-342-8000 or advertising@BlueRibbonNews.com.