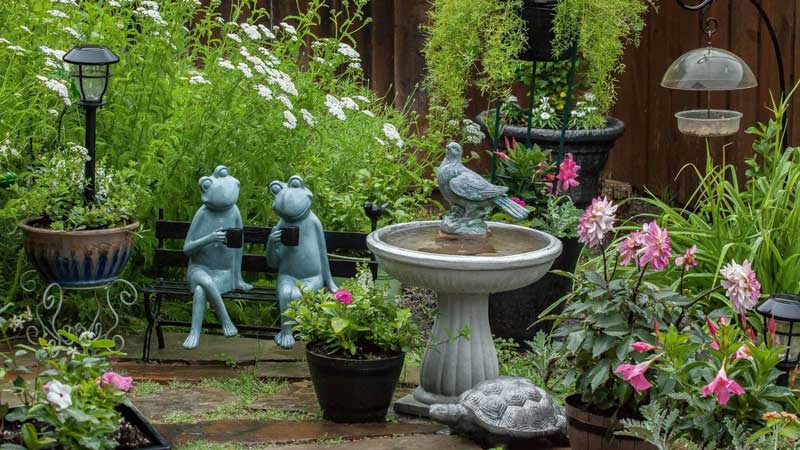 ROCKWALL, TX – April 6, 2022 — Last night it rained on Fay's garden. The rain came in torrents, with thunder rumbles and startling cacophony of crashes. Lightening flashed in the sky so close and bright, we wondered where it had exploded.
Fay's garden stood protected this time around, the Black Eyed Susan soon to bud. Lambs Ear soaking in the abundant waters. Extraordinary Viburnum snowball bush huge and glorious, with multitudes of beauteous green and white puffs of blooms, standing tall and generous.
Fay was like that viburnum bush – she collected more ideas than a jar of red, blue and yellow marbles, and like those marbles she was multicolored and bright. Is there a color Fay did not like? I can't imagine. She shared her ideas out and up – as the branches of her spreading Viburnum. An Outrageous Older Woman, in her own words, she shared her life, her warmth, her love of people and her wonderfully wacky sense of humor generously. She touched innumerable lives in her lifetime, in her nursing career, photography and in sharing her garden.
---
---
Just as the storms that thundered through last night, Fay was a force of nature. Though not a destructive force; but a warm, loving, over the top, brimming with life, laughing force that has brightened the world for so many of us.
One of Fay's bright joys was her garden. A garden overrun with abundance of glorious, vivid perennials, accented in verdant green and sunshine. Potted annuals, brilliant blooming vines tumble over an arch, a plant climbing each side, vying for first place at the top. Stepping stones surround the planting bed, with green borders in between. Fay's garden is charming, full of life, and a spot to let your eyes rest on the beauty and your mind wander.
Bunnies come to Fay's garden. A respite from their suburban fate of lawns, shrubs, and hounds pursuing, they pop in to lie in the deep shade beneath the Sunshine Ligustrum. Standing on their haunches, they peep into tubs overflowing with Periwinkle, no doubt enjoying a bit of a nosh here and there, from the bounty.
Bright green anoles live in Fay's garden. Sunbathing atop the cement angel who presides over a birdbath filled with succulents and birdseed, green tail draped over the cherub's head. Birds drop in to enjoy verdant peace and fill up on seeds from a huge plaster coffee cup.
Fay's serendipitous sense of humor mingles riotously amidst the beauty of her garden. A ridiculously obnoxious rubber rat pops up in the funniest places. A huge rubber ant wanders between the plants. Sharing endless cups of coffee, two long legged frogs spend their days side by side on a garden bench, pleased with their lot in life – in Fay's garden.
We know this – because Fay was a photographer and shared the charm, the quaint visitors, and humor in her garden through brilliant photographs. We have been greedy recipients of the vignettes documenting the sweet life in Fay's garden, accented with Fay's whimsical, written narration.
In the past couple of years, Fay began experiencing health issues, and to her distress, her garden lay untended. Without her loving hand the garden overgrew, potted plants dried. Winter's camouflage was not cut back and pulled away to allow new growth to come forth.
---
---
To our dismay and great sadness, Fay's health failed her. I visited with my friend late this winter. She delighted in introducing me to the life sized, talking zombie butler who presides over the round, dining nook table. Fay was not in any way ready to be done with her zesty life quest. Over a mad mix of delicious cold juices, cheese, berries and cookies, she shared her chagrin that the garden was not what it had once been. I thought then, that I would find some springtime hours to work in Fay's garden, so that she could enjoy it again.
In these things of life and death we are not given much choice as to timing, and Fay's choice was pulled from her. Fay was hospitalized and recently went home on hospice care.
This past week, from personal friends, and soon-to-be friends that I'd not yet met from an online garden group, I gathered a small army of eight women. Armed with spades, rakes, clippers and gloves, we tackled the jungle that had overtaken Fay's garden. We cleared, clipped, trimmed and filled a multitude of bags with plant refuse. Flats of bright annuals were planted for instant color, succulents replaced to revive the birdbath's alter ego, and a few new perennials added to carry on. One of Fay's anoles made a surprise landing atop my head and was carefully lifted off and set down to scurry back to green life. Though the garden will not again know Fay's whimsical touch, we restored it as best we could, hoping she would enjoy seeing her magical place again before leaving this world.
Fay spent her last days in the hospital bed that had been placed next to the window in her living room. The window looks out on her beloved garden. Unresponsive in the past week, she quietly slept, a devoted pup curled at her feet.
Our hope was that she be allowed at least one more clear moment; that one of her sparks would light up and her eyes could rest on the color and life in her garden, one more time. My fervent hope now is that she knew joy in the knowledge that we were coming to work her garden and revive it to bloom again this spring. Fay moved on this morning, April 5, 2022.
To Fay's family – thank you for sharing this magnificent force of nature; your wife, mother and grandmother with the rest of us. We are forever enriched, brightened and chuckling. Fay's bright light carries on, illuminating our paths with joy.
By Sally Kilgore of Rockwall. Sally is a former resident of Rowlett, and a recent transplant, across the lake, to Fate, Texas. She is married to her long time flame, Chris Kilgore. When not writing, gardening, filling in at the local flower shop or hanging out with grandkids, Sally devotes her time to serving Bob Kilgore, a generously sized, Tuxedo cat with panache.
Read more of her column, Kukka (Finnish for bloom or flower) at BlueRibbonNews.com. Get in touch with Sally via email at sallyakilgore@gmail.com.
---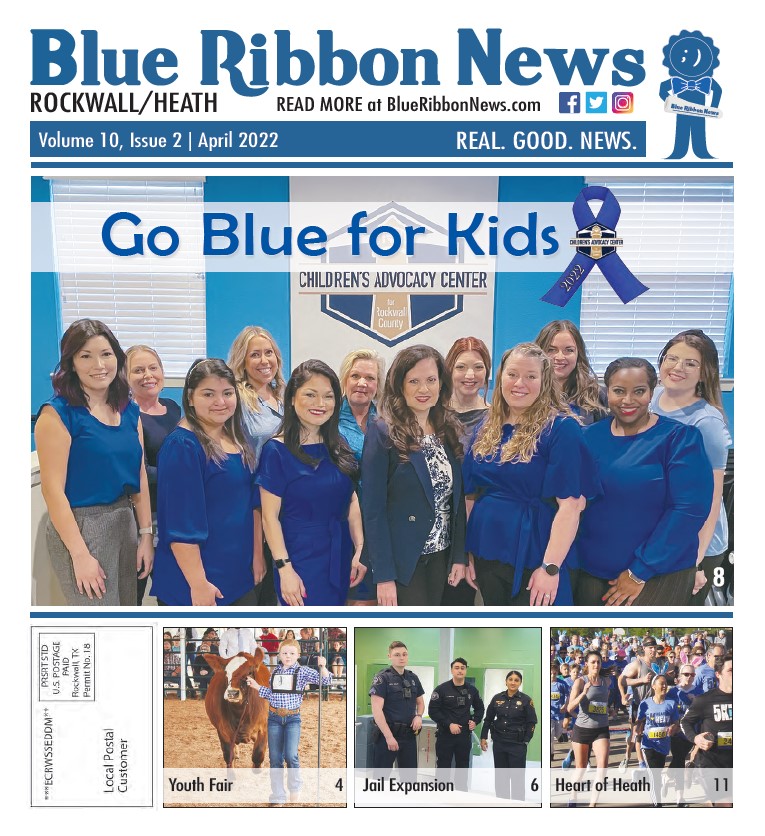 Our

print edition

delivers free to ~15,500 homes and businesses throughout Rockwall County, TX. Click image to view.
To share your good news and events, email editor@BlueRibbonNews.com.
Subscribe to our email newsletter here.
Advertising: 214-342-8000 or advertising@BlueRibbonNews.com.
---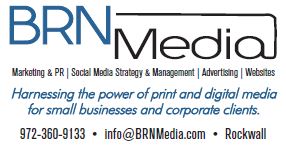 BRN Media is a multi-platform, full-service creative agency offering advertising and marketing services, social media management, and website development throughout Rockwall County and the Dallas area.