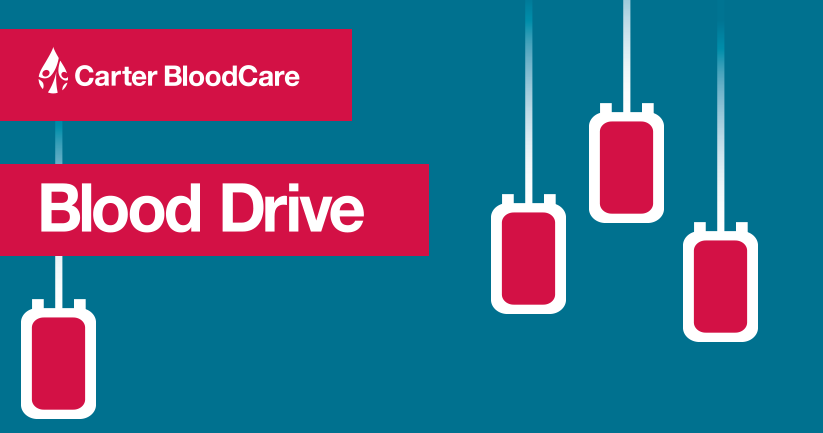 Rockwall, TX (March 17, 2023) – Carter BloodCare encourages Texans to make a lifesaving difference by donating blood in April.
All blood types are needed, but O negative blood is currently at critical levels. This means less than one day's supply is available to help patients who need transfusions due to vehicle accidents, surgeries, cancer treatments, difficulties during childbirth, and age-related health issues. O negative is in high demand because it is the universal blood type and can be used to treat any patient, regardless of their individual blood type. O negative is also the only blood type used to treat premature babies.
The need for blood is nonstop, but Texans can help by giving at one of the local Carter BloodCare community blood drive listed below.
McClendon-Chisholm
Date: Saturday, 4/8/2023 
Time: 10:00:00 AM – 3:00:00 PM
Host: Sonoma Verde
Address:  Sonoma Verde Pool Area, 1506 Bertino Way, Rockwall, TX 75032 
Sign Up Link: https://ww3.greatpartners.org/donor/schedules/drive_schedule/136877 
Rockwall
Date: Sunday, 4/16/2023 
Time: 8:00:00 AM – 1:30:00 PM 
Host: Our Lady of The Lake Catholic Church
Address: Our Lady of The Lake Catholic Church, 1305 Damascus Road, Rockwall, TX 75087 
Sign Up Link: https://ww3.greatpartners.org/donor/schedules/drive_schedule/134335 
Date: Sunday, 4/16/2023 
Time: 8:00:00 AM – 1:00:00 PM 
Host: First United Methodist Church-Rockwall 
Address:  First United Methodist Church-Rockwall, 1200 Yellow Jacket Lane, Rockwall, TX 75087 
Sign Up Link: https://ww3.greatpartners.org/donor/schedules/drive_schedule/137582  
Date: Sunday, 4/23/2023 
Time: 9:00:00 AM – 1:00:00 PM 
Host: Our Savior Lutheran Church
Address:  Our Savior Lutheran Church, 3003 Horizon Road, Rockwall, TX 75032 
Sign Up Link: https://ww3.greatpartners.org/donor/schedules/drive_schedule/138968 
Date: Tuesday, 4/25/2023 
Time: 11:00:00 AM – 5:00:00 PM 
Host: Rockwall County Library
Address:  Rockwall County Library, 1215 E. Yellowjacket Lane, Rockwall, TX 75087 
Sign Up Link: https://ww3.greatpartners.org/donor/schedules/drive_schedule/138205 
Date: Saturday, 4/29/2023 
Time: 10:00:00 AM – 3:00:00 PM 
Host: City of Fate
Address:  City Hall, 1900 CD Boren Parkway, Fate, TX 75087 
Sign Up Link: https://ww3.greatpartners.org/donor/schedules/drive_schedule/138473 
Date: Sunday, 4/30/2023 
Time: 8:00:00 AM – 1:00:00 PM 
Host: Eastridge Church Of Christ
Address:  Eastridge Church Of Christ, 485 FM 3549 North, Rockwall, TX 75087 
Sign Up Link: https://ww3.greatpartners.org/donor/schedules/drive_schedule/136919 
Forney
Date: Saturday, 4/1/2023 
Time: 10:00:00 AM – 4:00:00 PM 
Host: First United Methodist Church-Forney
Address:  First United Methodist Church Forney, Family Life Center, 414 W Broad St, Forney, TX 75126 
Sign Up Link: https://ww3.greatpartners.org/donor/schedules/drive_schedule/136000 
Date: Monday, 4/17/2023 
Time: 1:00:00 PM – 5:00:00 PM
Host: Forney Community 
Address:  My Modern Medicine, 992 East US Highway 80, Forney, TX 75126 
Sign Up Link: https://ww3.greatpartners.org/donor/schedules/drive_schedule/138096
Date: Saturday, 4/22/2023 
Time: 10:00:00 AM – 2:30:00 PM
Host: Walmart Forney -Brooklyn Masonic Lodge
Address:  Walmart Forney -Brooklyn Masonic Lodge, FM 548 @ US Highway 80, Forney, TX 75126 
Sign Up Link: https://ww3.greatpartners.org/donor/schedules/drive_schedule/138579
---
(adsbygoogle = window.adsbygoogle || []).push({});
---