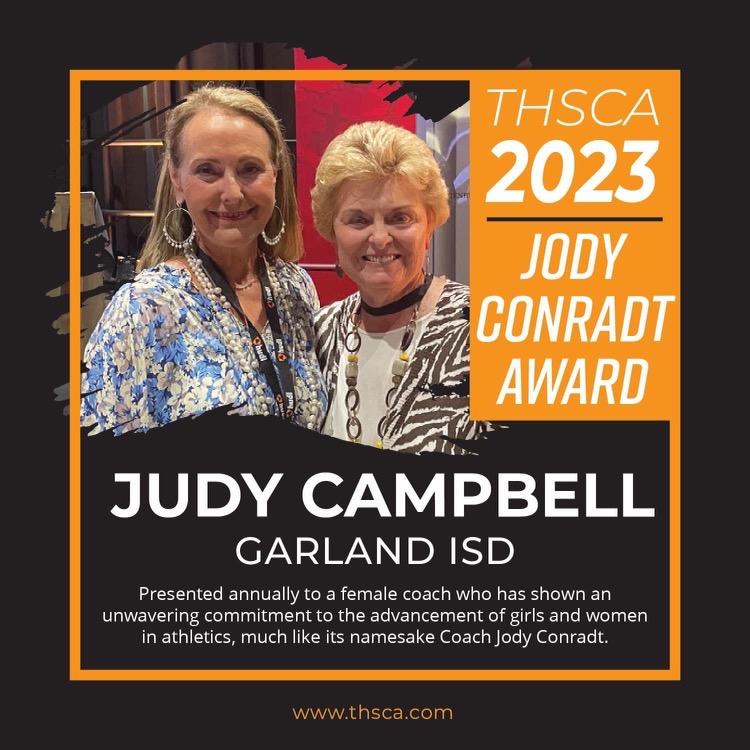 Garland, TX (April 21, 2023) – Garland ISD proudly announces that Assistant Director of Athletics, Judy Campbell, was named the first-ever recipient of the Jody Conradt Award by The Texas High School Coaches Association (THSCA).
This prestigious award is given to the recipient based on the following criteria:
The candidate must be a female professional member in good standing of the THSCA.
The candidate should have served as a positive role model for athletes and coaches.
The candidate should, by her actions and lifestyle, bring credit to the coaching profession.
The candidate must be a female that has made a significant contribution to women's high school athletics in Texas.
The candidate's win/loss record should not be the sole determining factor in selecting the nominee.
The creation of this prestigious award is presented to a female coach who has shown an unwavering commitment to the advancement of girls and women in athletics, much like Jody Conradt.
Judy Campbell is a graduate of Royse City High School where she played basketball, the only women's sport offered at that time. She began her teaching and coaching career in Royse City ISD in 1969 until 1975 when the Garland ISD Athletic Director called upon her to begin a girl's athletics program.
To learn more about the award and to read the full press release, please visit https://www.thsca.com/_files/ugd/2d16e6_82f276e8989a4d4bb99eee15227af2fb.pdf
Submitted