Rockwall, TX (May 4, 2023) – It's inspiring to see young people taking the initiative to make a difference in their community. Hartley Dorsey, along with her friends, Emmylou Durbin and Hayes Shahan, recently decided to do just that by going door to door in their neighborhood to raise money for Lone Star CASA kids for Child Abuse Prevention Month this April.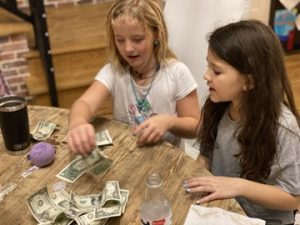 Lone Star CASA is a non-profit organization that elevates the voices of children in Kaufman and Rockwall County who have experienced abuse and neglect by providing trained volunteer advocates to work alongside children and families so they can achieve safety and stability to fulfill their potential.  Hartley and her family have long been supporters of the organization and have seen firsthand the positive impact it has on the lives of children in their community.
"Hartley's dedication to this important cause is truly admirable, and her efforts are a testament to the power of community involvement in creating positive change." Says Lauren Rowe, Executive Director of Lone Star CASA. "We hope that her actions will inspire others to take action and support organizations like Lone Star CASA."
The volunteers at Lone Star CASA work tirelessly to provide support to the kids who need it most. We invite you to get involved with their program by attending an information session, hosting a donation drive, or even thanking a CASA in your neighborhood who has a volunteer yard sign outside of their house over the next few weeks.
This Child Abuse Prevention Month and beyond, let's all take a cue from Hartley and get involved in making a difference in the lives of children in need. To learn more about how you can get involved with Lone Star CASA, visit their website at lonestarcasa.org or follow them on social media @TXLoneStarCASA.
Submitted Press Release