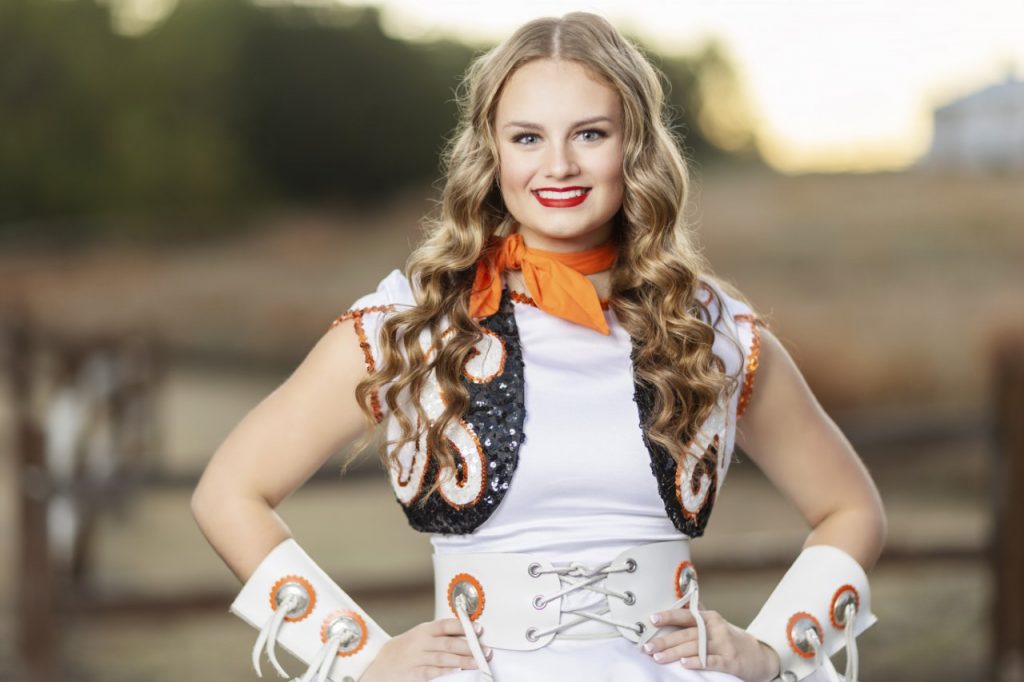 Rockwall, TX (May 15, 2023) – Our Rockwall High School Senior Stingerette Spotlight continues with Morgan Crosby.  Morgan is a three-year member of the team and currently serves as a Junior Varsity Instructor and also served as a Rockwall Dance Instructor her junior year at Utley Middle School.  She is the daughter of Michael and Julie Crosby.
During her time on the team, Morgan has been a member of the Elite Showstopper team as well as the Hip-Hop, Kick, and Tap Team.  She has earned awards such as "Stingerette of the Week" in 2022, "Miss Stand Out Strut" in 2021, and "Miss Super Smile" in 2020.  Morgan was also awarded the "Twin Award" and "Miss Southern Belle" awards last year at banquet.  Team awards include ADTS National Champion JVI/RDI 2022 and 2023, ADTS National Champion Team 2023, and ADTS National Champion Elite Team in 2023.  Morgan had the opportunity to perform with her team on the Walt Disney World Trip in 2022 and also danced with her team in San Antonio in 2023.
Morgan was a member of the Jacket Babes JV team her freshman year where she served as a Lieutenant.  At Rockwall High School, she was also a member of the National Honor Society and Mu Alpha Theta where she represented the club as a Sweetheart in the Homecoming activities.  In addition, Morgan was a Superintendent's Scholar and received the "Cool to Be Smart" Academic Excellence Award.  Morgan will graduate with an academic rank of #4 in the Class of 2023 of over 660 students.
Outside of school, Morgan was a five-year member of National Charity League Texas Pearl Chapter and was also on the City of Rockwall's Youth Advisory Council.  She danced on the Senior and Junior teams at Dance FX in Garland for five years.
Morgan will attend Baylor University in the fall to pursue a degree in business as a Hankamer Scholar.
Submitted by Julie Crosby