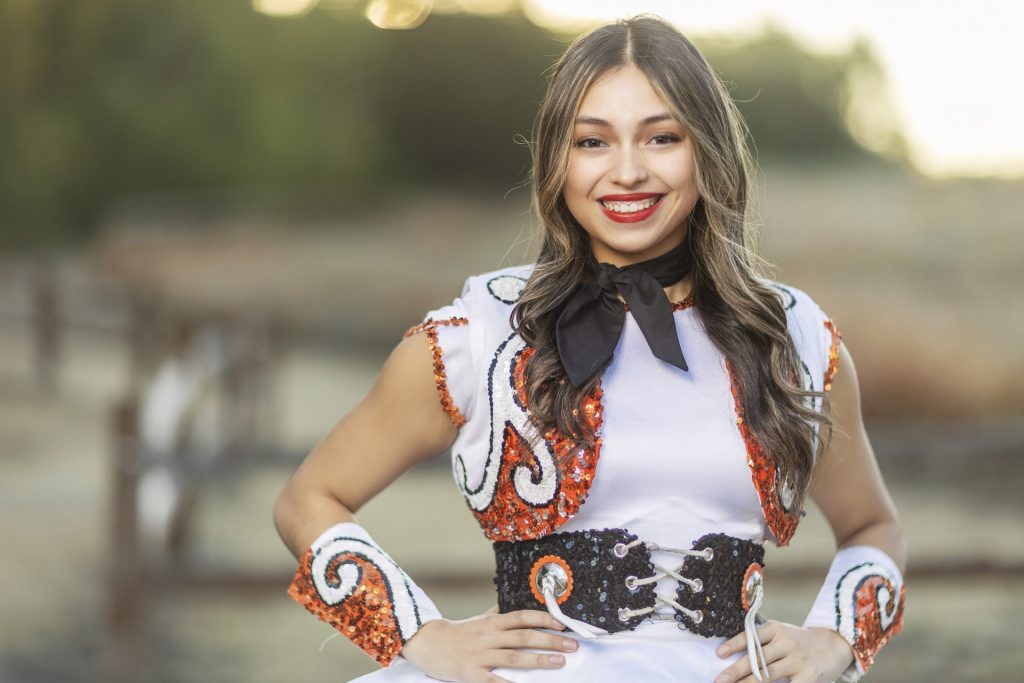 Rockwall, TX (May 23, 2023) – Today's Stingerette Senior Spotlight features Sofia Blevins.  Sofia is the daughter of Curtis & Dinora Blevins.  She is a three-year member of Stingerettes and currently serves as a Lieutenant.
Sofia is a three-year Showstopper, Hip Hop and Tap company member.  She is a one-year kick company member.  At Banquet, Sofia was awarded Rookie of the Year, Junior of the Year, Showstopper of the Year, Greatest Work Ethic and Best Projection.  She was also selected as Stingerette of the Week, Positive Polly, Miss Yes Ma'am and Miss Super Smile.  This year Sofia also serves as the New Girl Sergeant.  Sofia performed at Walt Disney World and the Macy's Thanksgiving Day Parade where she was selected to dance in the finale with Mariah Carey.  While on Jacket Babes her freshman year, Sofia was awarded Jacket Babe of the Year.  Sofia is a member the Dance FX Senior Company and National Charity League Pearl Chapter.
Sofia competed her solo at numerous competitions where she has been named both solo finalist or champion.  She is a three-time Showtime Solo Champion.  She was the Prime Time Solo Champion in 2020 and Prime Time Solo 1st Runner up in 2021.  Sofia is a two-time ADTS 1st Runner Up, MA Dance 1st Runner Up and Showtime Runner Up.  At Nationals in 2022, Sofia was named National Solo Champion and received the Circle of Champion award, making her one of the top 4 solos at Nationals.
Sofia plans to attend McClennan Community College to dance on their National Champion Dance Team.  She plans to pursue a career in business.
Submitted by Julie Crosby