DALLAS, TEXAS (June 1, 2023) – Registration is now open for the 56th Annual Dallas YMCA Turkey Trot, presented by Texas Health.  The Trot is a North Texas tradition that takes place each year on Thanksgiving Day morning. Participants can choose to run or walk the race in-person in Downtown Dallas on Thursday, November 24, or join virtually from their neighborhood or anywhere across the country.
The proceeds from the 2023 Turkey Trot will provide access to programs supporting the overall well-being of individuals and communities who are in most need of services. This includes Y programming related to Safety Around Water, which teaches free life-saving water skills to underserved communities, chronic disease prevention for adults and children, food distribution, Mobile Y, youth sports, teen camps, pre-school education and several other programs that impact North Texans. The Y ensures all have access to YMCA programs regardless of financial situation.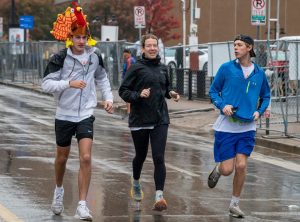 Individuals who sign up by July 31st will receive the best prices of the season for the 5K and 8-Mile distances, in person and virtual.  This year's in-person event will feature fun and entertainment for the whole family, including two costume contests, one for runners and one for their dogs. And new this year, virtual and in-person participants will receive new race swag, in addition to their race t-shirt.
"The Turkey Trot is our highlight of the year. It's a unique opportunity for us to spend time with our family, Y members, and the community at large all in one place," said Curt Hazelbaker, President and CEO, YMCA of Metropolitan Dallas. "People come to the trot to have fun, make memories, and support services that then pour back into their own neighborhoods. We're grateful to celebrate another year and continue to deepen our relationship with North Texans."
This year's Dallas YMCA Turkey Trot is presented by Texas Health as part of a two-year partnership announced earlier this year.  Additional sponsors for the event  include Cars for Kids, Luke's Locker, Amazon, and Downtown Dallas, Inc. and Wellcare. Sponsorship opportunities are still available.
Visit www.thetrot.org to register and for the most up-to-date information. Volunteer opportunities are also available the day of the trot.
Submitted press release