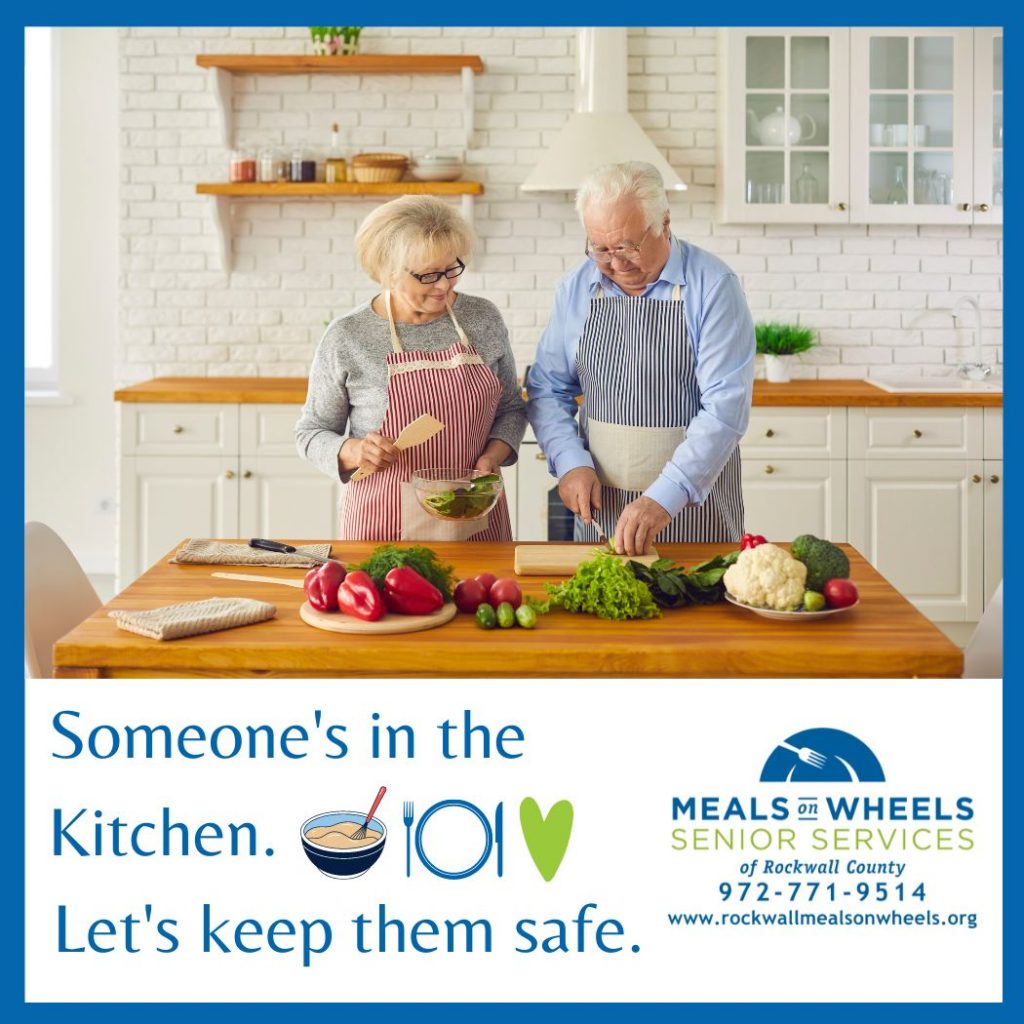 Rockwall, TX (June 2, 2023) – The kitchen can be a joyful hub of the house and often a zone of comfort. When accidents happen in the kitchen, it is disheartening as it inevitably can be severe. An ounce of prevention can help mitigate these occurrences. As a caregiver to a senior or disabled citizen, it is essential to observe and assess the environment where people prepare their meals. Consideration of mobility and range of motion are crucial, as well as dexterity with typical kitchen tools. Rugs that were once a welcome decoration can become a hazard for falling.
Chronic conditions such as arthritis or memory issues threaten independence, but they do not have to. Seeing this necessity slip away can be a terrible feeling for someone who has been preparing meals for most of their life. Meals on Wheels Senior Services of Rockwall County (MOWSS) partners with the North Central Texas Area Agency on Aging to provide caregiver support to guide seniors and disabled citizens through routine tasks that were once simple and non-threatening and assist in those tasks staying safe.
Beyond physical safety measures, diet and food preparation are areas to reevaluate, as needs can change based on new diagnoses and the need for simple preventive care. If a specific diet is now needed, would the individual need help obtaining groceries and prepping them for easy access at mealtimes? Contacting MOWSS is the first step towards seeking help and planning for the caregiver's needs and those of the person(s) they care for in all instances; preserving independence, dignity, and safety for our seniors and disabled is our number one goal.
The article below provides numerous tips and suggestions regarding Kitchen Safety for Seniors. At the end of the article is a calendar for Educational Events sponsored by Family Caregivers Online.
https://familycaregiversonline.net/caregiver-education/kitchen-safety-for-seniors/
For more information, call Meals on Wheels Senior Services of Rockwall County, 972-771-9514.
Information provided by Meals on Wheels Senior Services of Rockwall County and North Central Texas Area Agency on Aging. The North Central Texas Area Agency on Aging serves adults aged 60 and older and their family caregivers who live in Collin, Denton, Ellis, Erath, Hood, Hunt, Johnson, Kaufman, Navarro, Palo Pinto, Parker, Rockwall, Somervell, and Wise counties. Their mission is to create and maintain a coordinated network of health and social services for older adults and family caregivers. They provide services and resources that help older adults maximize their quality of life and live as independently as possible. By providing information, education, and direct services, they help individuals meet basic needs and make informed decisions. Contact one of their staff members, or call 800-272-3921.