Editor's Note: Equest Therapeutic Horsemanship is located at 3800 Troy Road in Wylie, TX 75098, providing therapeutic sports riding classes and Hippotherapy to people with special needs. Equest has been serving people for more than 30 years, and their very first therapy horse was named Mrs. Butterworth.  She just 'crossed the rainbow bridge' this past year and was well over 40 years old! She is being inaugurated into the Therapy Horse Hall of Fame in March, and will be honored with a pancake breakfast in her honor. 
Sweet Miracle Mare Mrs. Butterworth, 196? – 2012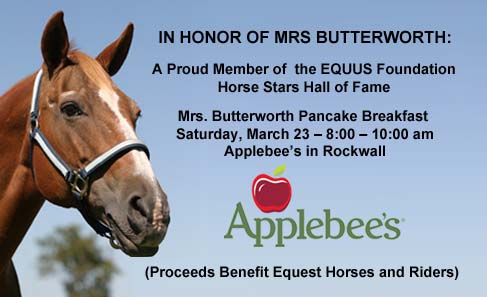 (March 14, 2013) How to describe an original?  Big brown kind eyes and a honey brown coat, a bit of a hay belly, a slight roman nose, a short-almost- full-size-horse stature and most importantly: an infinite amount of patience, tolerance and acceptance.
Mrs. B taught us what therapeutic riding is about.  She taught volunteers how to be respectful of the horses and riders: how to lead and sidewalk with dignity for the rider, the horse and the volunteer.  She taught instructors how to tell a rider to "T-r-o-t".  She taught hundreds of riders how to balance, how to ride, how to laugh and how to enjoy life!  For many beginners, she was the first horse they ever rode.  That was the key: they RODE her!  No pony rides; a real honest ride!   She was the catalyst of miracles!
Mrs. Butterworth, one of the founding Equest horses was a long- time favorite of the riders and volunteers:  voted Equest Horse of the Year numerous times.  She was nominated for and won Region 8 NARHA (PATH) Horse of the Year and ultimately THE NARHA (PATH) Horse of the Year 2004.  She earned her retirement twenty fold in 2004.  Mrs. B. enjoyed her retirement immensely as The Boss Mare.  Patience, tolerance and acceptance were her most notable attributes and they never faded.  Late in 2012 Mrs. Butterworth's 40-plus years of life came to an end, but not her legend.  The Incredible Mrs. Butterworth affectionately known as "Mrs. B" lives on in our hearts and memories.
It is therefore with great honor, respect and pride for this incredible mare that we acknowledge Mrs. Butterworth and her contributions to the therapeutic industry.  Equest was thrilled to receive the information that Mrs. Butterworth will be an inaugural inductee in the "Humanitarian" category Horse Stars Hall of Fame at EQUUS Foundation's "fête cheval étoile" event Friday, March 8, 2013, at the Palm Beach International Equestrian Center, Wellington, Florida.
PANCAKE BREAKFAST AT ROCKWALL APPLEBEE'S
8 to 10 a.m. Saturday, March 23
In honor of Mrs. Butterworth, we are holding a Pancake Breakfast for all our Equest friends and families.  It's all the pancakes and sausage you can eat for $8/person and Applebee's will donate 50% to Equest.  Purchase your tickets through the Equest website or contact Alex Dodson by email at adodson@equest.org.  Join us on Saturday, March 23 from 8 to 10 a.m. am at Applebee's in Rockwall, 687 East I-30.
Submitted by Linda Kordek Milton, Development Director, Equest Therapeutic Horsemanship.
To share your news and events, email editor@BlueRibbonNews.com.