ROCKWALL/HEATH/FATE, TX (March 15, 2016) Our Blue Ribbon News Early Spring/Easter issue  is on its way to more than 18,000 homes and businesses throughout Rockwall and Heath this week. View it online now by clicking the cover image below.
Submit your stories, announcements and events for publication by emailing editor@BlueRibbonNews.com.
Thank you for supporting our local advertisers who help us deliver so much hometown GOOD NEWS!
Click Image To View: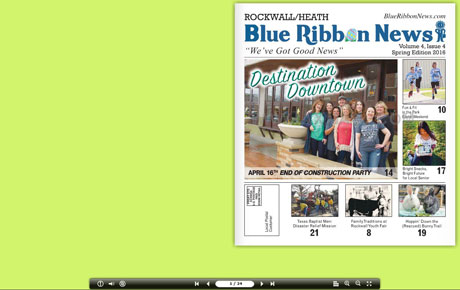 Get Extra Copies
Our 24-page, full color, hyper-local print edition is published 8x/year (about every 45 days) and direct mailed free to more than 18,000 homes throughout 75087 & 75032 zip codes.
Pick up extra free copies at the Rockwall Area Chamber of Commerce, the JER Chilton YMCA, the Rockwall County Library and various local businesses, while supplies last. Meals on Wheels delivers several copies to area homebound seniors along with their meals.
Additional copies are available on a first-come, first-served basis by calling 214-342-8000. Due to the volume of requests, there is a $5 charge to cover postage and handling when mailing out individual copies.
Annual Subscription 
Due to high demand, we offer an annual subscription of our Blue Ribbon News print edition to those living outside of our Rockwall-Heath free delivery zone. To request an annual subscription, email editor@BlueRibbonNews.com & send payment of $28 for postage and handling to Blue Ribbon News, PO Box 967, Rockwall, TX 75087.
View Past Print Editions 
Blue Ribbon News has been in print since 2012. View all of our past print editions here.
Find Us On Social Media  
Visit us at www.BlueRibbonNews.com, like us on Facebook, and follow us on Twitter and Instagram (@BlueRibbonNews), too!
Subscribe To Our E-Newsletter
Click here to to sign up for our free e-newsletter, featuring the latest happy hometown headlines. Today's good news will be delivered direct to your inbox, so you don't miss a thing. You may unsubscribe at any time.
Check Out Our Events Calendar
Keep up with local entertainment and events by visiting our online calendar.
Download the Official Rockwall Area App
The Official Rockwall Area App is the easiest, most comprehensive way to find places to shop, dine, play and stay in the Lake Ray Hubbard area. Download it for free here.
Brought to you by Blue Ribbon News, in cooperation with the Rockwall Area Chamber of Commerce and Visitors Center.
To find out how your business can be highlighted in the Official Rockwall Area App, call 214-342-8000 ext 1127 or info@blueribbonnews.com.