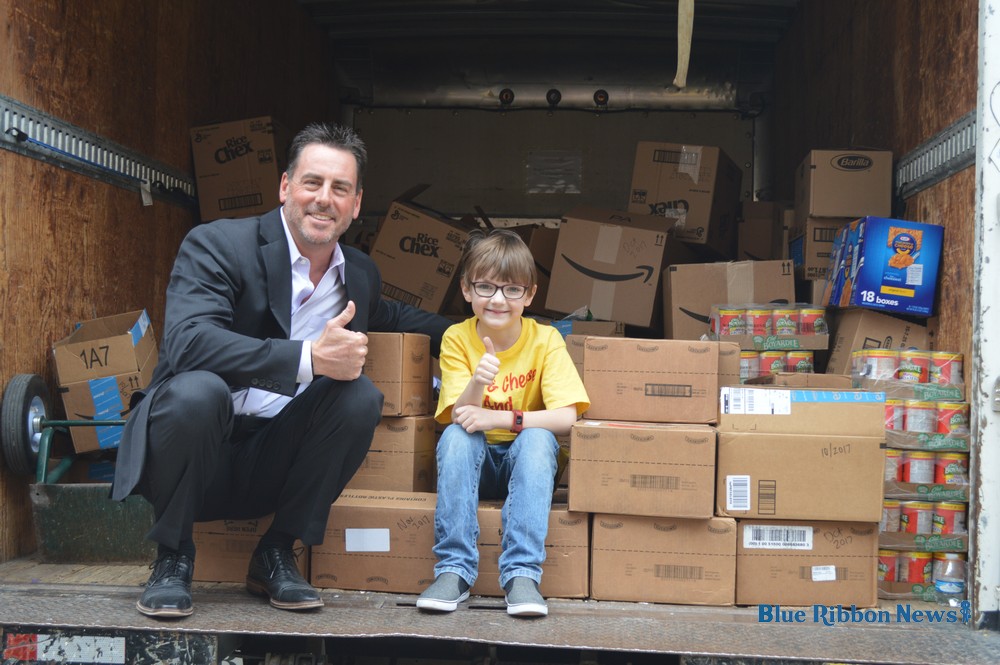 (ROCKWALL, TX – Feb. 13, 2017) A new nonprofit is helping provide kid-approved food items to kids in need in Rockwall County, and it's the brainchild of a local seven-year-old boy named Kaden Newton.
When Kaden was just four years old, he told his parents he wanted to create a company to help feed the poor.
"So we donated some items to the food pantry at Helping Hands of Rockwall County," said Kaden's mom Diana Newton. "Kaden liked it, and he kept asking to go back, tour the pantry and see the shelves. That's when he noticed there wasn't much oil for kids to make pancakes, which was devastating to him because that's his favorite food."
Kaden also noticed a shortage of another one of his favorite foods – macaroni and cheese.
"They didn't have very much mac and cheese which is a really positive, kid-friendly food that kids like to eat," Kaden said.
Having toured the pantry multiple times in the past three years, and learning of the surprising amount of families within the county who come to Helping Hands seeking grocery assistance each year, Kaden decided to create an avenue to provide foods that kids would not only enjoy, but would also fit the needs of Helping Hands. And thus Kaden's nonprofit, which he fittingly named Mac & Cheese and Pancakes, was born.
Diana began a social media campaign for Kaden's nonprofit last Thursday. She shared Kaden's mission with all her friends and family on Facebook, posting a link to the Mac & Cheese and Pancake wish list of kid-approved food items on Kaden created on Amazon.
The wish list includes such items as Kraft Macaroni and Cheese, Bisquick Pancake Mix, Rice Krispies Cereal, Chef Boyardee Ravioli, Kellogg's Nutri-Grain Cereal Bars and Peter Pan Creamy Peanut Butter.  All items are in bulk and are as cheap as $11, which includes shipping for Amazon Prime members. People can purchase items and ship them directly to the Mac & Cheese and Pancakes headquarters, a.k.a. the Newton family homestead.
Diana also posted a short video of Kaden explaining the kinds of foods people could donate to Mac & Cheese and Pancakes. Their goal was to receive 5,000 items; They were up over 2,500 items on Monday, Feb. 7, and had over a thousand views for Kaden's video. Late Tuesday night, they surpassed the 5,000 mark and as of Friday, Feb. 10, are at 6,300 items.
"We're getting items from people in other states across the country – California, Florida, Tennessee… People we've never met who shared this across social media," Keegan said.
Boxes full of donated items have been filling up the Newton household this past weekend. Keegan said they received their biggest shipment of boxes on Thursday, with almost 100 boxes stacked all around the front porch and the sides of the house.
Often Kaden will receive notes of encouragement placed inside the boxes from the folks who donated. The Newtons makes sure to track them down on Facebook to thank them for their donation and kind words, including those donors who they don't know personally. "The generosity from strangers has been amazing," Diana said.
Kaden has developed a certain procedure when it comes to unpacking all the boxes, and his parents know better than to try and unpack them when he's away at school. "He likes to be involved," Diana said. "He likes to be the boss."
The procedure begins with the Newtons – usually Kaden himself – unpacking a box and then setting it aside for them to sort and update their item count later. The family has become so used to the routine that they can easily tell what's inside a box by giving it a little shake. Kaden has become somewhat of an expert at this, and the unpacking procedure has become one of his favorite aspects of his job.
"I feel amazing, like a true leader," Kaden said.
And of course, how can the owner of a company function without his own office? Kaden's office space can be found directly to the left upon entering the Newton home, and is comprised of a bulletin board — his "wall of fame" — filled with photos of Kaden posing next to boxes of donations and other important statistics related to his company. He has not one but two desks – for variety, he said. "If I get bored sitting at this desk I can just move to the other one."
Kaden leads quite an eventful life. When he's not managing his company, he attends Celia Hays Elementary School, takes piano lessons at Rockwall School of Music, and also participates in taekwondo, gymnastics and the S.T.E.M. program at The CORE in Rockwall. He said he enjoys the workload that comes with being the boss at Mac & Cheese and Pancakes – especially all the math that's involved.
"You have to be really smart for this job and work really hard," Kaden said. "But it's worth it. It's a small company now but from my generation to the next it'll keep getting bigger and bigger."
When asked what he wants to be when he grows up, Kaden simply said he'll stick to Mac & Cheese and Pancakes. "I want to keep on doing Mac & Cheese and Pancakes. Although you don't get paid any money, you get paid from the heart."
The Newtons have lived in Rockwall for three and a half years. Keegan and Diana have three children total – Kaden and his younger brother and sister, Kase and Kayla. Diana said the Junior Kindergarten classes of The Ark Preschool where Kayla attends are also running a food drive for Kaden's nonprofit to benefit the Helping Hands Food Pantry. They've been able to collect well over 300 items for the cause.
On Monday, Feb. 13, Helping Hands sent a big truck and a van to pick up the 6,000+ food items stacked neatly in the Newtons' home. Kaden was everywhere at once, helping the loaders pack in the boxes and handing out his business cards to everyone.
"Kaden has done an amazing job," said Jon Bailey, Helping Hands of Rockwall County president / CEO. "He's a special young man who has a heart and a passion to help those less fortunate. He tells us all that no matter how old or young you are, you can always make a difference in someone's life."
Kaden plans to do a food drive for his church – the First United Methodist Church Rockwall – which will be the Lent and Easter mission project for the church in May. Diana said they plan to collaborate with Hays Elementary to do another food drive for Mac & Cheese and Pancakes in April and are planning more food drives after that, but for now are just trying to process the amazing success of this first food drive.
"What comes next we don't know, because we're overwhelmed and we're humbled. We're still processing this and how successful it's been," she said.
Although they've already hit their goal of 5,000 items (the count was over 7,000 items at the time of this writing), Kaden and family invite people to continue donating to Mac & Cheese and Pancakes. Folks can purchase items to donate from Kaden's wish list at http://www.amazon.com/registry/wishlist/1HAT2VXYKRGNC or they can search for the Amazon gift registry by the Mac & Cheese and Pancakes email address – macandcheeseandpancakes@gmail.com.
To learn more about Kaden and his nonprofit visit www.macandcheeseandpancakes.com.
By Austin Wells, Blue Ribbon News.
Our print edition is delivered free to 18,000+ homes in Rockwall and Heath, TX.
To share your good news and events, email editor@BlueRibbonNews.com.
For advertising inquiries both online and in print, call 214-342-8000 or email advertising@BlueRibbonNews.com.
Download the FREE Official Rockwall Area App for Apple iPhone or Android.