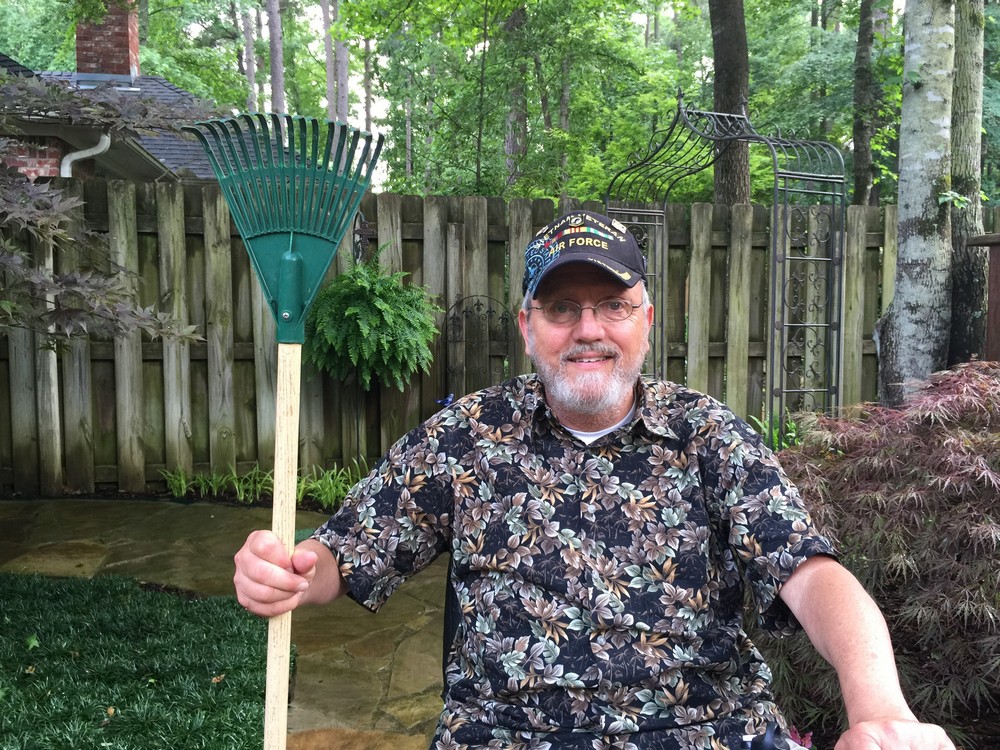 (ROCKWALL, TX – April 20, 2017) Smith County "Master Gardener on Wheels" and Air Force Vietnam veteran David Gary gave tips on how to turn a backyard into a landscape masterpiece as the guest speaker at the Rockwall Kiwanis meeting on Tuesday, April 18. Through the photos in his PowerPoint presentation, Gary showed how he transformed the backyard of his Tyler, Texas home into a beautiful home garden.
Gary, who was diagnosed with muscular dystrophy at age 28, did most of the gardening labor himself – right from the seat of his wheelchair.
"Nothing can keep you from doing what you want to do. The doctors said I wasn't supposed to make it past my 50s, and I turned 70 last November. So they're not always right, but they did me a favor – they made me want to prove them wrong," he said.
When he and his wife first moved into the house in Tyler, the yard had jasmine grass planted all around with no flower beds. Gary said the process of getting rid of the jasmine wasn't as hard as people might think. "With the jasmine grass, you can roll it up like carpet if you let it dry out good. I still have a little bit left but eventually I won't have any."
Gary designed the flower beds in his backyard so that everything grows close to a walkway, allowing him to access the beds and perform the necessary maintenance with ease. He said with so many pine trees shading his gardens, he uses plants that will grow well in the shade and in the sun, as well as evergreens that will last even throughout the winter. His gardening tools of choice include such objects as a short rake, small bags of potting soil and the all-important rain gage.
"I get the shorter rake handle so I can rake all the pine needles we get out there easy, and I can use that same rake to change the bird feeders. I get the smaller bag of potting mix with the Ziplock, so I can make my own pots. It's lighter weight and you can seal it when you don't use it. It may cost a little more but it's easier to handle. And you've got to have a rain gage, especially if you're a Master Gardener. It helps everyone to be able to tell how much to water the yard," Gary said.
For his flower pots, Gary said he prefers to use ones made of fiberglass because they're lighter weight and very durable. "I put the pots where I want them, and then I put the potting soil in them so I don't have to lift them. I like to put different sizes together so that the plants in them can all grow together and look like one big plant."
To attract Hummingbirds to his yard, Gary said he puts his feeder out early – around mid-March.
"You've got to put the feeder out early because Hummingbirds will send scouts to check and see if the feeder is empty, and if they find one that's empty they don't come back," Gary said.  "And don't get that colored liquid, that's bad for them. Just use regular sugar water."
Gary began the landscaping work on his backyard 10 years ago, and has completed the project in sections over time. He recommends those tackling a similar project take the same approach. "You can start with a corner of the yard at a time and do everything progressively."
Since 2003, Gary has been a dedicated volunteer at the Dallas Arboretum and Botanical Garden serving as a tram driver, garden guide and on the Speaker's Bureau. He has been a Smith County Certified Master Gardener in Tyler since 2007. Gary said he found his passion for gardening through volunteering at the Dallas Arboretum, where he first learned the tricks of the trade and made a lot of friends along the way. "That's where it all began. If I hadn't gone down there, I wouldn't have ever cared as much about gardening as I do now."
Located on the shores of White Rock Lake, the Dallas Arboretum's 66 acres include a complete life science laboratory with endless potential for discovery. The Arboretum has a 75-member Board of Directors, 120 full-time paid staff members, 50+ part-time paid staff members, and more than 273 active volunteers. For more information visit dallasarboretum.org.
The Master Gardeners of Smith County are specially trained volunteers who provide horticultural information and help to the citizens of Smith County, working through the Smith County Extension office. Visit txmg.org/smith/ for more information.
By Austin Wells, Blue Ribbon News. Photos courtesy of David Gary. 
Our monthly print edition is delivered free to 19,000+ homes in Rockwall and Heath, TX.
To share your good news and events, email editor@BlueRibbonNews.com.
Subscribe to our email newsletter here.
Advertising: 214-342-8000 or advertising@BlueRibbonNews.com.