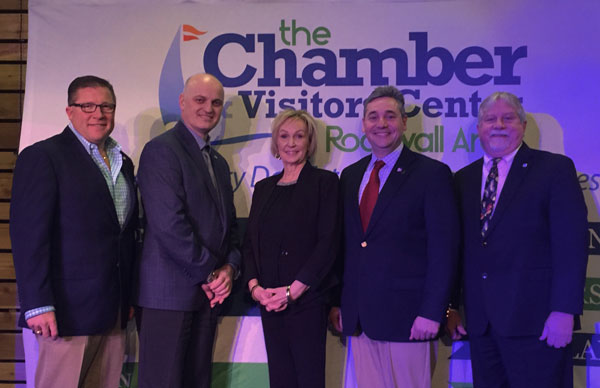 (ROCKWALL, TX — March 2, 2018) The mayors of Rockwall, Heath, Fate, McLendon-Chisholm and Royse City provided updates and answered questions on their respective cities during the Rockwall Chamber Partnership Luncheon on Feb. 21. Here are some of the highlights from their presentations on what's happening and what's to come in Rockwall County.
Rockwall
Mayor Jim Pruitt announced that during the city council meeting on Feb. 5, the council voted 4-2 to approve a resolution calling for a bond election in May. Citizens will be asked to vote on an $85 million bond covering road repairs throughout the city over a 10-year period and allowing up to 40 years for maturity of the debt.
"This $85 million will not speed up one bit of traffic we have coming through our town. It's just to take care of the crumbling infrastructure that we have," Pruitt said.
Pruitt and Councilmember Kevin Fowler were the two votes against the resolution, but Pruitt clarified that it's not because they don't want the roads to be fixed. He said they voted against it because they disagreed with the 40-year maturity date of the debt.
"We are all unanimous in that we need this project and that we need it to pass," Pruitt said.
Pruitt briefly addressed plans for The Harbor under new owner PegasusAblon, including the expansion of the Cinemark 12 Theater and an incoming burger restaurant called Rodeo Goat.
"The company that owns The Harbor now wants to make it an entertainment district, therefore you're going to see restaurants that aren't chain restaurants coming in."
Pruitt fielded a question regarding the widening of State Highway 205 from two lanes to four lanes. The project, Pruitt said, is divided into three sections – the southern section from Highway 80 to north of FM 549, the middle section from north of FM 549 to north of John King Boulevard, and the north section which goes from north of John King Boulevard up to Highway 78. Pruitt said only one part of those has funding right now, which is the section that goes from Highway 78 down to Highway 66 in downtown Rockwall.
"If they get the funding for all of those, I think we'll see those things start probably around 2020 or 2021," Pruitt said. "So it's still on the plan, and they're doing the environmental assessment for it right now."
Heath
Rooftops, retail and roadway construction were the main topics for Mayor Brian Berry during his State of the City presentation. Berry said the city continues to enjoy tremendous residential growth with over 2,600 houses currently under development, most of which are located in the Heath Golf and Yacht Club community.
On the commercial side, Berry anticipates dirt to begin turning for the 55,000-square-foot Tom Thumb in just a few months. Installation of the infrastructure for the office space at the Heath Hub development, located at the northwest corner of FM 740 and FM 1140, is currently underway. Berry said the city has been told that construction for the full-service signature restaurant located in the development should start in about 30-45 days.
Berry said around a year ago the city adopted another $20 million of Capital Improvement Plan projects for infrastructure to accommodate incoming growth. One of those projects included a three-million-gallon water storage for the city.
"That was a much-needed project that we've had, and we certainly appreciate working with Rockwall and their engineers to make that happen," Berry said.
Berry announced that the FM 740 project widening the existing two-lane road to four lanes is very near completion, with the FM 550 and FM 549 projects currently underway. The projects involve TxDOT widening the shoulders on both sides of those roads, and Berry said TxDOT estimates those projects to be completed in about a year.
Royse City
The Royse City community has seen a huge boost in commercial development in recent years thanks to the Walmart Supercenter which opened in 2015. According to Mayor Janet Nichol, multiple pad sites in that area will give way to several incoming businesses including a Pappy's Express Car Wash on the north side of the CVS Pharmacy, as well as an 8,000-square-foot emergency center between the High Point Assembly of God Church and the CVS. Weather permitting, Nichol said construction on the Burger King located on the east side of the CVS is also slated to begin soon.
Downtown Royse City will see a new barber shop planning to open in March, as well as a sports bar and grill with an estimated opening in May. Nichol said she's also excited about the development of a new music and entertainment area similar to downtown Rockwall's San Jacinto Music Plaza.
"We've got a lot that our CDC has purchased downtown that's going to be called Acoustic Court," Nichol said. "We just approved at our last council meeting to have the funds. We will have a stage there, concerts and seating in an outdoor space. We hope that it's up and going by June."
Nichol said according to the developer, the much-anticipated Ballpark at Royse City located off I-30 westbound and FM 2462 is still on track for its inaugural opening season in May 2019. Meanwhile, Buc-ee's has started construction and is expected to open in January 2019.
Nichol confirmed that a 60,000-square-foot elite tactical training facility known as The Compound is coming to Industrial Park in Royse City. The complex will accommodate civilians and law enforcement, and include a retail area, fingerprinting services, virtual tactical simulation theatres, 25-yard firing lanes and six 100-yard firing lanes, a mat room, classrooms, locker rooms and a café lounge.
"The guy who is opening this up has 26 years in Secret Service, and he's already been asked to do some training for schools as far as school shootings are concerned. We're excited about him getting started, and he hopes to start turning dirt in May," Nichol said.
Fate
The City of Fate ranks as one of the fastest growing cities in the entire North Texas region. Mayor Lorne Megyesi said the city welcomed 2,000 new residents this past year to make its population 15,000 and has experienced a 14.5 percent growth in home sales already this year. Megyesi said Woodcreek, Fate's largest subdivision at 1,800 homes, is expected to be at 5,000 homes at buildout.
"We're well on our way this year to surpassing the 648 new home permits we did last year. That's very fast growth. A lot of people are moving out here and the city's growing like crazy," Megyesi said.
Megyesi said the city has begun to focus on bringing a revitalized downtown to its residents and has started purchasing properties in the downtown area to begin the process. "We brought in some developers that are looking to bring in three-story, multipurpose buildings that can have restaurants down below. They're going to have lots of space on the second floor for retail, and apartment complexes on the top floor."
The Robert Smith Family Park in Fate will welcome a new Fitness Court sponsored by Texas Health Presbyterian Hospital Rockwall this coming spring. The state-of-the-art Fitness Court will allow folks of any fitness level to get a world-class, full-body workout in just seven minutes.
McLendon-Chisholm
The City of McLendon-Chisholm continues to strive to meet the needs of its residents as it looks to provide a rural, open-space lifestyle to its residents. Mayor Robert Steinhagen said the city recently conducted two citizen surveys to get input from residents on why they choose to live in McLendon-Chisholm, what is most important to them in terms of lifestyle and municipal growth, what kinds of businesses they would like to see come to the city, and their expectations about the role of municipal government in size and scope.
Steinhagen recognized the efforts of City Councilmember Adrienne Balkum in initiating Coffee Chats which allow citizens to meet with city council members and the Mayor for coffee to discuss things that most interest them.
"These have been amazing successes, and all of us on the council feel as though this is a great step forward in ensuring that we are staying connected with our citizens," Steinhagen said.
Steinhagen also commended Councilmember Scott Turnbull, who led the city council through a comprehensive review of city finances and as a result, passed a resolution to advance payments on a City Hall bond which will reduce the total cost of a City Hall bond debt, saving taxpayers thousands of dollars in interest.
By Austin Wells, Blue Ribbon News. Photo by BRN Media.
Our monthly print edition is delivered free to ~20,000 homes in Rockwall and Heath, TX.
To share your good news and events, email editor@BlueRibbonNews.com.
Subscribe to our email newsletter here.
Advertising: 214-342-8000 or advertising@BlueRibbonNews.com.