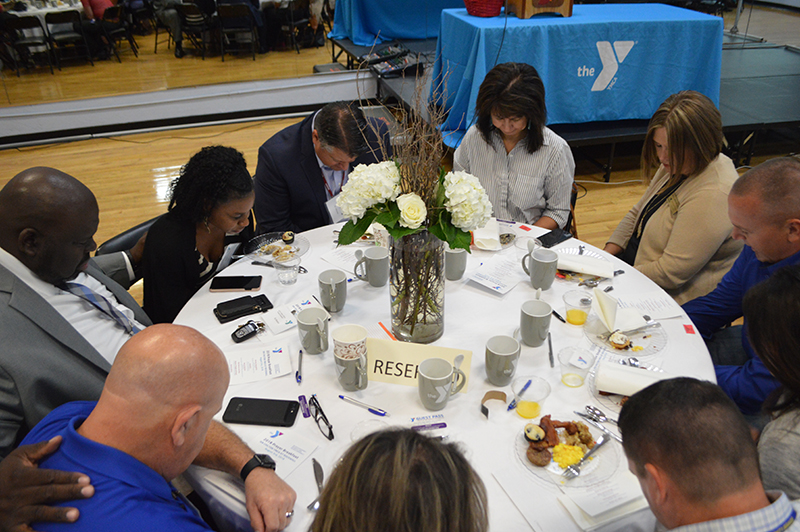 (ROCKWALL, TX – August 6, 2018) Rockwall ISD teachers and fellow educators across the area were treated to a free Teacher Prayer Breakfast at J.E.R. Chilton YMCA at Rockwall on Friday, Aug. 3.
The teachers enjoyed a hearty breakfast as they were blessed with a prayer from Rockwall ISD Superintendent Dr. John Villarreal, a soulful musical selection performed by Highland Park United Methodist Church Worship Leader Karla Nivens, and a heartfelt message from Karla's husband and Community ISD Superintendent Dr. Roosevelt Nivens.
Dr. Nivens has served as Community ISD Superintendent for the past three years and has held numerous leadership positions in education, including principal of Lancaster High School and Assistant Superintendent of Lancaster ISD. In his keynote address, Nivens challenged teachers during the upcoming school year to stay focused, and to be intentional when it comes to the education of their students by checking their "want to" versus their "like to."
Nivens said he grew up in a small community with highly-educated parents who both held long careers as teachers, and was the only one of his three siblings who didn't know how to read.
"When I got to 6th grade, I still could not read. Then I met Ms. McKinney," Nivens said. "I walked in class with my head down the first day. She knew I couldn't read because she had talked with my other teachers. She came up to me, held my head up and said, 'When you come in here, you hold your head up. And when you leave my class, you're going to be able to read.'
"Ms. McKinney wanted me to read. My teachers Kindergarten through 5th grade would have liked for me to read."
His teacher's deliberate intentions in helping him learn to read paid dividends for Nivens as he progressed through school. He said Ms. McKinney kept in touch with him throughout her life, sending him a congratulatory note when he was offered to attend Liberty University in Virginia on a football scholarship, and again when he realized his lifelong dream of playing in the National Football League.
"When I signed my first professional football contract, I received a note from Ms. McKinney that read, 'Now you can read your contract,'" Nivens said with a smile.
Nivens said while his parents served as excellent role models and truly shaped the man he is today, his success all started with the 6th grade teacher who taught him to read.
"Ms. McKinney saved my life," Nivens said. "Every single teacher in this room is a life saver, and don't let anybody ever tell you differently."
Story and photos by Austin Wells, Blue Ribbon News.