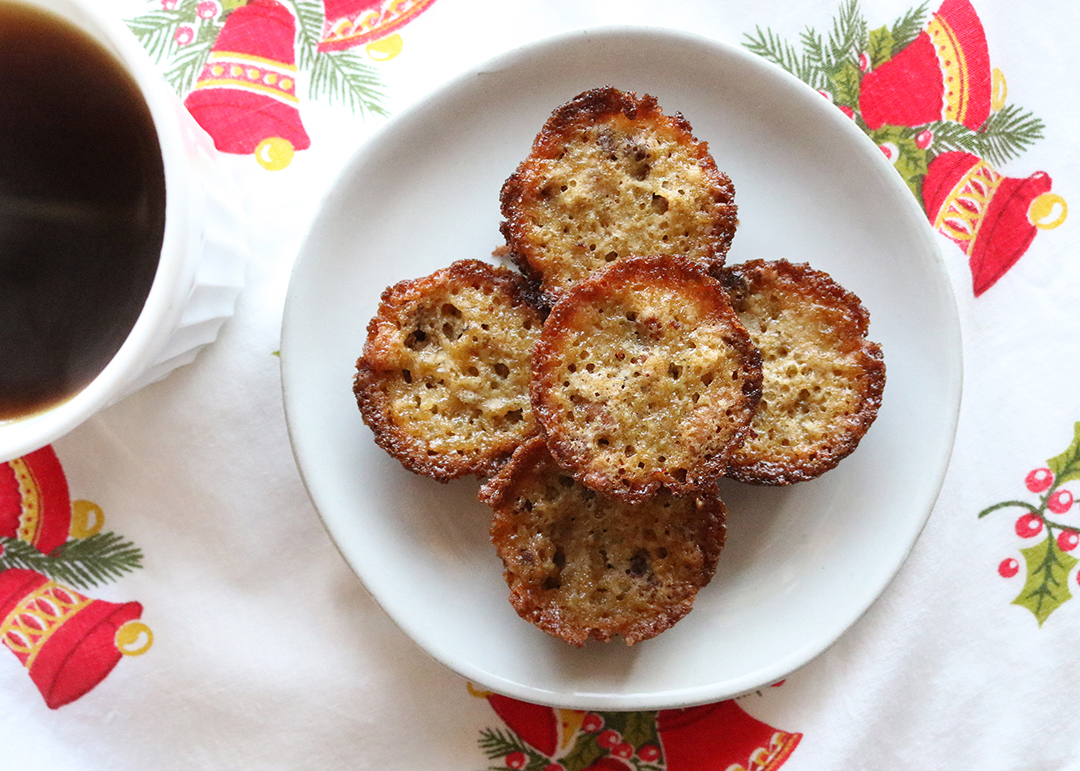 (ROCKWALL, TX — December 6, 2018) I wanted to share with you a story of inspiration this holiday season. Recently I bought some mini pecan muffins from one of my favorite local vendors at the Farmers Market. You don't see them around much anymore so I try to grab them anytime I do. My mom made them years ago and they were one of my favorite sweet treats.
I shared the muffins with my husband, Evan, and he told me how his grandmother, Lucille Tate, made this exact dessert for every occasion and how he had loved them growing up. He expressed the desire to have the recipe but didn't know exactly who would have a copy.
We finished off the muffins that very night and went on about our schedules. The next week I was decorating some new shelves Evan had built in my dining room and came across a small wooden recipe box that belonged to his mother, Nancy. It was perfect for the spot I needed to fill so I popped it open and started flipping through the recipes to find a handwritten one to display in the front. The very first handwritten card I came across was "Gammy's Mini Pecan Muffins." I was so excited! I immediately called Evan and told him all about how I had found the recipe we had just been talking about!
A few minutes later, my mother called and without knowing any of this she said, "You remember those Mini Pecan Muffins we used to make? Do you have the recipe for those?" Again, I squealed with excitement and told her the entire story. We both talked about how neat it was and what a great "coincidence" that all of those things had transpired in such harmony. With all of this happening on the same week as me needing to decide what to share for the holiday Cooking With Ease, it was very evident… Gammy's Mini Pecan Muffins were it.
It can be hard to find joy during the holidays when we are forced to experience them in the absence of a loved one. Whether it be through death or distance, not being able to hug someone you love dearly can cause sorrow. I want to greatly encourage you to lean in, look around, be open to the little things that can actually be something much bigger. Memories exist in nature, in smells, in tastes. You may not be able to touch the one you long to see but taking a moment to pause and remember those happy experiences will help you to feel the nearness again.
Just the taste of Gammy's Mini Pecan Muffins brought back so many great stories to Evan and me that we had experienced long before we even knew each other. This recipe is simple and such a delight to share with others. The muffins are buttery and crisp outside with a sweet gooey center.
Happy holidays to you all and I hope you truly enjoy,
Melissa Tate
By Melissa Tate of Rockwall. Melissa is a freelance food writer and owner of Photo-Wagon mobile photo booth. She also helps her husband run their family farm, Tate Farms, and event center, Summerfield at Tate Farms. They are currently managing the Smirl Chapel Relocation & Preservation Project. Find Melissa on Facebook or Instagram at @melissatatetx to follow the adventures. Headshot by Kelly Alexander Photography.
Also, check out the recipe for Cooking with Ease: Easy Beef Stroganoff here.
---
Our monthly print edition is delivered free to ~20,000 homes in Rockwall and Heath, TX.
To share your good news and events, email editor@BlueRibbonNews.com.
Subscribe to our email newsletter here.
Advertising: 214-342-8000 or advertising@BlueRibbonNews.com.