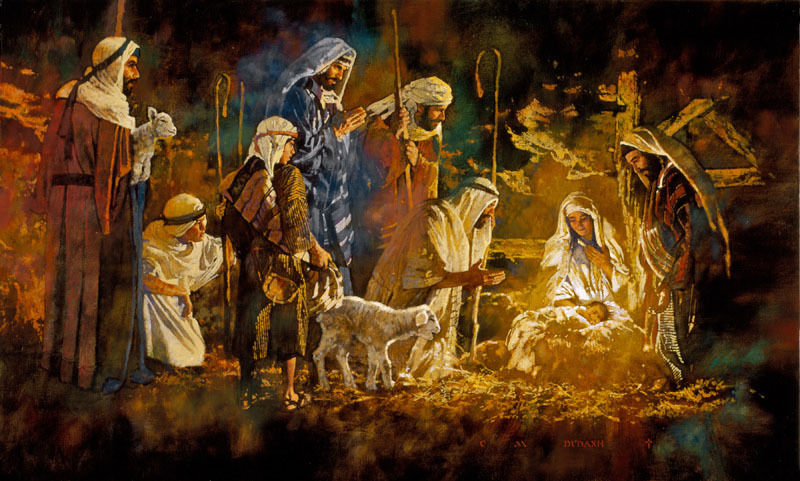 (ROCKWALL, TX — December 10, 2018) I walked by my manger scene this weekend, but noticed something different about Joseph.  He looked very strange as he watchfully guarded the characters in the scene.  Joseph doesn't talk much.  He's a watcher.  We actually never have any words from him in Scripture.
But his clothes weren't right.  The tilt of his head was off.  So, I got down to eye level and realized Joseph had been replaced with a King!  I knew from a distance something was off, but until close examination it wasn't detected.
But guess what?  There's been a King in the manger scene all along.  He's not sitting on a throne.  He's lying in a manger filled with hay.  There are no royal musicians strumming soft tunes to lull him to sleep.  Cattle and sheep are lowing (I'm not sure what that is, but I'm assuming from Away in A Manger that is was loud enough to wake the King.).
His royal robes consisted of strips of clothes used to bind and swaddle a new born to mimic it's feeling in the womb, bringing comfort after being forced into this hard, cruel world.
The other courtesans in the scene consist of unclean shepherds.  I wondered how they found the stall without GPS.  We're not told how they found the new Child.  We're just told that they found their way to Mary and Joseph and the Baby as He lay in the manger.  How astonished the guys must have been to discover that what they had been told was really true.  The good news did bring them great joy.
It says, "But Mary treasured all these things, pondering them in her heart."  But we're never told what Joseph's thoughts might have been, watching all these events take place after his encounter with an angel during a dream.  What must he have thought when Mary confided that she was with child, before they had come together?  He loved her so and did not want to disgrace her in the eyes of the community.  He wanted to let her go away somewhere to have her baby, not his baby.  He might have been crushed to hear her news. Her story about an angel's news was quite preposterous.
But as he considered sending her away, his angel-encounter during a dream confirmed the truth, "the Child who has been conceived in her is of the Holy Spirit."  But the next part is astonishing!  "She will bear a Son; and YOU shall call His name Jesus, for He will save His people from their sins."
Joseph DID have a part in all this!  HE was to name this Child!  Joseph knew the Scriptures.  He knew he was from the royal line of King David.  So was Mary.  He knew God had promised Messiah though the Royal House of David, King of the Jews.  But watching the fruition of hundreds of years of God's plan through the ages must have overwhelmed him.  But he kept watching.
A while later, royalty would appear at his door bringing royal gifts to this Child.  Their story was also outrageous, telling that they had followed a star to this very house, and that even the current king over Israel, Herod, did not know how to find this King.  Herod also had to consult the Scriptures to find the prophecy that declared Bethlehem as the place of His birth
Joseph is back in his rightful place, watching those on the scene…cattle, sheep, shepherds, kings, gifts, and of course the Baby that was born to be King, the baby he got to name… JESUS!
An exceedingly GOOD word!
By Paula Lively. Paula is a Volunteer Chaplain at Broadmoor Medical Lodge in Rockwall. She is a VERY retired RN who loves serving the residents at Broadmoor. She and her husband, Fred, have lived in Rockwall for 15 years.
Our monthly print edition is delivered free to ~20,000 homes in Rockwall and Heath, TX.
To share your good news and events, email editor@BlueRibbonNews.com.
Subscribe to our email newsletter here.
Advertising: 214-342-8000 or advertising@BlueRibbonNews.com.