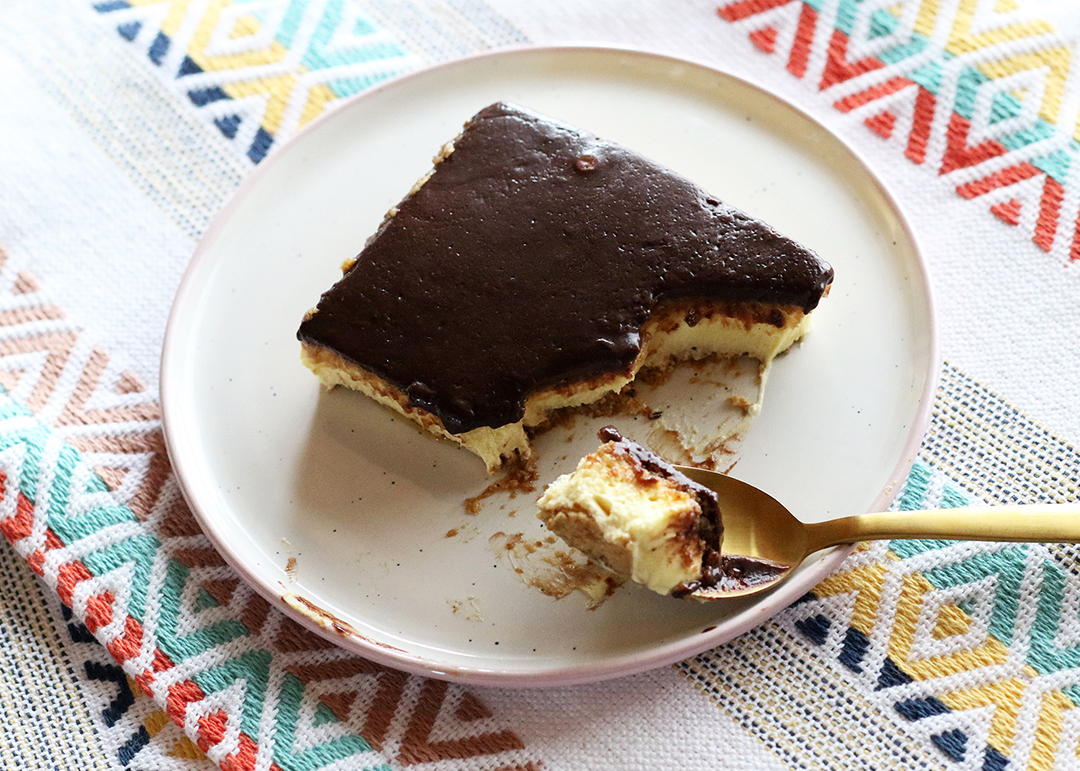 (ROCKWALL, TX — July 8, 2019) Every month I am blown away by how "magically" these recipes and stories come together. I rarely have a plan of what I am going to write about. Then, I will make a dish or I will open a cookbook or someone will say something and, instantly, I know, that's my story. This month's recipe is my son Micah's favorite dessert. I made this dish when he was in town for Mother's Day and took some pictures of it. Not until a couple of weeks ago did I connect the dots: July is Micah's birthday month and Eclair Cake is his favorite dessert. It was meant to be that I give you a story about Micah, during his birthday month, with a recipe for his favorite dessert. Meant to be.
Micah is my one and only birth child. I had him when I was 19 years old by way of a very unplanned pregnancy. I think I have talked before about what amazing parents I have but if not, I have amazing parents. I can only imagine the worry and, I'll say it, disappointment they felt when I told them I was pregnant. Nevertheless, they stuck by my side. I started college when Micah was just 3 weeks old. I can still remember my dad driving me up to the college campus at 10 months pregnant and me waddling up the stairs to get my schedule. The two of us lived with my parents until he was 6 and I had gotten my bachelor's degree and began working. Those first six years of his life are, by far, some of my best memories of his childhood and of spending time with my parents. There was so much joy in that home.
Having had Micah so young, I made my parents a Mimi and a Papa in their mid-forties. And they embraced it. My mom watched Micah on days I worked or went to school. My dad took him to football or baseball practice if I couldn't make it. We were a team and we raised him together. No one of us ever thinking about how getting pregnant so young may have lessened my chances at "success" or put a financial strain on my parents. We, all three of us, took an unideal situation and made the very, very best of it. And it made us better people. It showed me how to love unconditionally because my parents had set such a great example. It opened my parents' eyes to a world of different things which all led to them being even more open and accepting than they already were.
And Micah, sweet little tiny baby Micah. He brought us all so much delight. He was the best baby, best child, even the best teenager. He excelled in everything and went on to get a full athletic scholarship to the United States Air Force Academy, where he is now a senior. And he was such a good buddy to my dad. They were the very best pals. We lost my dad almost nine years ago, when he was only 56. Having Micah when I did gave my dad 12 years with him. Another thing I am very grateful for.
Now, don't get me wrong. I am not saying "get pregnant when you are 19 and your life will be great." I am saying life will throw what you think are curveballs, but they may not be at all. That may actually be your life! It can be disappointing at times, whether it's you doing the disappointing or someone else. What matters is what you do from there. My parents were great examples of practicing unconditional love, patience and wisdom in times of adversity. The benefits that Micah gained from that are immeasurable. I hope this story encourages you. I hope it helps you to seek a different perspective in what may be an unideal situation. And I hope while you're getting from the "this may not work out" to the "I am SO glad that worked out" you can take some time and enjoy Micah's favorite dessert, Eclair Cake. It is super easy and incredibly tasty.
Enjoy,
Melissa Tate
Ingredients:
Cake –
1 box graham crackers
2 small packages Instant French Vanilla Pudding
2 3/4 cups milk
8oz container of Cool Whip
Icing –
1 cup sugar
1/3 cup cocoa
1/4 cup milk
1 stick of butter
1 tsp vanilla extract
Directions:
1. Line the bottom of a 9×13 pan with graham crackers.
2. Mix pudding and milk with electric mixer. Fold in Cool Whip.
3. Pour over graham crackers and top with another layer of graham crackers. Set aside.
4. For icing, bring sugar, cocoa and milk to a boil. Take off heat and stir in butter and vanilla. Pour hot icing on top of graham crackers.
5. Refrigerate for at least one hour.
By Blue Ribbon News guest columnist Melissa Tate of Rockwall. Melissa is a freelance food writer and owner of Photo-Wagon mobile photo booth. She also helps her husband run their family farm, Tate Farms, and event center, Summerfield at Tate Farms. They are currently managing the Smirl Chapel Relocation & Preservation Project. Find Melissa on www.melissatatetx.com, on Facebook or Instagram at @melissatatetx to follow the adventures. Headshot by Kelly Alexander Photography.
---
Our monthly print edition is delivered free to ~22,000 homes in Rockwall and Heath, TX.
To share your good news and events, email editor@BlueRibbonNews.com.
Subscribe to our email newsletter here.
Advertising: 214-342-8000 or advertising@BlueRibbonNews.com.