Crowds flocked to The Harbor yesterday for the 2019 Southwest Kia Rockwall Rubber Duck Regatta in support of the Boys & Girls Clubs of Northeast Texas. Below are the QUACKTASTIC WINNERS for the 2019 event!
GLORACE Winners (9.21.19):
1st Place (Dallas Sports Package sponsored by Hanby Insurance)- #5297 Alyssa Morgan
2nd Place ($500 VISA Gift Card Sponsored by Bracamonte Law, PLLC)- #5519 Erica O'Bryon
3rd Place ($250 VISA Gift Card Sponsored by Platinum Construction and Shawn Valk and Vida Valk)- #5650 Valerie Watsob
DAY RACE Winners (9.21.2019):
1st Place (FAMILY TRIP TO DISNEY WORLD! 7 day stay in Condo in Orlando + 4 one day tickets to Disney World! Sponsored by DeStefano Remodeling)- #2038, Alison Clayton
2nd Place ($500 VISA Gift Card Sponsored by Community Infusion Solutions, Inc.)- #1137, Brian McCormick
3rd Place ($250 VISA Gift Card Sponsored by Lindsay Mitchell, Real Estate)- #2097, Sarah Wortman
For Shake Your Tail Feathers 5K & Fun Run results, please visit https://www.playtri.com/all-r…/rockwallshakeyourtailfeathers and click "Results".
Corporate Duck Beauty Pageant (sponsored by Rocwkall Art League) Winners:
1st Place- Shenaniganz
2nd Place- Hanby Insurance
3rd Place- American Engineering Consultants, Stacy Marker Maynard
People's Choice- Young Chefs Academy of Rockwall
COLORING CONTEST Winners:
Age Group 3 and under: Molly Bailey Essential Steps
Age Group 4-6: Avery, Young Chefs Academy of Rockwall
Age Group 7-9: Josiah!
We are so proud of the de'duck'ation of our patrons, vendors, donors, and especially our title sponsors:
Southwest Kia
City of Rockwall, Texas – Municipal Government
Texan Theater – Lobby cafe open daily
Shawn Valk and Vida Valkwith Platinum Construction
Smith & Lee, Lawyers, PC
Rockwall Art League
Blue Ribbon News
And the event would NOT happen without the hard work and support of our quacktastic committee and volunteers:
Brenda Brown Cross
Lindsay Durham Mitchell
Junnae Campbell
Ariana Kistner
Erin Neill
Joey Wilhoite
Brandon Morris
Chandler Speed
Charisa Hauser
Ryan K. Lee
Christina Lee
Karen Costello Frederick
Jamie-Jen Kahler
Trenton Scruggs
Tommy Baugh with NTX Indoor Digital Billboards
Tim Gilliland
Jenny Smith Krueger
Jacob McLeroy
Kara Hendricks McLeroy
Jaclyn England, ABR, ALHS
Thanks for a great 2019 rubber duck season. We'll see y'all next year! #rockwallduckrace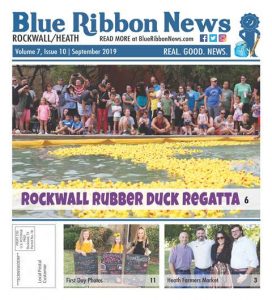 Our monthly print edition is delivered free to ~22,000 homes in Rockwall and Heath, TX.
To share your good news and events, email editor@BlueRibbonNews.com.
Subscribe to our email newsletter here.
Advertising: 214-342-8000 or advertising@BlueRibbonNews.com.