Boys & GIrls Clubs of Northeast Texas is Joining the Global GivingTuesday Movement to make a
difference in the lives of the youth of Northeast Texas
(ROCKWALL COUNTY, TX – Nov. 11, 2019) This GivingTuesday, Boys & Girls Clubs of Northeast Texas will celebrate giving by accepting gifts from those who want to make a difference in the lives of youth across Northeast Texas.
GivingTuesday, which takes place Tuesday, Dec. 3, is a global day of giving that harnesses the collective power of individuals, communities and organizations to encourage giving and to celebrate generosity worldwide. Every year, on GivingTuesday, millions of people across the globe (almost 60 countries) mobilize to show up, give back, and change their communities. The goal is to create a massive wave of generosity that lasts well beyond that day and touches every person on the planet.
We know that the real power to enact change in our community lies within a child empowered with the belief that they can!
But, sadly, 7 million American kids have no place to go when the school bell rings each day. How can they change the world when they're stressed and worried about where they're going to eat dinner?
How can they solve the problems of tomorrow if they don't know whether they're safe today? No child should live like that – in Northeast Texas or anywhere!
Every gift matters, and every dollar you give stays local to provide kids a safe and caring place – a second home – where they can thrive and reach their full potential. Your gift gives youth and teens of today the tools they need to be the change makers of tomorrow. At Boys & Girls Clubs, your gift gives these kids access to:
● Positive role models and mentors
● Career readiness and workforce development programs
● Leadership and service opportunities
● Homework help, healthy snacks, fun, inspiration, a sense of belonging, and so much more!
Not only does every child deserves a bright future, they deserve the opportunity to create that future for themselves. Today, your generous donation can help kids in our community succeed, making a difference on Giving Tuesday and every day. Help the Boys & Girls Clubs of Northeast Texas reach our $5,000 goal by donating this #GivingTuesday !
Want to be A HERO? Sign up for a $50/month recurring donation to help us all year round!
Those who are interested in joining Boys & Girls Clubs of Northeast Texas' GivingTuesday initiative can visit http://bit.ly/2NDZ58D .
For more details about the GivingTuesday movement, visit the GivingTuesday website (www.givingtuesday.org), Facebook page (https://www.facebook.com/GivingTuesday) or follow @GivingTuesday and the #GivingTuesday hashtag on Twitter.
About Boys & Girls Clubs of Northeast Texas:
In 1988, over 30 years ago, the Boys & Girls Clubs of Northeast Texas opened its doors in Greenville, Texas. Since then the Boys & Girls Clubs of Northeast Texas has been the has served tens of thousands of youth in Hunt and Rockwall County.
Every day during critical non-school hours, for every youth that walks through our doors, we provide:
● a safe place
● caring adult mentors
● fun and friendship
● high-impact youth development programs
Club programs promote:
● Academic Success through things like homework help and tutoring and Summer
Brain Gain.
● Healthy Lifestyles through programs like Triple Play, sponsored by Hunt Regional
Hospital and Baylor Scott & White – Lake Pointe
● Good Character & Citizenship, through our SMART Moves program sponsored
by Hunt County and Rockwall County
Today, the Boys & Girls Clubs of Northeast Texas serves over 4000 youth across Northeast Texas. We have SEVEN Club sites in Hunt and Rockwall Counties:
● Kava Kids -Located directly beside Kavanaugh Methodist Church
● Reecy Davis Center- Located directly beside Carver Elementary School ➢ Commerce ISD Sites
● Commerce Sites (4) One at each school in Commerce ISD: CES, ACW, CMS and CHS
● Rockwall site- located in Rochell Elementary School
After school, kids come to the Club to get help with homework, a healthy snack, play sports, volunteer, learn new skills, play games, go on field trips, and just enjoy childhood. You know from your own childhood how important after-school time is. For these kids, the Club is the alternative to hours spent watching TV or getting into trouble. For these kids, the Club is their path to a successful future.
And with your support, it always will be.
In the last year, we reached 4,339 young people in Northeast Texas, 2,414 of which were registered Club members. While that impact is huge, still, there is more work to be done.
The Boys & Girls Clubs of Northeast Texas programs fill a gap of time when kids are most likely to participate in risky behaviors.
We never take a single approach to help kids succeed. It takes caring mentors, a safe place, guidance, opportunities, quality programs, and so much more to ensure all kids have a great future. With your help, we do whatever it takes to put them on a path that leads to success.
Submitted press release by Kara McLeroy, Boys & Girls Clubs of Northeast Texas, edited for publication in Blue Ribbon News.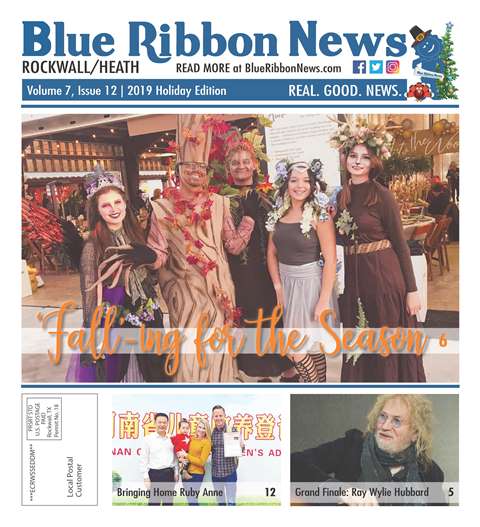 Our monthly print edition is delivered free to ~15,500 homes in Rockwall and Heath, TX.
To share your good news and events, email editor@BlueRibbonNews.com.
Subscribe to our email newsletter here.
Advertising: 214-342-8000 or advertising@BlueRibbonNews.com.