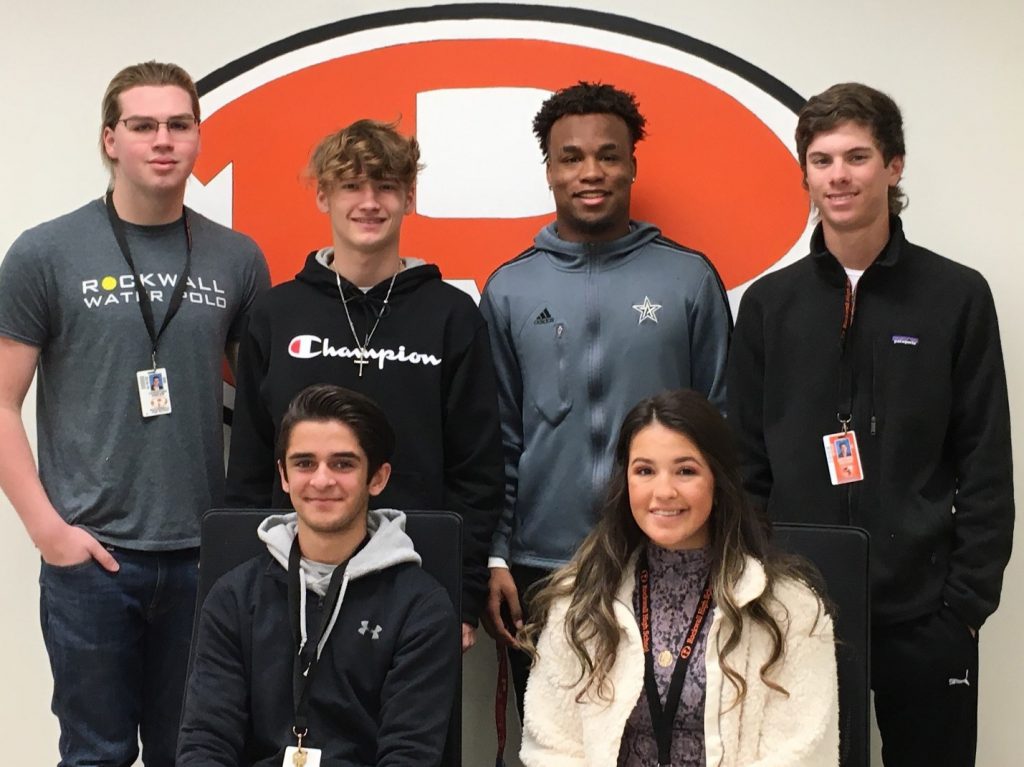 Each month, the Jacket Backers, Rockwall High School's Booster Club selects student athletes who are nominated by their coach for Jacket Athlete of the Month.  For the month of December, Matthew Watkins, Hollie James, Mikki Witcher, Damien Chandnani, Elise Samples, Christian Kincer, Eli Owen and JJ Williams were each nominated by their coaches and selected as Jacket Athletes of the Month.
JJ Williams, Senior Receiver had 8 catches for 182 yards and 2 TDs in Rockwall's regional finals win over Prosper and their state semifinal loss to Duncanville.  Coach Rodney Webb states, "JJ played a major role in our win over Prosper, and he showed his true toughness and grit in our semifinal loss, battling all four quarters on a day that nothing came easy for us. He finished his high school career with a bang – playing great games in our regional final win and our state semifinal loss. "
Elise Samples, Sophomore Swimmer broke the 1:00 barrier in the 100 Backstroke and swimming so earning a spot on the 400 Free Relay. "She has a great work ethic.  When writing a work out, I'll wonder on who will make it all.  Elise will make the hardest sets look easy." shares Coach Partenheimer.
Christian Kincer, Sophomore Swimmer is continually dropping time in every event he swims.  Coach Partenheimer adds, "Christian is strong young man that is always willing to work."
Damien Chandnani, Sophomore Athletic Trainer arrives early to start preparations before the other students arrive.  He doesn't have to be asked to complete task, know what to do and does everything before being asked.  "Damien is always the first to arrive and last to leave. He is extremely helpful and is always interested to learn new things about athletic training." Shares Coach Stavros.
Matthew Watkins, Senior Boys Golf Led the Jackets in scoring for the fall.  Placed 1st in 2 tournament and 2nd in the other.  Has a fall scoring average of 72.  Signed to play golf at New Mexico in November. "Matthew is a hard worker and has been a valuable asset for the Jackets for 4 years now.  He has 1 semester left and could leave RHS as one of the best to ever put on the orange and white.  He has been to the state tournament as a medalist, and as a member of the team from 2019.   Matthew has worked since he was a toddler and it shows on the course.  He has played in many tournaments throughout the years and his mental preparation is second to none.  He has a lot of shots in his bag and never thinks he can't hit a shot that is before him.    He is a lot of fun to watch and coach." States Coach Watkins.
Mikki Witcher, Senior Girls Basketball Player was the MVP of Knights of Columbus tournament.  She helped lead team to winning the Championship of the Knights of Columbus tournament and leads team in most made 3 pointers, steals, and charges. "She is the Captain of our team that leads by example on and off the court." Coach Brewer adds, "Mikki is a great leader on and off the court.  Her high character, passion for the game, and strong work ethic are what help this team stay focused and handle adversity in a positive way.  She always is making a positive impact and leaving it better than she found it everywhere she goes."
Hollie James, Senior Girls Golf led the Lady Jackets in scoring in the fall and placed in the top 5 in 3 of the 4 tournaments in which the lady jackets competed.  Hollie won 1 of the tournaments as the low medalist.  "Hollie has been a 4 year member of the Lady Jackets and has improved each year.  She knows the game and works to improve each and every day.  She signed to play golf at Southern Illinois University in November. She is a leader and a valuable asset to the team.  She has been playing competitively since junior high and has really improved her game over this short time period.  Hollis has 1 semester left and her leadership is a great asset to the team." Explains Coach Watkins.
Eli Owen, Sophomore Boys Soccer had an awesome game against nationally ranked Southlake Carroll in our first scrimmage this year. He help control the midfield and made a lot of really good decisions. "Eli Owen is becoming a leader on and off the field. He makes good grades and can play anywhere on the field. He is our Swiss Army Knife! He can play multiple positions and is very dynamic going forward. The ceiling is very high for him!" Shares Coach Bowles.
Congratulations to each of these Rockwall High School Athletes!
The Jacket Backer Booster Club is a non-profit association formed to maximize fundraising efforts for Rockwall High School Sports, and other charitable activities that promote the development of good character, high morale, and maximum effort, highest standards of sportsmanship, competitive spirit, pride, and community service.
For more information on how you can support, vote and promote Rockwall High School's Student Athletes visit the Jacket Backers website at https://www.jacketboosters.com/ and be sure to follow all of the athletes' accomplishments on Facebook or Twitter @RHSJacketBacker.
Story and photo by Rockwall Jacket Backer Booster Club.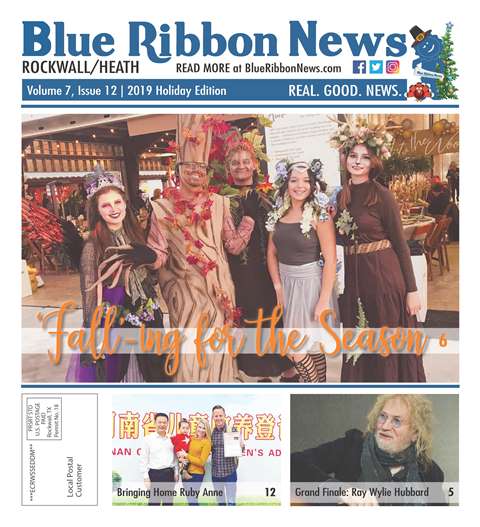 Our print edition is delivered free to ~15,500 homes in Rockwall and Heath, TX.
To share your good news and events, email editor@BlueRibbonNews.com.
Subscribe to our email newsletter here.
Advertising: 214-342-8000 or advertising@BlueRibbonNews.com.