This slideshow requires JavaScript.
This spring, the J.E.R. Chilton YMCA at Rockwall will seek to help girls become strong in both mind, body and spirit with its girlSTRONG program.
The brainchild of Rockwall YMCA Health and Wellness Director Diana Fulton, this empowering program invites girls ages 10-16 to eight weeks of fitness and healthy group discussions designed to build self-confidence and self-worth.
Each class starts with 30 minutes of fitness exercises, where the girls can explore all types of workout classes offered at the Y such as yoga, LES MILLS BODY PUMP, BODY COMBAT and GRIT. Their moms can join them in the workout session, too, allowing for a great bonding experience.
"Maybe the girls want to do barre or dance, or maybe they want to lift weights because that's what makes them feel strong," Fulton said. "We let them experience all of the classes in order to find something they enjoy."
In the second half of the class, the girls are invited to engage in a generalized discussion on different topics related to their age group – things like body image, boys, fashion and developing healthy friendships. Fulton said this gives the girls an environment where they can feel comfortable talking generally and engaging on these topics, and the confidence to then discuss them on a more personal and deeper level with their parents at home.
"We want to create a place where the girls can feel confident in asking their parents the questions they need to be asking, and not just asking their friends," she said. "We wanted to create an environment where parents can step in and give that wisdom."
Fulton said the group discussions have been very successful in helping the girls to see that they are not alone when it comes to the struggles of adolescence. "It's really great for them to see that they're not the only one experiencing these things. It takes them out of that place of 'I'm the only one' because they see that these other 25 girls have been experiencing the same things."
Each session also includes group activities to help drive home the central message of the week's discussion.
Fulton said girlSTRONG received a lot of positive feedback from the first two programs held in the summer and fall last year.
"It was really good to just see the girls change over the eight weeks, how they come in nervous but leave more confident. And they built lasting friendships with other girls in the class, too."
Strong Women, Strong Girls
About the same time that Fulton was planning the girlSTRONG program, Rockwall YMCA LES MILLS Group Exercise Instructor Jessica Spencer-Gardner was forming a similar idea to help empower women of all ages.
"I wanted to bring in fitness as a catalyst and combine it with the message: you are strong, you are fit, you can be healthy, and this is where our focus is rather than on what we look like," Spencer-Gardner said. "It's all about what our bodies can do, and what an amazing gift that it is."
Realizing that they were both on same path towards empowering women and young girls, Spencer-Gardner and Fulton combined their efforts to plan an event known as Strong Women, Strong Girls. The event, held in May 2019, invited all women – especially moms and their daughters – to an evening full of fun, fitness and fellowship. The 100 women and girls in attendance enjoyed a Braid Bar from Salon Effects and Southern Glam Salon, where they got their hair braided by the local stylists prior to a LES MILLS BODY COMBAT workout.
Next they welcomed guest speaker Jenna Winegeart, a local blogger and member of the Rockwall YMCA. Winegeart gave an uplifting message about overcoming body image and self-worth struggles. She had the girls write down on a piece of paper one lie that they are believing about themselves, crumple up that paper and throw it on the stage, and then write down one positive truth about themselves they could take home with them.
To cap off the night, everyone relished in some delicious paletas from Hallie B's Serve Shack.
"I loved seeing the look in the girls' and the moms' eyes when they were having fun using their bodies in a strong and healthy way," Spencer-Gardner said. "I loved seeing them throw those lies away and take home the truth that they can hang onto. The response afterward was really positive, and I just knew we had accomplished what we set out to do. It reaffirmed to me that there is a need for this message, and I'm really excited about what the future holds."
Fulton said both the event and the girlSTRONG program provide a great opportunity for the community to see that it's not just about fitness at the YMCA.
"We're not just a gym; we have so much more to offer than a fitness floor and an aerobics room. We're inviting the community in to talk about something that really needs to be addressed, and we're setting the tone for where fitness needs to go in the future," she said.
"There are lots of programs that focus on either the physical side only or the mental side only, but none that marry the two together. I feel like we're at the epicenter of something big here, as the program hopefully continues to grow."
The next Strong Women, Strong Girls event is planned for early May.
The girlSTRONG program will open this spring for girls ages 13-16 from March 22 through May 17 (no class held on Mother's Day, May 10). Classes will meet on Sundays from 1:45 p.m. to 2:45 p.m. Stop by the Rockwall YMCA front desk to register.
Story by Austin Wells, Blue Ribbon News.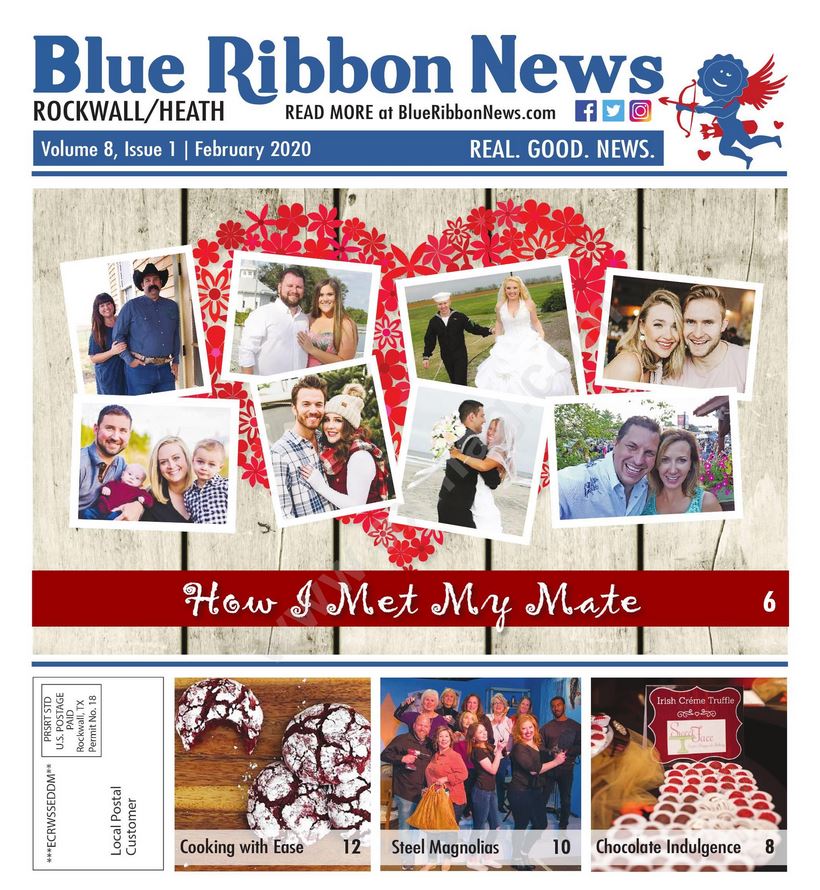 Our print edition is delivered free to ~15,500 homes in Rockwall and Heath, TX.
To share your good news and events, email editor@BlueRibbonNews.com.
Subscribe to our email newsletter here.
Advertising: 214-342-8000 or advertising@BlueRibbonNews.com.