(WYLIE, TX) With Valentine's Day fast approaching, Blue Ribbon News has been sharing reader-submitted love stories in our wildly popular "How I Met My Mate" series. As our friends at In-Sync Exotics Wildlife Rescue pointed out, love can come in all forms, "from romantic to friendship, between friends, acquaintances, groups, and partners" – even animals.
In-Sync Exotics, located at 3430 Skyview Drive in Wylie, serves as a sanctuary for over 70 rescued tigers, lions, cougars, leopards, cheetahs, bobcats, lynx, servals, and ocelots. With their permission, we're sharing an intriguing tale of their own – the story of Kahn and Sheila: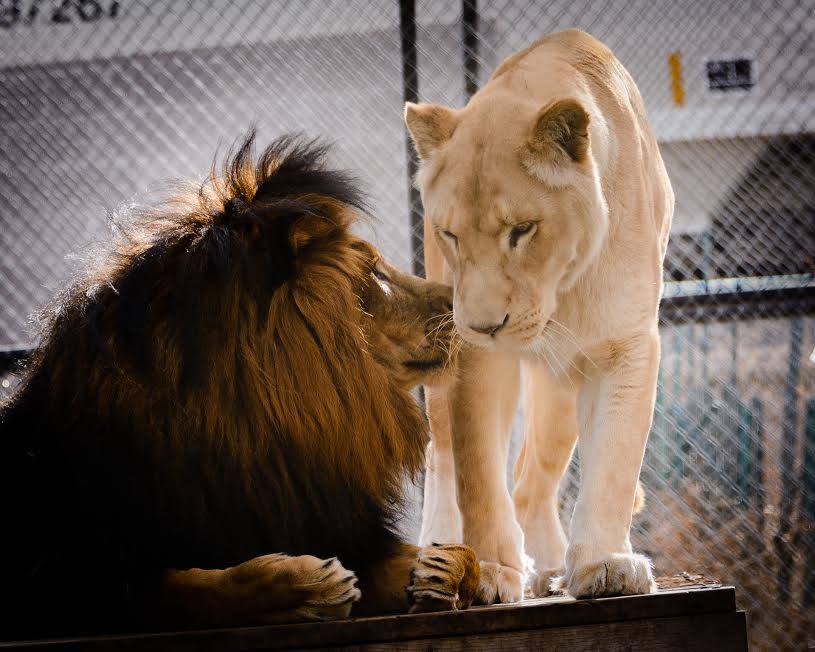 "The USDA confiscated Kahn and two tigers from a local entertainment facility and brought them to In-Sync Exotics where they would find a safe, nurturing haven. All three cats were neglected and emaciated.
Surprisingly, Kahn immediately took to his new home. Many volunteers are smitten with his sweet disposition. He was about 100 pounds underweight and seemed to be suffering from multiple, severe bone issues. He limps on his front legs and has trouble supporting his back end. Getting on top of the den is a struggle for him, so we constructed a better cinder-block stairway which helps him get on top of the den more easily.
The tip of Kahn's tail was raw and swollen from constant chewing and sucking, most likely from stress or boredom. By providing him with enriching toys, giving him lots of love and attention and ample time on the playground, Kahn's tail no longer has the open sore and is even growing some hair on the tip. His mane also grew in beautifully.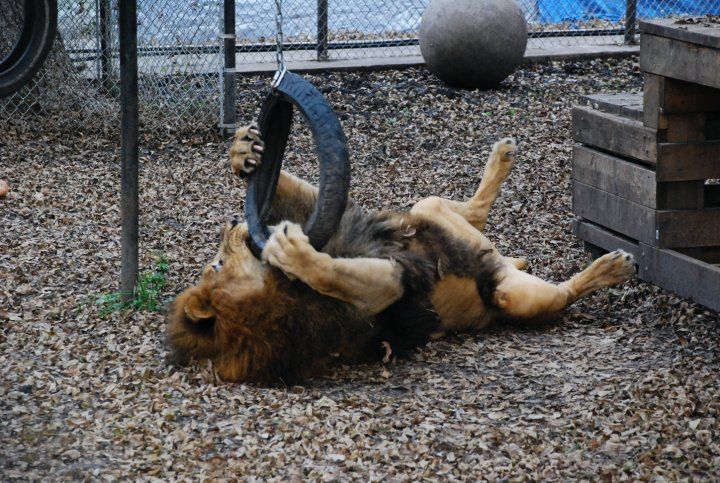 When Kahn first arrived he was very food aggressive, but now that he knows he'll be fed on a regular basis we practically have to beg him to eat. Kahn loves toys and buckets, but especially likes to stick his head through the hanging tire on the playground and walk in circles.
His very deep and distinct roar is beautiful accompaniment to the lions' singing. We are very happy to have him as part of our family.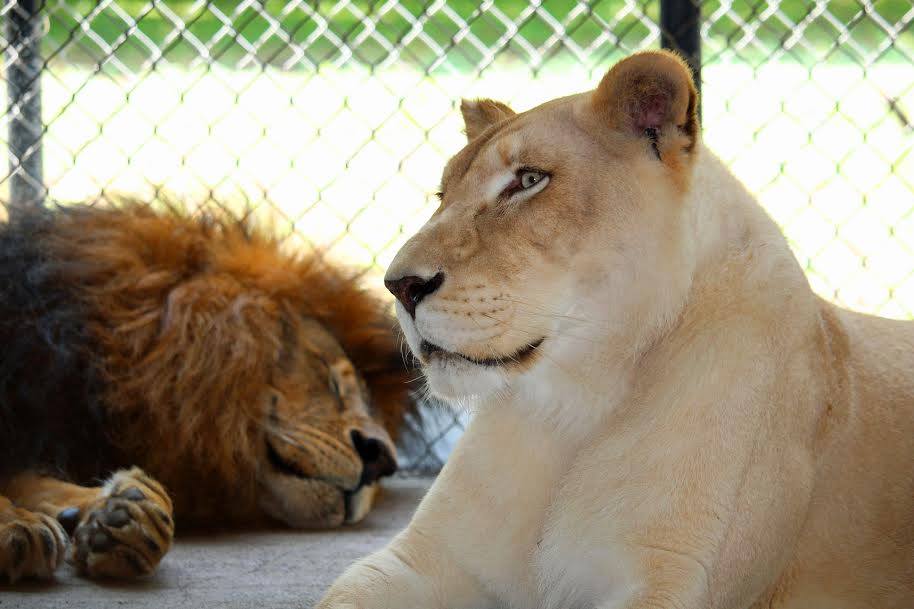 Sheila came to live with us after the USDA confiscated her and two white male lions from a local entertainment facility where they had not been cared for properly (the same facility that Kahn came from earlier).
Of the three, Sheila was in the worst condition. She had very little muscle coordination and thus, when she walked, her legs would slip out from under her. Her head had a heavy tilt to the right so holding it upright was a challenge. Even drinking was almost impossible for her as she could not hold her head above the water bucket. She even had a hard time swallowing her food. She was also underweight, filthy and lethargic. She was in such poor condition that the USDA warned us that we would probably have to euthanize her.
Four days after she arrived, Sheila was fading fast. She was vomiting, lethargic and laying flat on the ground. We feared that we might lose her, but never gave up. Although the USDA stated Sheila showed signs of Vitamin A deficiency, through our own research we learned that toxoplasmosis has the same symptoms but also includes constant circling, something Sheila did. We immediately started her on clindamycin. Two days later she was walking around; four days later she was eating and swallowing, and after a week she was playing happily. Tests results came back confirming toxoplasmosis and a drastic Vitamin A deficiency.
Sheila has made remarkable improvement and shows no ill-effects of either condition. She has regained muscle control, swallows easily and runs and hops like a bunny. She loves toys, especially boxes, and she loves all the love and attention her caregivers willingly give her.
Sheila's rare coloring is the result of a recessive gene called "chinchilla" or "color-inhibitor" and in the wild is only found in the Kruger sub-species and unique to the Timbavati region of South Africa.
Kahn and Sheila now live together, and their relationship delights and amuses us every day. Sheila is spayed, so there is no breeding, and they generally get along very well. However, like most couples they sometimes have a disagreement, which she ALWAYS wins."
Panthers, Pumas & Pancakes
If you'd like to see Kahn and Sheila, In-Sync Exotics will host a Panthers, Pumas & Pancakes Valentine's Breakfast from 7 to 10 a.m. Saturday, Feb. 15. Enjoy coffee, juice, fruit, all-you-can-eat pancakes and a self-guided tour around the sanctuary.
The nonprofit organization relies solely on private donations; all resources go towards the health and well-being of the animals. A donation of $25/adult and $15/kids (ages 4-12) is suggested (under 4, free). Visitors may pre-pay here: https://tinyurl.com/ValDayPancakes
By Dawn Redig, Blue Ribbon News.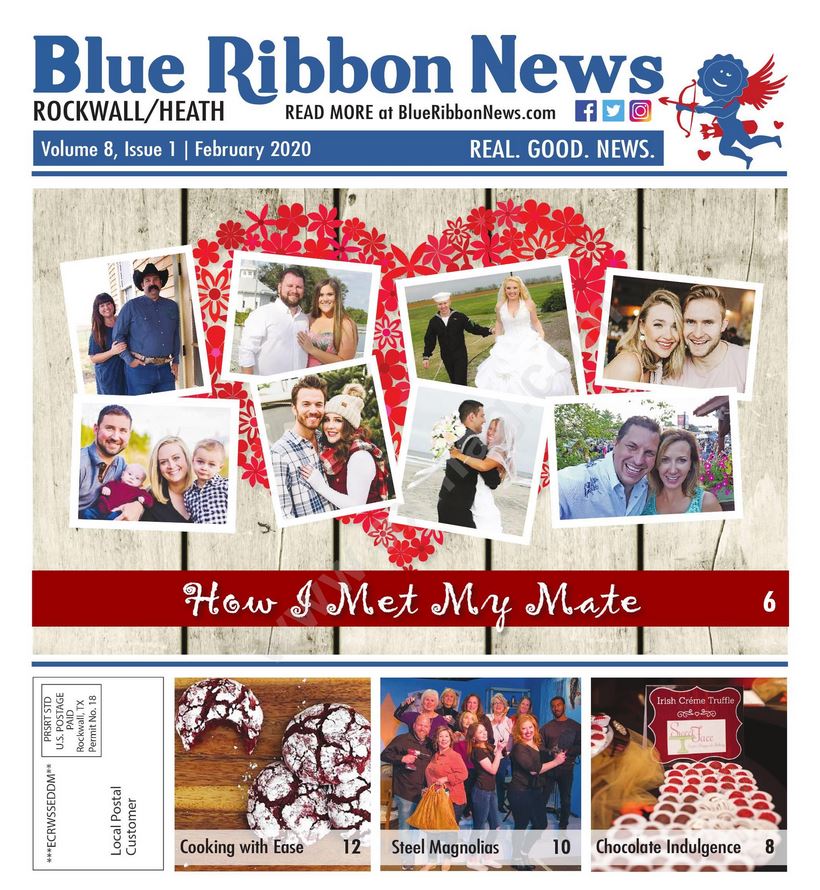 Our print edition is delivered free to ~15,500 homes in Rockwall and Heath, TX.
To share your good news and events, email editor@BlueRibbonNews.com.
Subscribe to our email newsletter here.
Advertising: 214-342-8000 or advertising@BlueRibbonNews.com.