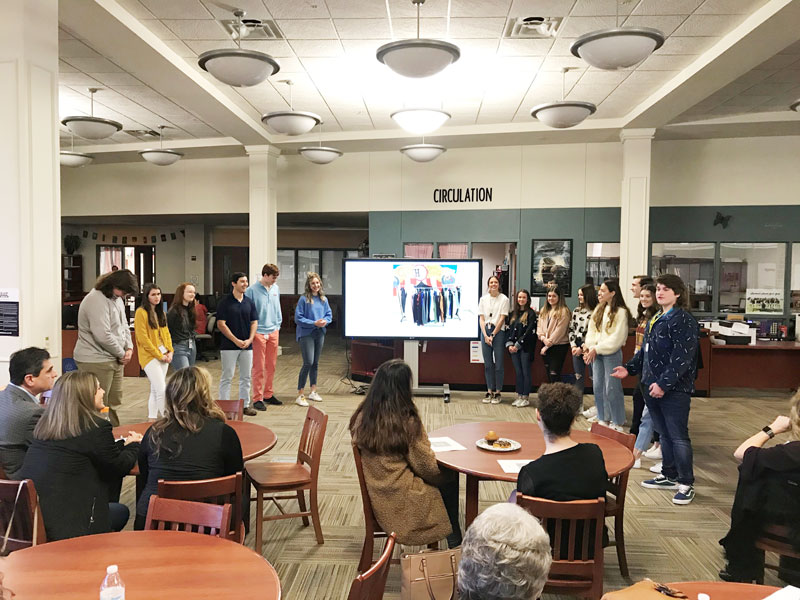 When it comes to serving others, the Heath Hawks Student Council is looking to soar to new heights in 2020.
The Heath StuCo invited parents and city officials to a recent presentation of their goals for the 2020 semester. One of their goals for the year is to pack their food pantry to help feed hungry kids on campus. According to the presentation, the district has more than 4,000 kids in need who are food insecure, with more than 600 of those students attending Rockwall-Heath. To combat this number, the Heath StuCo created the HAWKS Care program last year. The program allows students in need of food to scan QR codes found on HAWKS Care flyers around school, and then directs them to a Google form they can fill out with information about how much and what kinds of food they might need.
Food pantry
Along with the HAWKS Care program, the Heath StuCo looks to fully restock its food pantry this year to help feed hungry kids. They hosted a food drive on Feb. 22 at Tom Thumb, where they collected lots of nonperishable foods for the pantry. Not only are they looking to refill their own food pantry, the Heath StuCo will donate food for students with food insecurity at Utley Middle School and Rockwall High School, to help establish the food pantries at those campuses.
Prom and coat closet
Students who aren't able to go to prom or homecoming because they don't have the proper attire can look no further than the Heath StuCo's Prom Closet. This year, the Heath StuCo created a Prom Closet with the goal to provide dresses, suits and shoes for students in need on campus. So far they have collected donated dresses from Whatchamacallit, along with dresses and shoes from Florencia's Bridal. Those in the community who wish to donate to the closet can stop by RHHS on April 4 from 10 a.m. to 2 p.m. and at Bunches in Rockwall (830 Steger Towne Rd.) on May 2 from 11 a.m. to 1 p.m. Donations can include new and gently used dresses in all sizes.
Along with starting their Prom Closet, the Heath StuCo has also been collecting coats to keep students in need warm this winter. So far they've collected nearly 60 coats and other articles of clothing to help kids on campus bundle up in the cold weather months.
Buckner Shoes for Orphan Souls®
Since 1999, Buckner has distributed more than 3 million pairs of new shoes and socks to children in need in 82 countries. Their mission to better equip students for the world touched the hearts of the Heath StuCo. This year, the students hope to set up drives in local businesses around the community to collect 500 pairs of shoes or raise $5,000 for the cause.
All ticket sales from this year's Powder Puff football game will benefit the Heath StuCo's shoe drive. The annual Powder Puff game is one of the StuCo's biggest events of the year and pits Rockwall and Rockwall-Heath senior and junior female students against each other on the gridiron. The game will take place on April 16.
How you can help
The Heath StuCo is currently in need several used refrigerators perishable food items to help keep them fresh for students in need. Donations of storage bins, clothing racks, shelves and dressing room materials would also greatly aid them in keeping their prom and coat closets organized.
For more information on any of the above drives and how you can get involved, email Heath StuCo Advisor Kaci Spampinato at kaci.spampinato@rockwallisd.org.
Story and photo by Austin Wells, Blue Ribbon News.
---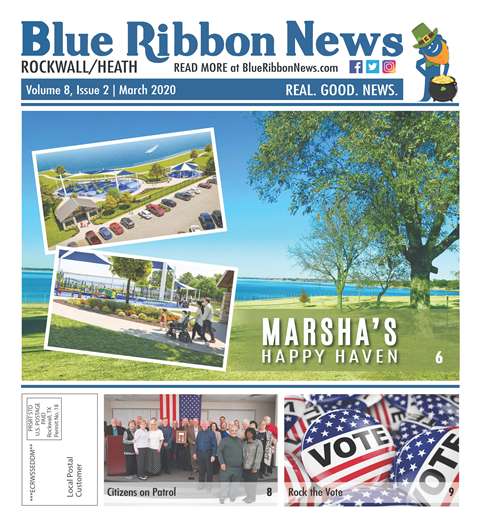 Our print edition is delivered free to ~15,500 homes in Rockwall and Heath, TX.
To share your good news and events, email editor@BlueRibbonNews.com.
Subscribe to our email newsletter here.
Advertising: 214-342-8000 or advertising@BlueRibbonNews.com.