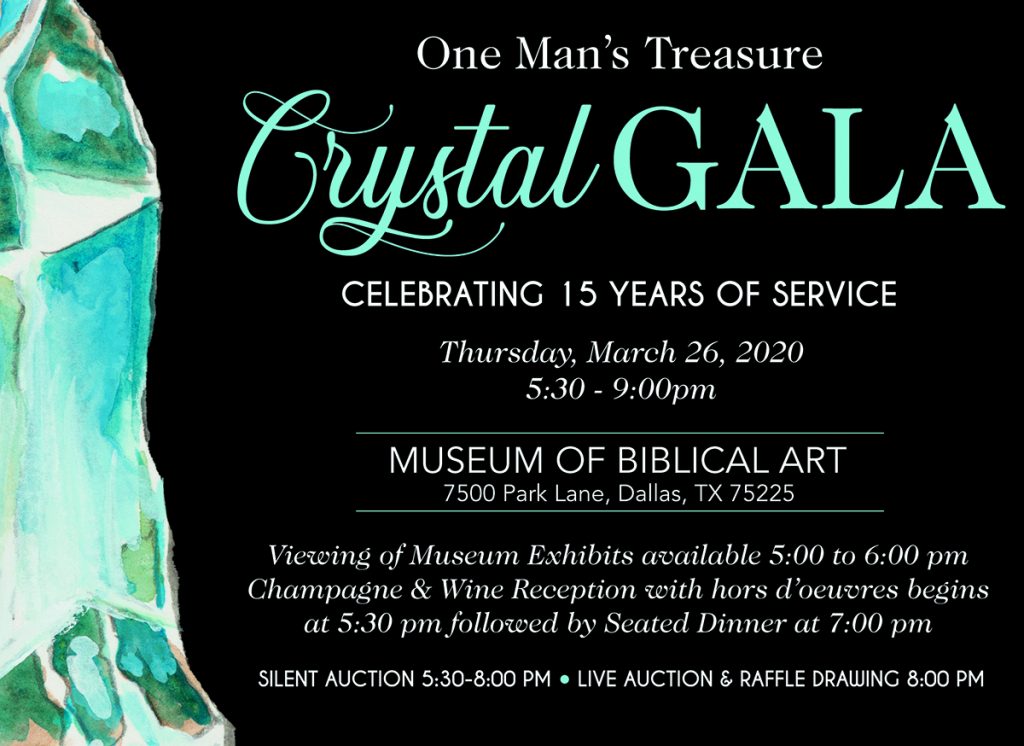 (ROCKWALL, TX) On March 26, local nonprofit One Man's Treasure will celebrate 15 years of service to men re-entering society from incarceration with its Crystal Gala event.
From 5:30 p.m. to 9 p.m., guests are invited to the Museum of Biblical Art in Dallas for an exciting evening featuring a wine and champagne reception, dinner, music, live and silent auctions, and mystery gift bags.
But here's the real highlight of the night – a raffle for a $10,000 Crystal Cruises gift card, sponsored by Toyota of Rockwall and a friend of One Man's Treasure! The lucky winner can use the gift card for a magical vacation aboard a world-renowned luxury cruise ship.
The event serves as the charity's biggest fundraisers to help fund its mission: providing clothing to indigent men returning to the Dallas area after their release from prison.
Imagine this scenario: you've just been released from prison and were given only a used pair of pants, a used shirt, $50 ($100 if you've served the full length of your sentence) and a bus ticket. Those are the only four items every indigent man gets before he faces the stiff challenge of trying to find housing and employment. It's the harsh reality for many of these men faced with re-entering into society with limited means or support. Many don't have families they can turn to for financial support for basic needs such as food, shelter and clothing. All they have is the $100 they got upon their release to provide for those things, and so they're unable to obtain clothing appropriate enough for job interviews.
Without proper clothing, finding a job and becoming a productive member of society becomes that much harder. That's where local charity One Man's Treasure comes in.
One Man's Treasure seeks to empower men recently released from prison by providing them with clothing and opportunities for networking. The charity serves indigent men in Dallas and other surrounding communities, including Rockwall.
Most of the clothing from the charity's clothes closet comes from donations made by local churches, organizations and community members. The clothing is then delivered to the client's home by a male volunteer known as a "shepherd." Much of the strength of the program comes from that in-person delivery by the shepherd, who will typically take the time to visit with the client and encourage him or point him to helpful resources.
Thanks to the huge support from Rockwall and other local communities, One Man's Treasure has served more than 12,000 men since it started in 2005.
"The fact that we were able to play a role in the lives of these men as they started reintegrating back into society, find employment, and become productive members of the community… that's our goal," said Annette Jenkins, executive director of One Man's Treasure. "We just want to say thank you to the Rockwall community – the volunteers, the churches, businesses that all supported us. They've embraced the ministry and embraced the men it serves, allowing it to play a vital role in the lives of those men."
Seating is limited for the gala and tickets must be purchased in advance. For gala and raffle tickets visit www.onemanstr.org.
By Austin Wells.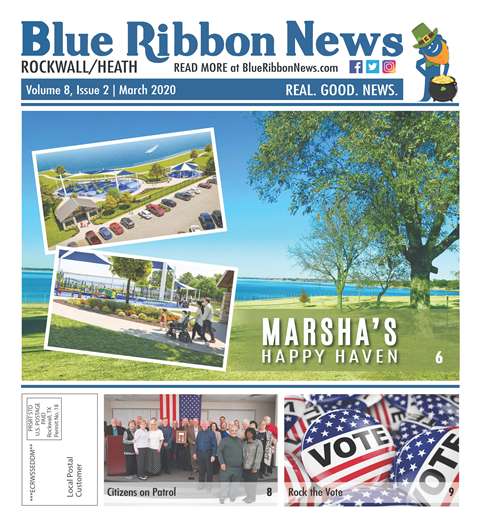 Our print edition is delivered free to ~15,500 homes in Rockwall and Heath, TX.
To share your good news and events, email editor@BlueRibbonNews.com.
Subscribe to our email newsletter here.
Advertising: 214-342-8000 or advertising@BlueRibbonNews.com.