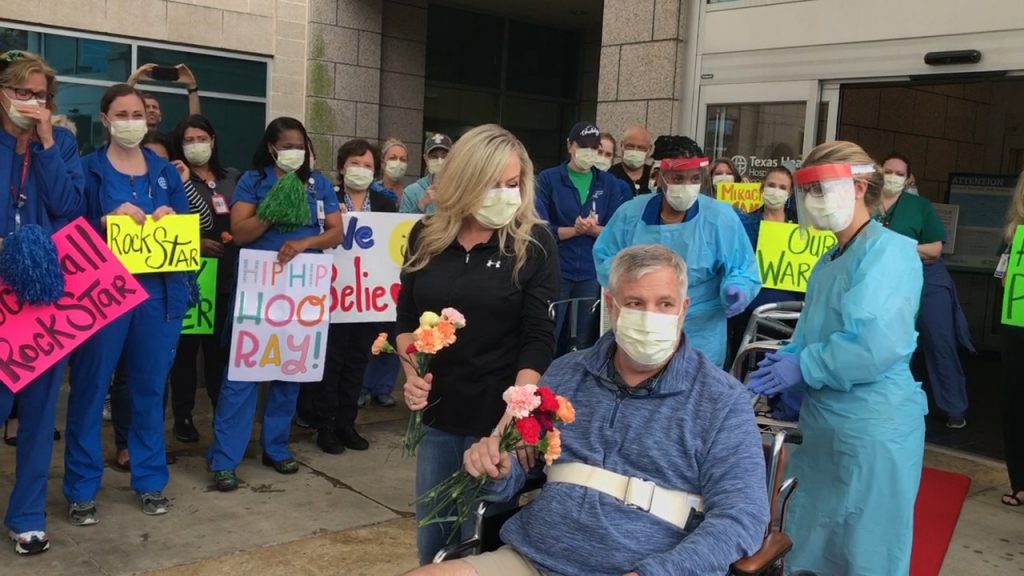 (ROCKWALL, TX – April 11, 2020) After 15 days on a ventilator in ICU at Texas Health Hospital Rockwall, 49-year-old Shawn Cook of Rowlett is headed home today, following a hard-fought battle with COVID-19. An emotional send-off was captured on camera, as his caregivers and family celebrated with joyful tear and cheers.
Shawn's recovery is perhaps nothing short of a miracle, aided by the hard work of doctors and nurses who tended to him over the past three weeks. He still has a lot to overcome to make a full recovery, but he is cleared to go home to his wife of 24 years, and his two sons who are coming in from Lubbock.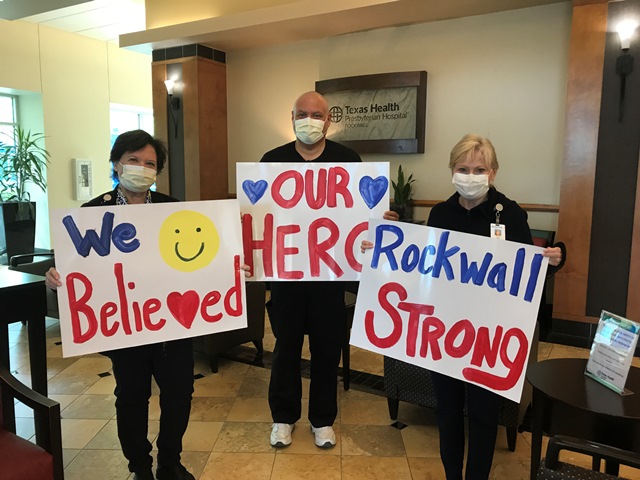 "It's a tremendous celebration to see that we can beat this horrible virus," said Tami Hawkins, Chief Nursing Officer and Vice President of Patient Care at Texas Health Rockwall. "In a time when there's so much unknown, this is a victory. We're blessed to have such amazing nurses, respiratory therapists, physical therapists, the lab, technicians – it's an entire team working really, really hard. And I can tell you that typically when someone is on a ventilator for as long as Mr. Cook, it's an extra special blessing to send him home with this kind of celebration. I think it's a testament to the amazing care that the team has provided for his entire stay."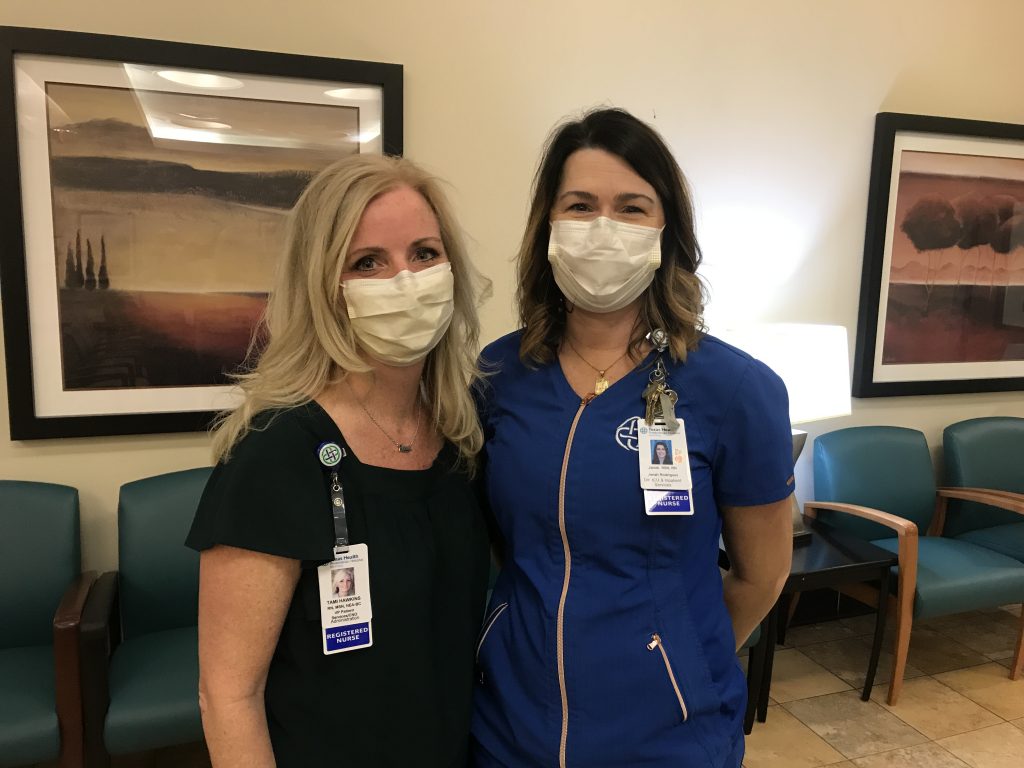 Janah Hammond-Rodriguez, Director of ICU & Inpatient Services, added, "Emotionally, it's overwhelming. We were literally looking through the window as his care team was preparing him to be extubated. It was hard for us not to be able to go in the room with him, so we gathered outside the window as a cheering squad."
Shawn was admitted to the hospital three weeks ago with fever, coughing, and shortness of breath. He was able to call his wife, Traci, from his hospital bed before being sedated and intubated, which meant the ventilator would do his breathing for him. Traci was able to visit with him via Facetime only a couple of times during his hospital stay, but she received frequent updates from the hospital.  She took to Facebook to ask for prayers of healing for her husband, and received thousands of messages from as far away as Russia, Australia and all over the world.
"Prayers have been answered!" she wrote on her Facebook page on April 9. "Shawn has been moved out of ICU to a regular room and is breathing on his own! His doctor is calling him a 'miracle' and his healing has been a true miracle in the name of Jesus! Our God is mighty and so worthy of all our praises! Thank you for standing beside me and continuing to lift us up in prayer! Shawn has a lot of recovering to do but I'm claiming victory and this battle won in the mighty name of Jesus!"
Dr. Gary Bonacquisti, Chief Medical Officer at Texas Health Rockwall and the Rockwall County Health Authority for the State of Texas, said, "We used all of the therapies that we possibly could, and obviously you see the outcome, based on God's grace and his protection over Mr. Cook and the wisdom given to the caregivers.  We're so excited about this outcome, for his family and for him."
Bonacquisti also spoke to the importance of having a culture of quality and safety that puts patients first.
"There is so much love and effort behind everything that's done here; it's simply amazing. Nobody I know has been around since 1917 and saw the last time this happened – so it's been a learning experience for each and every one of us, including our staff. We started our preparations for this months ago when we saw what was going on in China, and there was an expectation that it was going to spread.  And certainly you foster a culture in your staff when they know that from the leadership down there is such a care about their safety and welfare, because if they're not empowered and protected, they're not going to feel the freedom to let go and give everything they can to the patients."
Upon Shawn's release today, his wife told Blue Ribbon News she was filled with joy. "So many people said Easter was cancelled this year, but let me tell you, it's not been. I don't care about the eggs, because my family will be together, and that's just all blessings from above. It's a message of hope."
By Dawn Redig, Blue Ribbon News.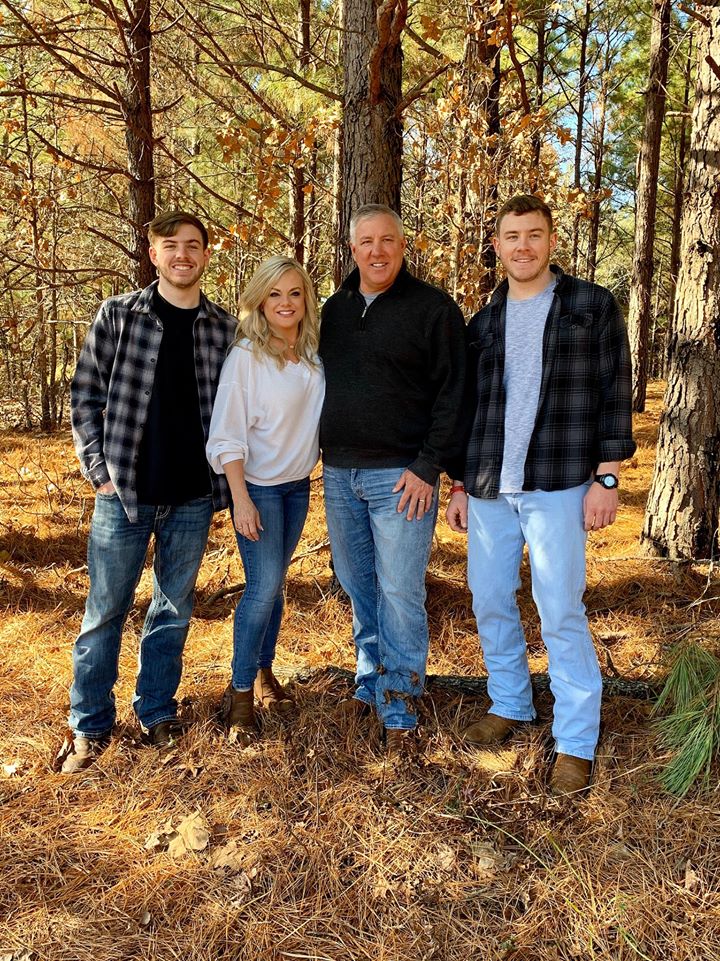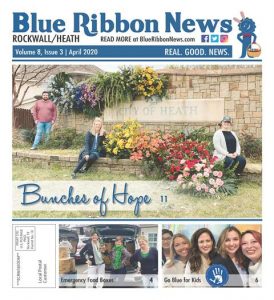 Our print edition is delivered free to ~15,500 homes in Rockwall and Heath, TX.
To share your good news and events, email editor@BlueRibbonNews.com.
Subscribe to our email newsletter here.
Advertising: 214-342-8000 or advertising@BlueRibbonNews.com.