COVID-19 UPDATE:
City and HEDC Provide Financial Relief to Local Businesses;
Safety of Citizens, Employees and Customers Top Priority in "Opening Heath"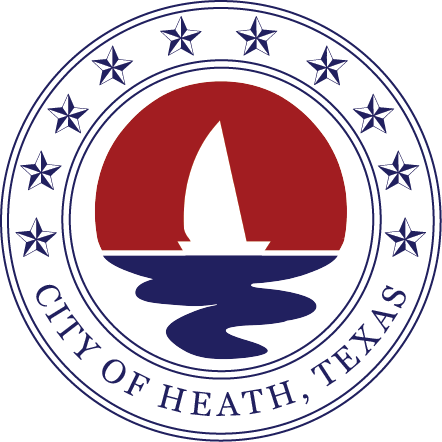 (HEATH, TX – April 24, 2020) The Heath Economic Development Corporation (HEDC) and Heath Municipal Benefits Corporation (HMBC) held an emergency virtual meeting yesterday to provide an update on its actions regarding the Local Business Stimulus program that was approved by the HEDC/HMBC on March 27 and the Heath City Council on April 1.
The program taps up to $500,000 of the HMBC fund to provide monetary relief to businesses within the city that are experiencing financial hardship due to the covid-19 pandemic, particularly restaurants, salons and health care providers. Due to swift action by the HEDC/HMBC board, City staff and a specially-appointed HEDC/HMBC Application Review Sub Committee, 15 businesses have already applied and received financial assistance in the form of forgivable loans in excess of $165,000 to help with costs such as rent, payroll and supplies.
The HEDC/HMBC Application Review Committee, which includes HEDC/HMBC President David Lane, Vice President Vicki Wallace, Past President/Current Board Member Tom Johnson and City Manager Aretha Adams, will continue to meet virtually on a weekly basis to review and take action on applications.
"Our initial focus has been to provide a rapid response to get these businesses through the next 30 days," said President Lane, explaining that criteria for evaluating applications includes length of time in business in Heath, sales taxes paid and how the business was impacted by COVID-19.
"By helping cover expenses today, our long-term goal is to ensure that these valuable businesses are ready and fully operational when allowed to return to a more normalized business, even if we have to provide additional support in the coming 60 to 90 days," he said. "We don't want them to jeopardize the safety of their employees, their customers and our citizens by feeling a pressure to rush back to business in this unpredictable environment. We want them to have the peace of mind of knowing we are still here to help them do the right thing and they have time until more information and data are known about reopening."
Mayor Kelson Elam, who is ex officio of the HEDC/HMBC, echoed Lane's comments during the meeting regarding resuming normal business operations even if allowed to do so by the state or county.
"My memo to our businesses is "Please don't rush to open"," he said.
The Mayor went on to explain that he and Aretha Adams participate in daily conference calls with leaders from the county and surrounding cities, as well as frequent calls with Governor Abbott and city mayors and managers statewide.
"The calls are very productive in sharing information, but there is still a great deal of uncertainty on what the state is going to do regarding lifting Shelter in Place measures, and how that should be interpreted at the county and city levels," Mayor Elam said.
"With an abundance of caution, we followed the math and science into this pandemic by declaring a Local State of Emergency Disaster in Heath as early as March 17," he said. "We will be just as cautious when it comes to re-opening the city. And right now, we are short on data regarding the spread of COVID-19 that I trust."
As a result, a City of Heath COVID-19 Task Force led by Councilmember Frank New has been formed to determine criteria for re-opening and gather data on the virus spread. Possible actions include offering COVID-19 antibody testing for the Heath community as early as the next few weeks. Additionally, all Heath citizens are urged to wear a mask/face covering in public as recommended by the CDC and sanitize their hands frequently to help reduce the spread.
For updates on this effort and other COVID-19 issues, watch www.heathtx.com as well as county, state and national organizations. You can also find a Local Business Stimulus application and information at www.heathtx.com and www.heathedc.com.
"We applaud our talented EDC for this program. Bringing relief to the businesses who have contributed to our community in so many ways from sales tax contributions to quality of life was the right thing to do," said Mayor Kelson Elam, who is ex officio of the HEDC/HMBC.
"It is an absolute success. Our city has been one of the more aggressive in responding with speed, accuracy and funding."
Submitted press release, City of Heath. 
---
---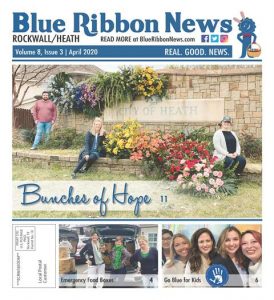 Our print edition is delivered free to ~15,500 homes in Rockwall and Heath, TX.
To share your good news and events, email editor@BlueRibbonNews.com.
Subscribe to our email newsletter here.
Advertising: 214-342-8000 or advertising@BlueRibbonNews.com.