Swing from vines, climb the rock wall, glide through a canopy
(ROCKWALL, TX – June 10, 2020) Do you remember riding a bike for the first time without training wheels? Or mustering up enough courage to jump into the deep end when learning to swim?
There's no doubt that reaching such milestones can help a child build confidence – and teach the resilience needed to tackle even greater challenges. Even as adults, we know how important it is to step outside our comfort zone in order to achieve bigger and better things.
"Faith not fear. That's who we are every day of life, and a lot of the reason we're here," said Dr. Steve Arze, a local emergency physician who recently opened JungleTrek along with his wife, Karrie Ann. "When you have confidence, you can then take on challenges bigger than you ever imagined. We feel that's a life lesson."
Adventure Awaits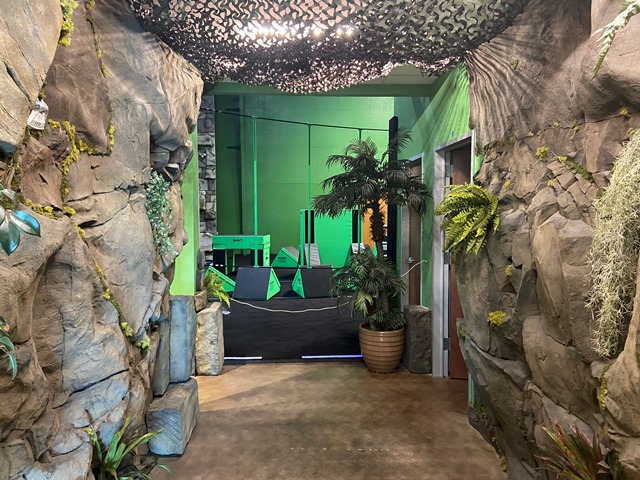 Located at 1505 Airport Road (across from Leon Tuttle Athletic Complex), JungleTrek is a 6,000 sq. ft. adventure center featuring everything from zip lines and rock climbing walls to suspension bridges and a ropes course. Visitors test their abilities, reach new heights, and have fun in a safe, supportive, jungle-themed environment.
Rise Up and Conquer
The Arzes' vision for JungleTrek began when they moved to Rockwall in 2005, when their two young boys became active in Boy Scout Troop 690. The Scouts participated in rock wall climbing and ropes courses – activities that had a profound impact on their confidence levels and development. Now, with a total of five children, the Arzes are able to offer that experience to other families through JungleTrek.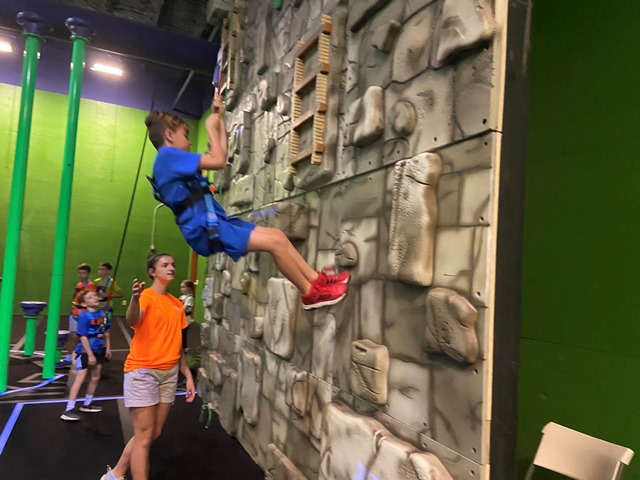 "Our explorers typically range in age from 8 to 13 – but even five-year-olds can do it," explained Ann-Marie Samford, Assistant Manager/Special Events. "As long as you're a minimum of 45 pounds and a max of 250 pounds, you can do it. Our Jungle Guides are teens who work the jungle, helping upper elementary kids on up to adults challenge themselves. People keep coming back because they want to go one step higher, or push themselves to new limits."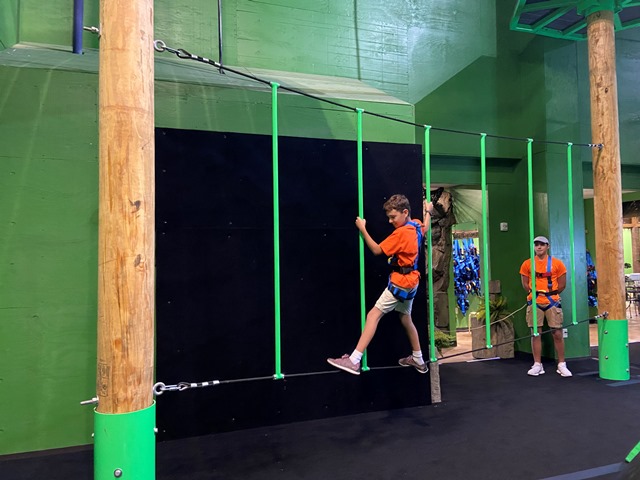 Rylie Canales is one of JungleTrek's Jungle Guides. "It's an awesome time for everyone and there are things kids of all ages can enjoy," she said. Fellow staff member David Antrobus added, "JungleTrek is a place to bring your kids where they can test their limits in a safe environment."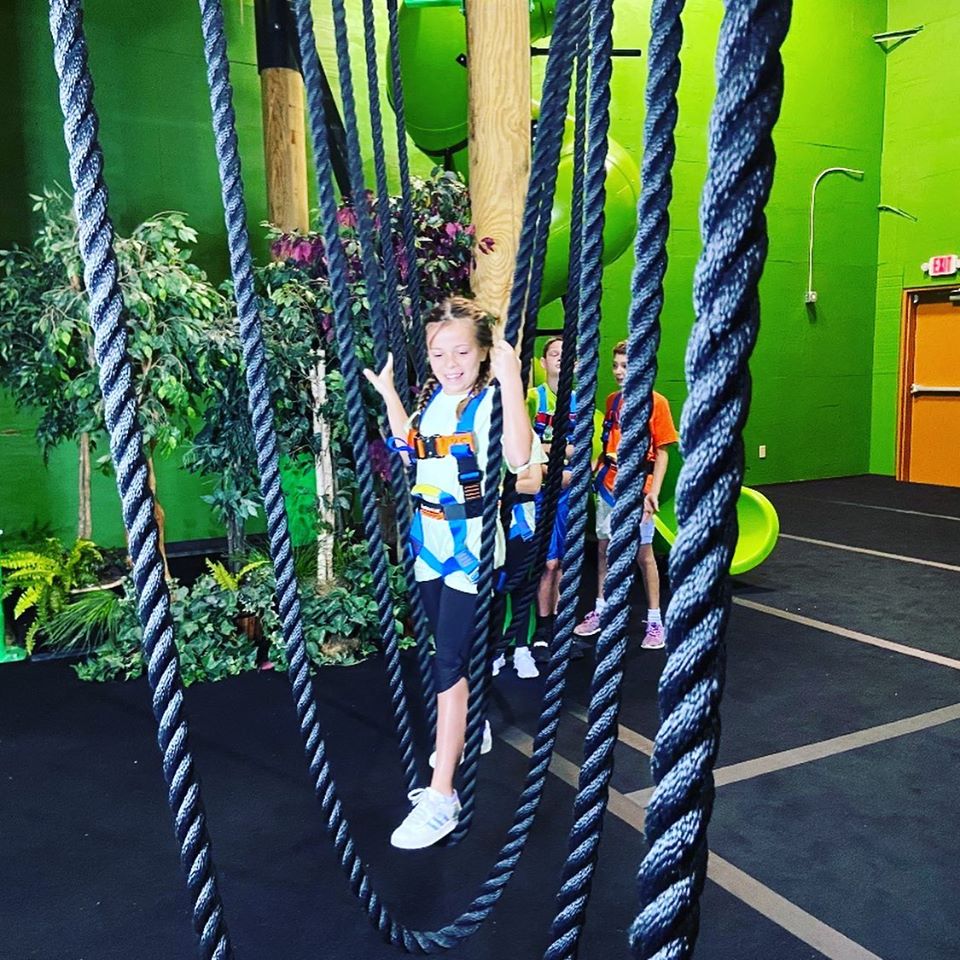 JungleTrek offers a comfortable viewing room with free WiFi for parents, but Moms and Dads are welcome to participate, too.
"It's a family affair. And we're focused on community," Ann-Marie said. Her husband, Kyle, serves as JungleTrek's General Manager.
"At JungleTrek, we believe in encouraging words and high fives – or in these days of COVID-19, fist bumps," Dr. Arze said. "Families make memories and build bonds. Kids find opportunities to challenge themselves. Parents can join in. It's not only fun, but it boosts confidence and self-esteem, as well as physical, emotional and social development."
'Do the hard things…be bold'
As a physician, Dr. Arze emphasizes that safety is their number one priority – so harnesses or other safety devices are used every step of the way.  But he's quick to point out that "safety is not just about not getting hurt; it's about knowing that when you are firmly anchored into something you can trust (ie, a harness), you can now do things that are harder…so do the hard things…be bold."
JungleTrek officially opened its doors to the public on June 1st, following unexpected delays due to the pandemic. They began with jungle tours, but are now welcoming walk-ins, birthday parties, groups, team building and other special events. A ribbon cutting hosted by the Rockwall Area Chamber of Commerce is set for 4:30 to 5:30 p.m. Tuesday, June 30.
JungleTrek's hours are Tuesday through Sunday, noon to 6 p.m. The cost for drop-ins is $15/hour (or $18 for 90 minutes), or ask about their Party Packs. Closed-toe shoes are required (no sandals or crocs). Long hair must be worn up. Visit their website at www.jungletrekrockwall.com to learn more and to sign a waiver before participating.
Sponsored article by Dawn Redig, Blue Ribbon News. 
---
---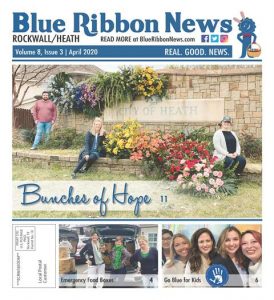 Our print edition is delivered free to ~15,500 homes in Rockwall and Heath, TX.
To share your good news and events, email editor@BlueRibbonNews.com.
Subscribe to our email newsletter here.
Advertising: 214-342-8000 or advertising@BlueRibbonNews.com.