From the Rockwall County Office of Emergency Management
(ROCKWALL COUNTY, TX – June 25, 2020) Rowlett's Health Department has reported five new cases of COVID-19 in the Rockwall County portion of Rowlett. One person is in their 20's. Three people are in their 30's. One person is in their 40's.
Broadmoor Update
Broadmoor Medical Lodge reported one additional case directly to Rockwall County. There is now a total of 72 confirmed cases, 43 residents (26 recovered), 29 staff (27 recovered) and 15 deaths. We have not added this case to our graphic because DSHS has not confirmed it at this time.
Royse City Medical Lodge Update
Royse City Medical Lodge has directly reported ten total cases to Rockwall County. Eight are residents, two are the staff. One of the staff members and two residents have recovered at this time. There are currently seven active cases of COVID-19 in the Royse City Medical Lodge. Rockwall County Emergency Management (RCOEM)worked with the Health Authority to identify how many cases at the Royse City Medical Lodge have been confirmed by DSHS and belong in the Royse City count. The graphic now is consistent on how we depict Broadmoor cases.
Primrose has not received any more COVID-19 cases and will reopen June 29. RCOEM maintains contact with all daycares and long term care facilities and will continue to throughout the pandemic.
Update on information moving forward:
Texas Department of State Health Services (DSHS) is transitioning to the Texas Health Trace system. The DSHS website states that "Texas Health Trace is a data management system that will allow for a coordinated statewide approach to the COVID-19 disease response, including contact tracing. Texas is experiencing an unprecedented burden on its public health infrastructure due to the response needs of COVID-19. Public health approaches to COVID-19 disease response are varied and have been influenced by the authority and resource capacity of public health partners across the state, including Local Public Health Entities and the DSHS Public Health Regions. This variance in approach, while meeting local needs in the short-term, is not a long-term solution to disease management and outbreak detection." https://dshs.texas.gov/tht/
Texas DSHS Region 2/3 Office currently acts as the Rockwall County Health Department. This transition has caused DSHS to delay reporting cases to Rockwall County. Rockwall County Judge David Sweet and RCOEM have constantly been relaying concerns regarding this gap in reporting to the State. We have spent hours fighting to be heard on every level so that Rockwall County will continue to receive updates. Tuesday, the County received information from the Medical Director of Public Health Region 2/3, stating, "DSHS will be able to provide information consistent with what has been provided in the past. DSHS will continue to work to ensure that counties that use DSHS as their health authority receive the reliable information necessary to make leadership decisions and keep residents informed."
Yesterday, Rockwall County received information from DSHS as promised. However, there are large discrepancies in the data from what we have received in the past and it doesn't add up. During a conversation this morning with the DSHS Associate Commissioner for Regional and Local Health Operations, he confirmed that the data was not where it needed to be yet. He stated DSHS is still working to provide counties accurate data moving forward. This inaccurate data is why RCOEM has not reported anything lately. The County simply does not have reliable data to report. We are currently comparing data sets and sources to prevent inaccurate reporting. Some of you noticed a jump of 48 cases on the DSHS dashboard (https://txdshs.maps.arcgis.com/apps/opsdashboard/index.html…). Yesterday (6/24), the DSHS dashboard reported 228 cases, while the last reported Rockwall County total was 264. Since the beginning of the pandemic, the DSHS dashboard has not once coincided with the data DSHS provides to the Local Health Authority that Rockwall County has been utilizing to report. Therefore, based on history, the County cannot assume this information is correct and can not report it as fact.
Rockwall County relies on the information provided to us by DSHS to protect our first responders and for our elected officials to make informed decisions. We also realize our citizens rely on the information to make informed decisions for their businesses and personal choices. Rockwall County is not alone in this battle for information. Many surrounding counties like Kaufman, Ellis, Parker, Wise, and 33 other counties without health departments in DSHS 2/3 are in the same situation http://www.tmhp.com/…/TMP…/Archive/2011/2011TMPPM-11-07.html). County Judge David Sweet and RCOEM are fighting to find solutions. When we do, we will provide these reports for our citizens in a timely and transparent manner as we receive it from DSHS and Texas Health Trace. Please know that RCOEM is a two-person team. We are doing the best we can to reply to Facebook comments and messages while coordinating this pandemic and everything that entails. Please review other posts, comments, and replies that may include the answers to your questions. If you have COVID-19 questions, please call the COVID-19 Call Center: 1-877-570-9779 Hours: 7:00 a.m. – 6:00 p.m., Monday – Friday.
From the Rockwall County Office of Emergency Management
---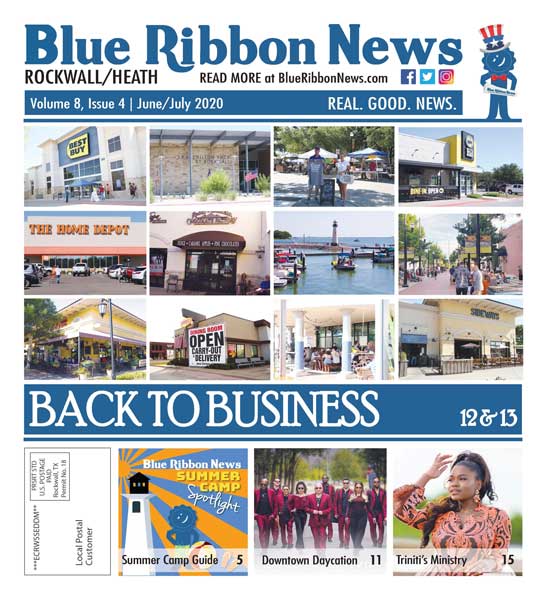 Our print edition is delivered free to ~15,500 homes in Rockwall and Heath, TX.
To share your good news and events, email editor@BlueRibbonNews.com.
Subscribe to our email newsletter here.
Advertising: 214-342-8000 or advertising@BlueRibbonNews.com.