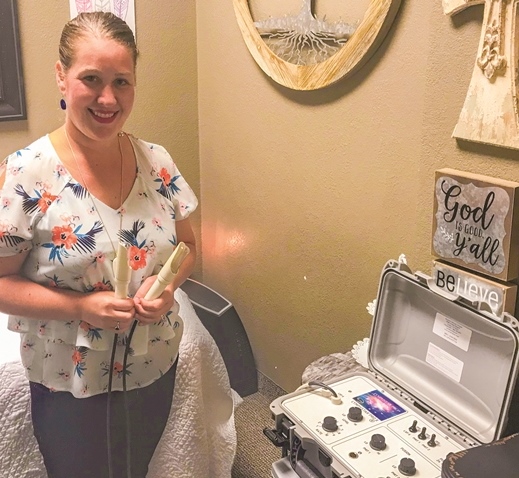 (ROCKWALL, TX – June 22, 2020) For nearly a decade, Rockwall resident Jessica Metts suffered from terrible migraines. She tried a number of treatments to get rid of them, from Botox to acupuncturists to every type of preventative medicine you can imagine. She even underwent surgery during a clinical trial at the Reed Migraine Institute. But nothing she tried ever worked.
When she was introduced to Lymphatic Enhancement Therapy, she immediately felt the positive benefits after her first session. From that day on, she decided she wanted to share her results from the amazing machine with others.  She opened her own practice known as Rockwall Lymphatics, located inside of Well Within Chiropractic and Wellness in Rockwall (2555 Ridge Rd. #150).
As a Certified Lymphatics Enhancement Therapist, Metts now offers folks of all ages soothing, painless and revitalizing sessions to clear up toxins, waste and other unwanted materials in the body through targeting a key component: the lymphatic system. Metts believes Lymphatic Enhancement Therapy may prove to be especially beneficial now as many people seek to improve their overall health and well-being while our nation battles a pandemic. She starts by explaining the basics.
What is the lymphatic system?
The lymphatic system is a network of tissues and organs that transports fluid – known as lymph – that cleanses every single cell and organ in the human body. It's like a "river of life," a pathway for all of the toxins in our bodies to exit from the blood and the spaces between cells.
Think of the lymphatic system as the information highway of your immune system; White blood cells that fight infection travel through the lymph to destroy bacteria, fungi, and viruses within the lymph nodes. Therefore, proper lymph flow is key to maintaining good health.
When the body's lymphatic system gets clogged, the result can lead to a number of health issues, from sinus troubles and frequent headaches to swelling in any parts of the body. Fatigue, chronic pain syndrome, and skin infections can also result from a clogged lymphatic system.
What blocks lymph flow?
Surgeries, injuries, radiation therapy and removal of lymph structures all create scar tissues that can block the flow of the lymphatic system. A number of lifestyle factors can also impair the free flow of lymph. These include tight clothing, lack of exercise, unhealthy food and overeating, electronic and chemical pollution, chronic stress, poor sleep, and hormone mimics from plastics, air pollution, drugs, herbicides, and pesticides.
Benefits of Lymphatic Enhancement Therapy
Using vibrational energy technology, Lymphatic Enhancement Therapy from Rockwall Lymphatics opens up the lymphatic channels in the body, allowing toxins more easily exit and providing numerous benefits to your health, including:
Improving the free flow of lymph, blood and bio-energy throughout the body
Enhancing the release of toxins through the lymphatic system
Reduces swelling, pain and congestion
Making you feel more relaxed and rejuvenated
Muscle toning and strength
Increased resting metabolic rate
Increased flexibility
Increased blood circulation
Decrease in cellulite
How does Lymphatic Enhancement Therapy work?
Lymphatic Enhancement Therapy uses a low-energy vibration that is both safe and relaxing to experience. Unlike manual lymph draining therapy, the therapy at Rockwall Lymphatics is completely contactless, utilizing the FDA-approved technology known as Lymphstar Pro. The machine uses low-energy vibration wands which go over the body and open the flow of the lymphatic system. As the technology's wands goes across the body, it increases the fluid volume and exchange at the site of the lymphatic vessels and the spaces between cells, enhancing the transportation of wastes or toxins out of the body.
Metts said the wands take all the guesswork out of the sessions, pinpointing exactly where the lymph is clogged.
"The way it works is the wands go across the body, and they should go nice and smooth. If they stop or get sticky, that's where there's clogging," Metts said.
According to Metts, the Lymphatic Enhancement Therapy is also six to eight times stronger than manual lymphatic therapy, meaning one visit to Rockwall Lymphatics is likely all you need to start experiencing the positive benefits of a clean lymphatic system. Sessions usually last about an hour (30 minutes for kids), with the patient relaxing on a spa bed the whole time as the wands do their work.
"It's super easy and totally painless," Metts said. "After a session, most people will feel a good burst of energy, because they were able to get rid of the toxins in their body."
Who can benefit from Lymphatic Enhancement Therapy?
The sessions can benefit anyone – males and females – of all ages, but especially those who are experiencing pain/swelling in various parts of the body, or have sinus congestion. Others who can benefit from Lymphatic Enhancement Therapy are those who struggle with stress, headaches, digestive issues, constipation, reoccurring infections, or hormonal imbalance.
To make an appointment, call Jessica Metts at 972-672-6741 or book an session online at www.rockwalllymphatics.net.
Sponsored article by Austin Wells, Blue Ribbon News. Rockwall Lymphatics is a Blue Ribbon News advertiser. 
---
---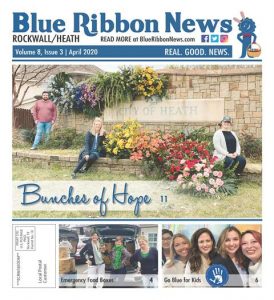 Our print edition is delivered free to ~15,500 homes in Rockwall and Heath, TX.
To share your good news and events, email editor@BlueRibbonNews.com.
Subscribe to our email newsletter here.
Advertising: 214-342-8000 or advertising@BlueRibbonNews.com.