(ROCKWALL, TX — June 9, 2020) So what's being refurbished at Chandlers Landing yacht club? EVERYTHING, according to Chandlers Landing HOA President Evan Matteson. Here's a look at what's in store for the new-look venue at Chandlers Landing known as The Yacht Club.


A Complete Overhaul of the Yacht Club
When the Chandlers Landing yacht club suffered an electrical room fire in October 2019, it required the entire operation to be shut down. The HOA Board started moving towards a complete overhaul for the facility.
Upon walking in the main entrance, you will see brand new restrooms separated by an elevator. On the left will be a cozy soft seating lobby which will serve as a great space for waiting, quick cocktails and appetizers or even a good co-workspace for residents. Lots of natural light will fill the spacious rooms which boast 29-foot-high ceilings. A large double-sided linear fireplace will anchor the entire lobby.
Just beyond the fireplace is the restaurant, which will still house the current bar, only with a new light and bright color palette for the entire room. The Ballroom has been expanded and will include a permanent bar to serve weddings and events.
---
---
Dining with a Picture-Perfect Backdrop
Downstairs there will be a waterfront lounge that will feature a bar, small bites menu and doors that will open onto an outdoor deck – perfect for sitting and watching the beautiful sunsets on the lake! The downstairs area will also include a completely revamped Bride's suite as well as a Small Gatherings room for smaller private dining, board meetings and more. There will also be a Groom's suite which will also serve as a youth game room when not rented for events. All new restrooms, locker rooms and showers will connect through to a future phase of the fitness center.
Interior Designer Courtney Adams is providing the design services to pull the renovations all together, while Mershawn Construction is the build/design firm working all constructions aspects of the project.
"The entire building is getting new glass and doors throughout, new flooring, refreshed light and bright paint and more. Funding for the renovation is being provided by B1 Bank in Heath – Heath's first bank –  and they have been incredible to work with in this process," Matteson said.
What's on the Menu
What kinds of food can folks expect at the new-look yacht club? Matteson said on the menu for dining will include American Fare that is "fun, well executed and consistent."
The Yacht Club will also host regularly programmed special dining events such as Beer Dinners, Wine Dinners, Specialty Wine and Liquor Tastings and Pairings.

More in Store for Chandlers Landing
The Yacht Club renovations are part of a bigger plan to bring updates throughout the Chandlers Landing community. From street signs to landscaping, Matteson said the whole community is in the works.
"The tip of the spear is The Yacht Club but the entire community is in the plan," Matteson said. "We are working on replacing all street signs this year and also identifying landscaping and infrastructure throughout the community that needs to be updated. Lastly, we are looking at tying our many greenbelt spaces throughout into are more walkable network of streets and paths."
Matteson added that the plans to update Chandlers Landing's amenities wouldn't be possible without the support of past Chandlers Landing HOA Board members.
"What most don't realize is that the building, seven tennis courts, pool and nine waterfront acres were sold off in the 1980's by the original developer. It was not until the previous Board moved to purchase and bring it 'back into the fold' three years ago that it paved the way for our current stage. We are so grateful that they made the wise decision to return it officially to our Chandlers Landing amenity set," Matteson said. "We are very excited to reopen this historic facility in a completely revamped way that will prepare the facility for the next 45 years."
An opening date for The Yacht Club is TBD. Stay tuned to BlueRibbonNews.com for more updates as they come available.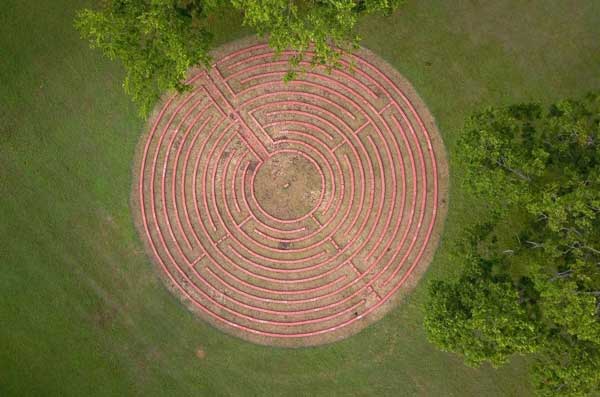 The Labyrinth at Chandlers Landing
The new clubhouse and future community upgrades aren't the only things folks can get excited about in Chandlers Landing.
On May 21st, the community welcomed the unveiling a beautifully designed labyrinth, located across from the Guard House near the entrance of Chandlers and bordering Yacht Club Drive. The Chandlers community joined area residents in walking the new labyrinth and marveling at its design.
What is a Labyrinth?
For those who might be unfamiliar with labyrinths, they're similar to mazes except that a maze is a puzzle where a labyrinth is more like a journey.
A maze often has multiple entrances, exits and dead ends, with different choices of paths and directions. A labyrinth has a single non-branching path which leads to the center and exits back the same direction, with only one entrance/exit.


A Labor-inth of Love
The Labyrinth at Chandlers Landing is the hard work and realization of several community residents and volunteers, including Holy Trinity by the Lake Episcopal Church of Heath member Herb Moltzan and his wife Jan Moltzan, a licensed labyrinth facilitator with the international labyrinth organization known as Veriditas; graphic artist Linda Oistad and her husband Erik Oistad, an engineer who designed the Labyrinth at Chandler's Landing; and community resident Jan Self.
Seeing the Labyrinth at Chandler's Landing come to fruition fulfills a longtime dream of Self, who frequently walks the labyrinth painted on the back parking lot of Holy Trinity, as well as other labyrinths she seeks out or comes across round the state.
"It has long been a hope of mine to create a labyrinth within the Chandlers Landing community. I know the labyrinth will be a valued contribution to the amenities of Chandlers Landing.  People will use it for the fun of it, mental clearing, meditation, prayer, whatever strikes one's fancy," Self said.
Donations and Dedication
Donations are currently being sought to help fund nice benches, signage and landscape vegetation. Linda Oistad has plans to design an elaborate center motif – a compass rose and the Chandlers Landing burgee in the middle – for the labyrinth. It will be done as a mosaic atop a concrete base.
A dedication ceremony is also planned for the new labyrinth. Stay tuned for more details.
By Austin Wells, Blue Ribbon News. Courtesy video and photos.
---
---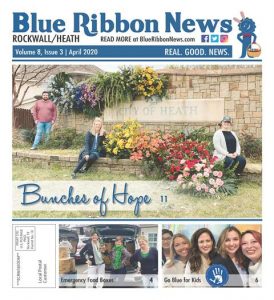 Our print edition is delivered free to ~15,500 homes in Rockwall and Heath, TX.
To share your good news and events, email editor@BlueRibbonNews.com.
Subscribe to our email newsletter here.
Advertising: 214-342-8000 or advertising@BlueRibbonNews.com.