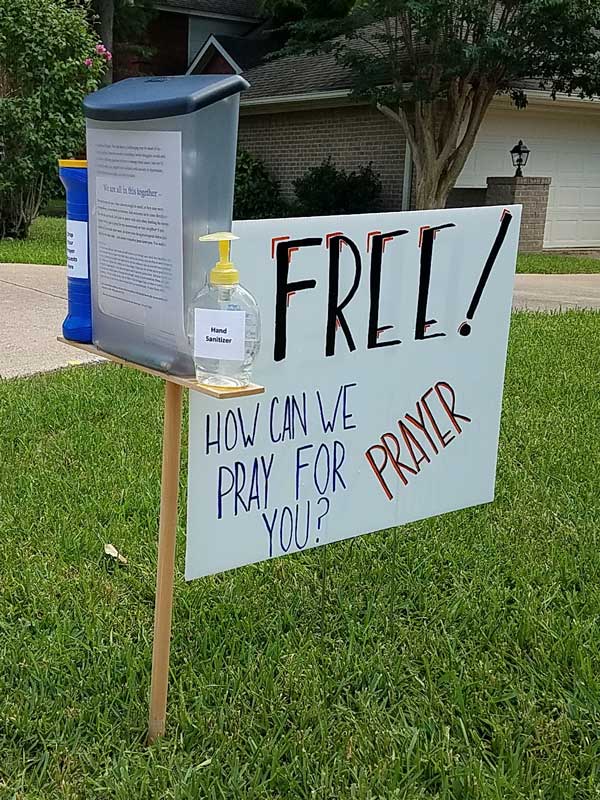 (ROCKWALL, TX — July 13, 2020) Back in April when the COVID-19 pandemic started forcing many to quarantine in their homes, Rockwall resident Rhonda Moore was called by her faith to create a flyer box offering those in her neighborhood the gift of prayer during the hardship and uncertainty surrounding the virus. The box encourages folks in the area to take a flyer with a designated space to jot down their thoughts and prayer requests (anonymously if they don't wish to include their names), and drop them in the blue tube next to the flyer box.
One afternoon, local Geoffrey Lyons was on a jog through Rhonda's neighborhood (Lakeridge Park) when he came across Rhonda's prayer box. He was so moved by the gesture, that he shared a post about it on his Facebook page. The post garnered a lot of love and encouragement for Rhonda, and has since become a beacon of hope in these trying days of COVID-19.
---
---
Rhonda moved to Texas in 2009 from Mobile, Alabama, and lived in Lewisville and Grapevine prior to finding a home here in Rockwall. She has worked for Texas Health Resources in Clinical IT for the past 11 years. Although she's still a member of her old church, she is also a regular attendee at Ridgeview Church in Rockwall.
Blue Ribbon News recently caught up with Rhonda to learn more about what inspired her to create the prayer box set up outside her home in Rockwall.
What brought about the idea to create a neighborhood prayer box?
It came to me while I was walking past so many homes of neighbors I didn't know, that there might be some people who were feeling lonely, isolated or fearful of going out. As a single person I was one of those who was often feeling lonely during the first part of the pandemic. It came heavy on my heart that I should do something to remind my neighbors who were in that same situation that they were not alone, that there were others in the neighborhood who cared and realized we are all going through this struggle. I heard an ad on the radio about National Day of Prayer coming on the first Thursday in May. So I thought I'd put a little flyer box out to encourage others to pray for the community on National Day of Prayer. That's where it started, and a neighbor said that would be a good idea year-round.
I have a friend, Janet Guzman, who lives out in Frisco but often comes to visit my neighborhood. I was struggling with creating a sign for the prayer box, because I'm not very crafty. I bounced some ideas off of my mom and Janet, and they were able to come up with the sign for the box.
How was the prayer box initially received by everyone once you created the flyers and put up the box?
I wasn't really sure how it would be perceived in the neighborhood. It was just one of those things where I felt that God had a purpose for telling me that I needed to do this. Even if it only reached one person I felt like it would serve its purpose. But to my surprise it reached more than just one person [laughs].
An interesting prayer request I received was a young man doing construction in the neighborhood.  He stopped by while I was out trimming trees and shared his story then allowed me to pray with him.  He is a new Christian and was missing the fellowship and growth at church during the stay at home orders.  The timing was great because I had just discovered some baby birds in a nest with a very protective mama bird coming to feed her babies.  So it was a neat illustration of God protecting and feeding us even in the midst of trouble.
Tell us about that very positive post on Facebook from Geoffrey Lyons when he came upon your prayer box. We noticed that it got a lot of positive attention from folks, including Dodie's Cajun Diner at The Harbor General Manager Dan Keils, who was so moved by the post and your prayer box that he provided you and Geoffrey with a complimentary meal at his restaurant!
I was really excited that it had made such an impact on them and that they were so encouraged by it, and that Geoffrey's post had been noticed by so many other people. I thought, wow, God really does have a way of taking a small thing and using it for something bigger than we would ever expect. It's a cool way to grow in your faith, to see something so small have such a big impact on others. It helps you to see that God has a plan and a purpose; You just have to listen and follow.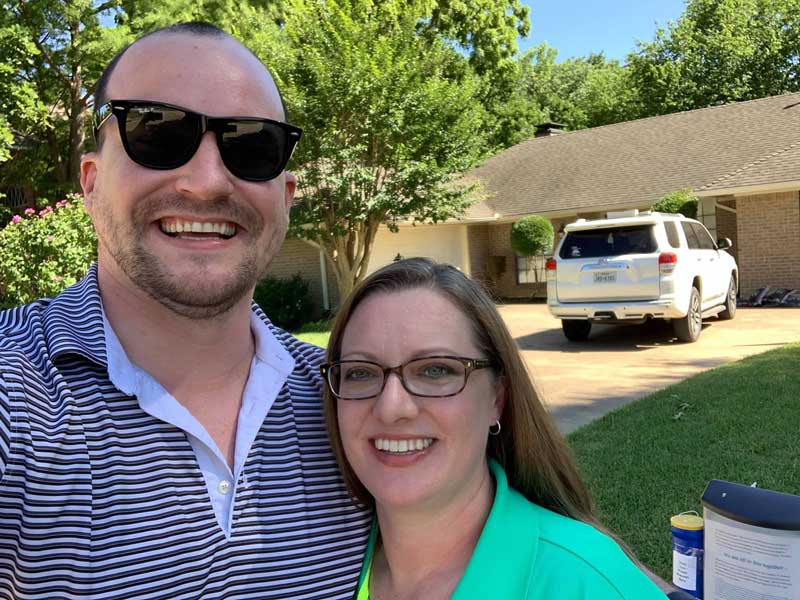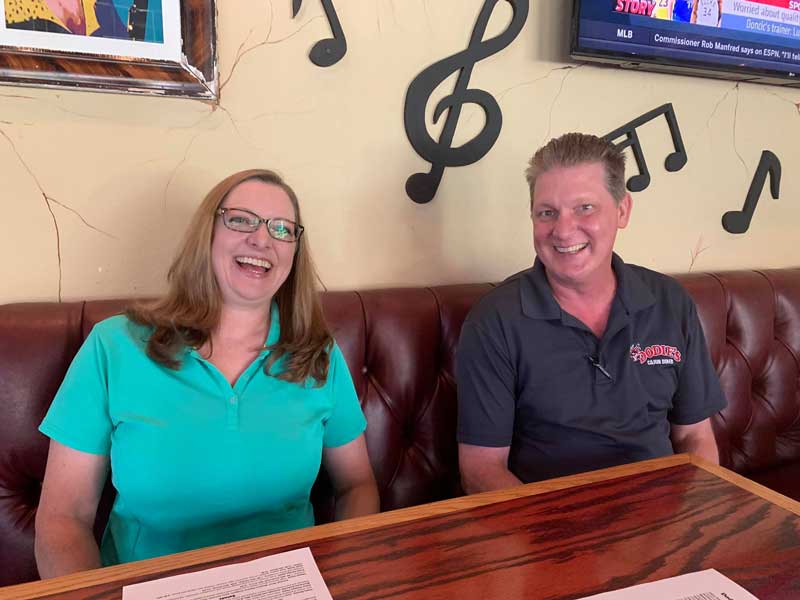 What has it meant for you to be able to help others in their time of need?
When we trust a call from God with what might seem like a small task, even putting a little box in the front yard, we get to watch Him use it in a much bigger way than we expect.  What a great way to grow in our faith!  And I've been able to meet some really incredible people in our community that I wouldn't have met otherwise.
We hear you're an avid cyclist – can you tell us more about that?
I love riding my road bike. I've been cycling since 2011. I usually do 30- to 40-mile solo rides here in Rockwall and out to Royse City or Caddo Mills.  And I still ride with a group I've been riding with for years, Bike Friendly Mid Cities, out of North Richland Hills.  I've worked for Texas Health Resources in Clinical IT since 2009.  Our hospital in Flower Mound has a cycling team.  I still meet up with those guys for cycling rallies around North Texas a few times a year.
What other hobbies do you enjoy?
I enjoy cycling the most but I also enjoy taking my kayak out on Lake Ray Hubbard.  It's relaxing and much cooler exercise than being on the bike in this heat.  Another little pastime is volunteering with a giant breed dog rescue out of Colorado, BDHP.  We work with all types of Mastiffs, Great Danes, Newfoundlands, Great Pyrenees.  I mostly do transports, helping get the gentle giants to their new home or foster home.
Photos courtesy of Rhonda Moore.
---
---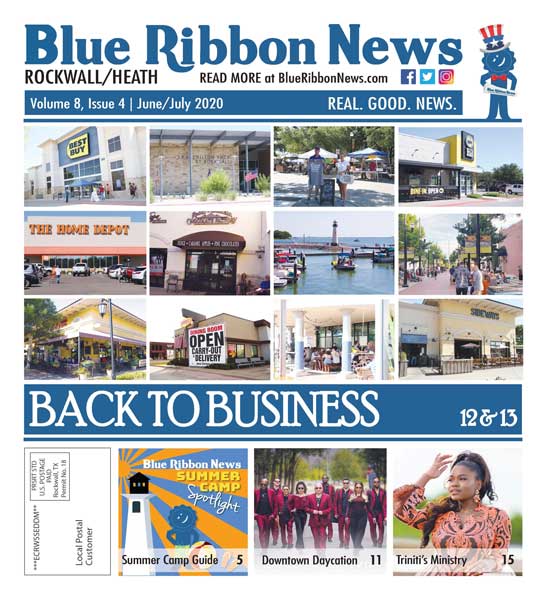 Our print edition is delivered free to ~15,500 homes in Rockwall and Heath, TX.
To share your good news and events, email editor@BlueRibbonNews.com.
Subscribe to our email newsletter here.
Advertising: 214-342-8000 or advertising@BlueRibbonNews.com.