The 20-year-old flower shop is now serving customers at 506 N Goliad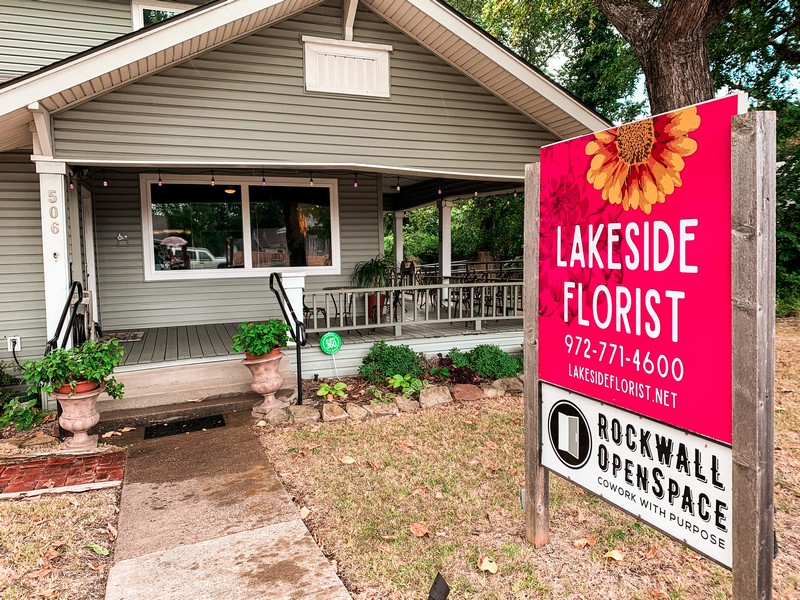 ROCKWALL, TX – September 2, 2020 — Lakeside Florist has provided fresh flowers and service with a smile to the Rockwall community since Tommie Wells opened her business in the year 2000. This summer, she celebrated their move to a new location at 506 N Goliad, near Downtown Rockwall.
The flower shop is located in the building that previously hosted Tea Spot and The Life House. It's a major upgrade in space, and it has allowed the Lakeside Florist team to provide their customers with new services and products.
"It's a dream come true to be so close to the square," Tommie said.
---
---
Tommie's son Preston Wells, who joined the family business after he completed college, said he is most excited to begin hosting community events in the new space.
"I'm excited about being close to downtown," Preston said. "There are always great activities happening in the square—it's fun to be a part of that.  Also I'm excited about the space we have and what it will allow us to bring to the community. I feel there's so much opportunity for us at this location."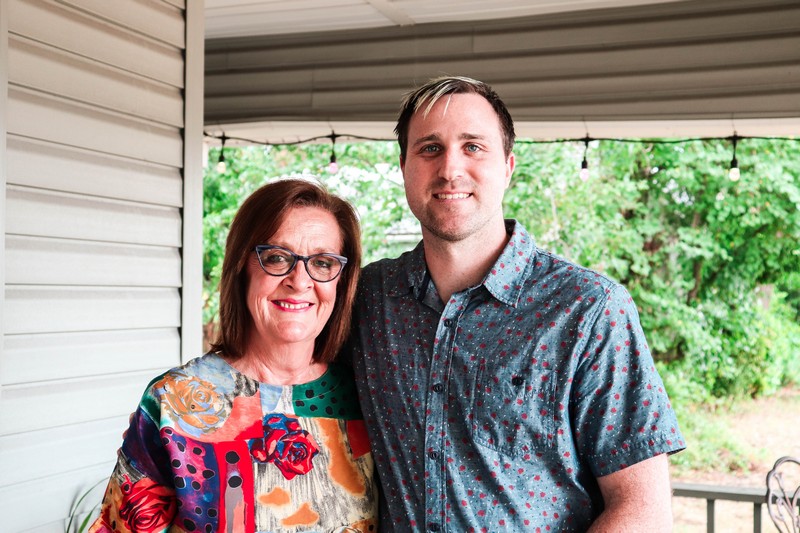 Over the past two decades, Tommie and Preston have worked as a team to establish their family business as a staple in the Rockwall community. But when Tommie first opened her doors 20 years ago, she had to quickly learn on her feet how to logically run a business and creatively design floral arrangements like a pro.
"I didn't have any business background when I first started," Tommie said. "But I was determined to learn."
Tommie's love for flowers and plants has been lifelong. It prompted her to start hosting plant parties in homes and design with dried flowers for craft shows in the 90s. And it was that passion that prompted her to take a chance and start her own business.
"The love for plants must have been inside of me all along," Tommie said. "Plants are soothing: it is good for the soul to see God's handiwork in their beauty."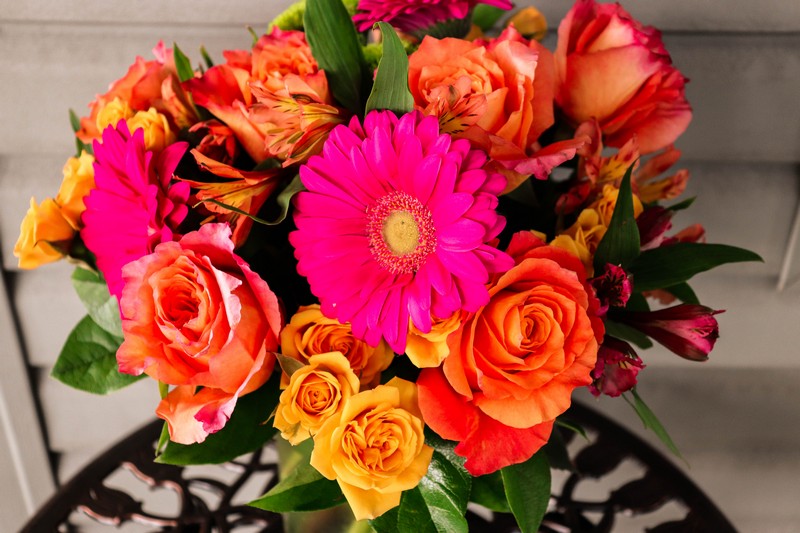 In 2000, Tommie purchased a flower and gift shop called Kris's Kreations located in the Steinmart parking lot. She changed the name to Lakeside Florist, and her crash course in business ownership began. When her son Preston decided to join the team a year after he finished his Bachelor's degree, Tommie said she warned him how difficult the work could be.
"I wanted to make sure he knew how hard it was," Tommie said. "I asked him several times: 'Are you sure?' But once I could tell he was serious about it, I was so excited to have someone to continue this legacy."
Preston was not deterred by the prospect of hard work. He had always enjoyed working alongside his family.
"I grew up in the business, helping out after school," Preston said. "It became a great creative outlet for me, and I wanted it to stay in the family. I consider myself lucky to get to see my parents every day. I get to learn from my mother how to run a business, and we get to catch up on what's going on in our lives."
"It's been really rewarding to see him grow," Tommie said.
One of the most recent challenges the Wells family faced together was staying in business throughout the COVID-19 pandemic. As customers stayed home and quarantined with their families this spring, many small businesses suffered. But what came as a pleasant surprise to the Lakeside Florist team was that the community continued to support them.
"At first I wasn't sure whether we would make it when the pandemic started," Preston said. "We found out quickly that flowers are a necessity for everyone's sanity during this difficult and uncertain time period. As it turns out, I'd say we've had a tremendous impact on the community as a whole because we're bringing a little bit of sunshine to people's lives, lifting up their spirits in the process."
---
---
"I've tried to focus on faith over fear," Tommie said. "I have tried not to let myself be overcome by worries. Our business has been blessed by this community, and I'm very thankful."
Tommie said that she believes flowers are a powerful tool for connection. When words fail us (or a global pandemic keeps us apart), sending flowers can communicate love and encouragement.
"I think sometimes we want to reach out and let people know we are thinking about them, but maybe we don't have the words," Tommie said. "Sending someone flowers demonstrates that we care about them."
Now customers can send their bouquets full of love from inside Lakeside Florist's new location – and they can stay for a while too. The new shop has its own inviting front porch, plus a comfy consultation room.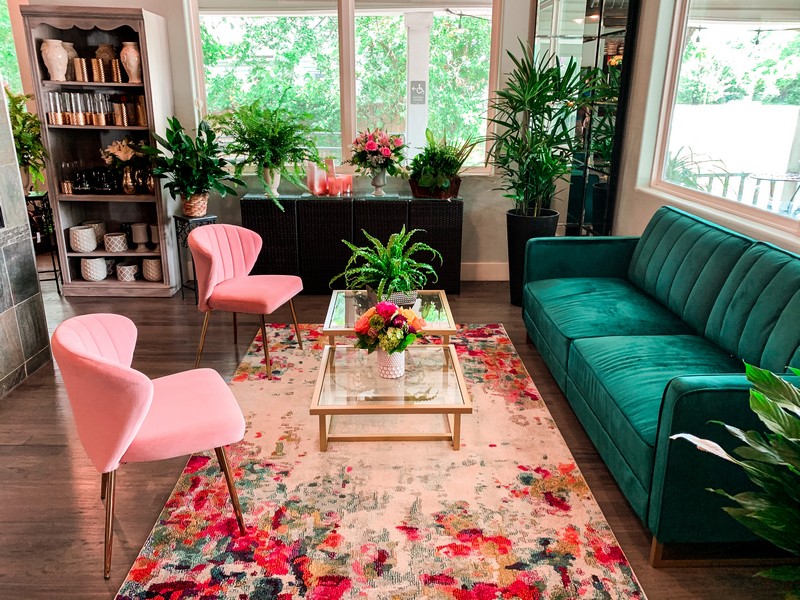 The Lakeside Florist team frequently assists teenagers putting together corsages and homecoming mums for their first school dance, comforts grieving families as they select funeral flowers, and envisions the perfect wedding wonderland for blushing brides. They wanted to provide a space where they could support customers with flowers for every season of life.
Their new location also features a fresh flower bar, where they plan to host (socially distanced) floral design classes for bachelorette parties, teambuilding events, or groups of friends.
In addition to all of the flora for sale, customers can find locally-sourced gourmet food products for gift baskets (or simply for their own kitchens).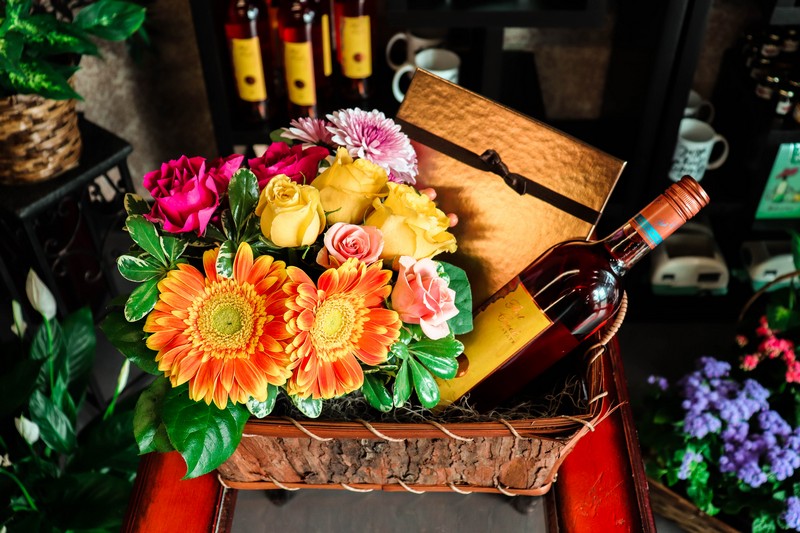 "We are trying to keep all of our products Texas-based and as local as possible," Tommie said. "We want to work with as many local vendors as we possibly can."
The new food market will include popular Rockwallian-owned Sterling Tea products, wine from Texas Hill Country vineyards, popcorn from Wylie, toffee from Richardson, and meal kits from Plano, just to name a few. While traditional gift basket goodies like gourmet chocolates have already become customer favorites over the past few years, new products like olive oil, jam, and beer nuts will make their debut in the product lineup.
In addition to giving her customers a wider variety of options, Tommie feels passionate about providing local creators with their own storefront inside the Lakeside Florist market. Since the Rockwall community has been so supportive to her family, she wants to return that kindness.
"What I love most about the Rockwall community is that they genuinely want to support local businesses," Tommie said.
"As a whole, Rockwall is a friendly place," Preston said. "We all look out for each other, which gives it a small town vibe, even though we're one of the fastest growing counties in Texas. I love that people support local businesses more than anything.  We're proud to be Texan and we're proud to call ourselves Rockwallians!"
In honor of their 20th anniversary this year and their new location, Tommie and Preston plan to host a Fall Anniversary Celebration on September 18-19. They will be stocked up with fresh fall flowers, and they will offer special bargains, door prizes, and new products from local vendors.
To learn more about their upcoming event, follow Lakeside Florist on Facebook and Instagram. To order flowers for any occasion, visit their new storefront at 506 N Goliad, call 972-771-4600, or visit their website www.lakesideflorist.net.
Story and photos by Julie Anne Wells.
---
---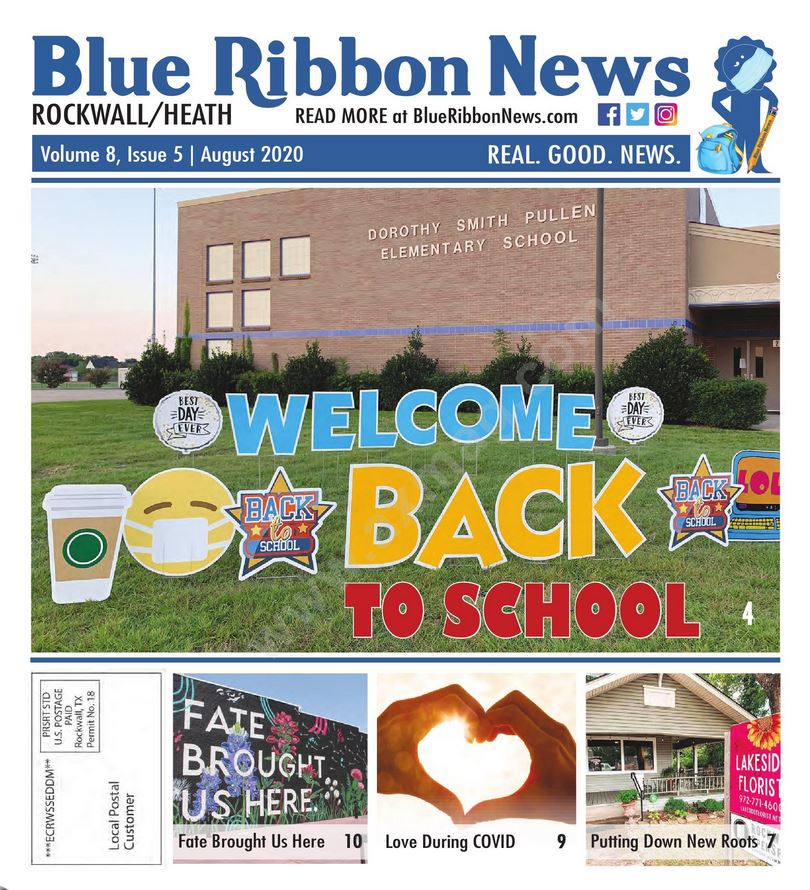 Our print edition is delivered free to ~15,500 homes in Rockwall and Heath, TX.
To share your good news and events, email editor@BlueRibbonNews.com.
Subscribe to our email newsletter here.
Advertising: 214-342-8000 or advertising@BlueRibbonNews.com.