ROCKWALL, TX (September 21, 2020) The Rockwall ISD Board of Trustees held their monthly meeting on Monday, September 21. Here is a summary.
NOTE: Board meeting summaries highlight different agenda items due to limited audience opportunities at Board meetings as a result of the COVID-19 pandemic. Board meeting videos are available for viewing within 24-hours of the meeting at www.rockwallisd.com. 
Board Recognizes National Merit Semifinalists
The Board of Trustees recognized Rockwall-Heath High School students Isabelle Baumler, Chloe Holliman, and Elise Sibley. They were recently named National Merit Scholarship semifinalists by the National Merit Scholarship Corporation. The recognition video can be seen on the Rockwall ISD social media.
More than 1.5 million students across the country took the qualifying test, and only 16,000 qualified for this high honor, placing the three Rockwall-Heath High School students in the top 1% of all students in the nation.
There are three types of National Merit Scholarships: 2,500 National Merit Scholarships of $2,500; 1,000 corporate-sponsored Merit Scholarship awards; and 4,100 college-sponsored Merit Scholarship awards from approximately 180 colleges and universities. National Merit Scholarship winners will be announced beginning April 2021.
School Start Instructional Update
District leadership presented a School Start Instructional progress report to the Board of Trustees. Highlights of the report include:
Dr. Mary Johnston, Chief Academic Officer of Elementary Schools, reported 3,163 elementary students in remote learning with 130 remote core teachers while 5,410 students are in-person learning with 293 in-person core teachers. A video of the remote and in-person teachers was shown as an example of staff collaboration and learning opportunities through a daily mix of synchronous and asynchronous instruction while parallel to the in-person experience.
Dr. Amy Ellis, Chief Curriculum & Instruction Officer, showed a video of Middle School and High School teachers as an example of the balance and challenge of simultaneously providing two learning models. Ellis reported teachers are instructing in-person students with all learning materials housed in Canvas to prepare them for the possibility of quarantine. In addition, each teacher provides live assistance hours for remote learners to answer questions about lessons and assignments. Remote Wednesdays are a time for students to receive synchronous learning and small group assistance while providing time for students to interact live with their classmates and teacher as a whole group in a community of learners. High School principals, campus leadership teams, including the College & Career Academy, and the campus Instructional Technology staff and the District Technology Department, are continued to focus on continuously improving synchronous instruction for students. Teachers will receive additional support from the Instructional Technology staff, assisting them in the process.
Board Votes Down RCAD Construction Proposal
The Rockwall Central Appraisal District submitted a revised and reduced annual cost to the District for a construction project they proposed earlier this month at the Board of Trustees work session. After discussing the revised request, the Board of Trustees voted down the project.  According to the RCAD representative, they will continue to present their construction plan to local governmental entities for approval. If approved by nine of 11 other taxing entities, Rockwall ISD would be financially committed even though the Rockwall ISD Board of Trustees voted down the proposal.
The RCAD project, funded by every taxing entity in Rockwall County – with the majority percentage from RISD –would construct an addition to the existing appraisal office, renovate the present appraisal office, and expand the parking lot. The District's revised annual cost is now estimated to be $92,905, down from $134,097 presented earlier this month. The RCAD will directly contribute $912,548 from their capital budget, a change from the previous month's presentation. A 20-year loan would fund the project. The Texas Tax Code, section 6.05, "authorizes the Board of Directors of an appraisal district to purchase or lease real property, construct or renovate a building or other improvements as necessary to establish and operate the appraisal office, with the approval of its taxing units."
Submitted press release, edited for publication in Blue Ribbon News. 
RELATED NEWS
Three Rockwall-Heath High School students named National Merit Scholarship semifinalists
---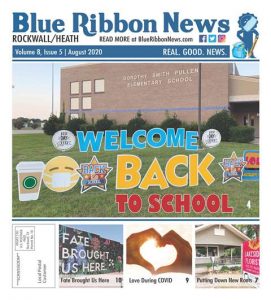 Our print edition is delivered free to ~15,500 homes in Rockwall and Heath, TX.
To share your good news and events, email editor@BlueRibbonNews.com.
Subscribe to our email newsletter here.
Advertising: 214-342-8000 or advertising@BlueRibbonNews.com.