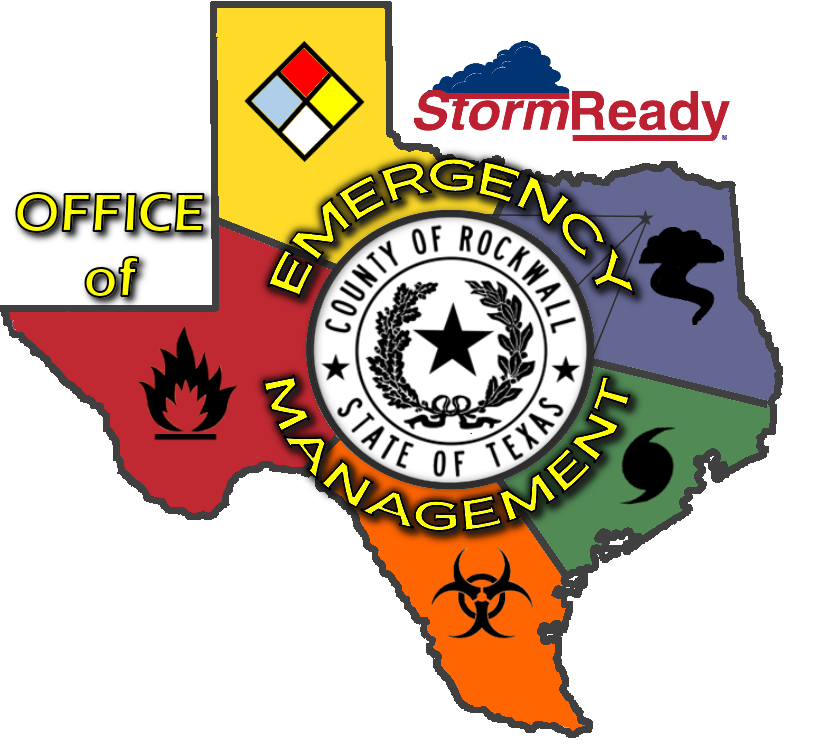 ROCKWALL, TX – Nov. 23, 2020 – With COVID-19 cases on the rapid rise once again, holiday celebrations will likely look a little different this year as we aim to flatten the curve.
According to the latest numbers from the Rockwall County Office of Emergency Management (RCOEM) COVID Dashboard, there are a total of 2,433 cumulative cases in the county, with 216 estimated active cases and 34 confirmed fatalities. To view the latest numbers on the dashboard, visit www.rockwallcountytexas.com and look for COVID-19 Information at the top of the page.
"All indicators convey increasing COVID-19 activity in Rockwall County," said RCOEM Coordinator Barbara Neville. "Those hospitalized with COVID-19 in Rockwall County hospitals have surpassed the historic high of 41 that we saw on July 7th." As of Nov. 16, a total of 55 people were being treated in county hospitals for COVID, with 11 in the ICU.
With the rising spread of cases both locally and abroad, the RCOEM emphasizes the importance of remaining vigilant in keeping socially distant (at least six feet apart from others) and wearing masks whenever possible, especially when indoors and around other people as many will likely be during the holidays. Use this resource to help you determine how many people should be in your home for the holidays: https://covid.trendyminds.com/capacity/.
To minimize the spread of COVID, Rockwall County Local Health Authority Dr. Jamie Metcalf Kelly urges people to think outside the box when it comes to celebrating with family this holiday season.
"In this time of COVID, the single most important thing we can do for ourselves, our families and our community, is to find creative ways to spend time together that are not in group settings over the holidays," Kelly said.
Back-to-school guidelines for after the holiday break
To help minimize the impact of COVID in schools when class resumes after the holidays, the RCOEM strongly recommends that parents screen their children for COVID-19 before they return to school. This includes taking their temperature daily during the first week back to school. The U.S. Centers for Disease Control and Prevention lists fever as one criterion for COVID-19 screening, and considers a person to have a fever if their temperature reads 100.4 or higher.
According to the numbers from Rockwall ISD's COVID-19 dashboards, the uptick in positive cases across all age groups reflect that kids and adults alike are susceptible to contracting the virus.
"We are seeing increases in positive cases in all ages. This virus simply doesn't discriminate based on age," said Rockwall County Judge David Sweet. "I strongly encourage people to not let their guard down as we enter into the Thanksgiving and Christmas holidays."
Traveling over the holidays
The holiday season often sees an increase in travel as families seek to spend Thanksgiving, Christmas, and New Year's together. However, according to the CDC, travel increases the risk of getting and spreading the virus that causes COVID-19, and therefore strongly emphasizes that staying at home is the best method of protection for you and your loved ones against the virus. The CDC advises those who are sick or have been around someone with COVID-19 in the last 14 days to avoid traveling and stay at home.
For those planning to travel over the holidays, the CDC recommends taking the following guidelines into consideration to minimize the risk of getting and spreading COVID-19:
Check each state's COVID-19 cases within the last seven days
Do you live with someone who might be at increased risk for severe illness from COVID-19? If you catch the virus while traveling you could infect loved ones upon your return, even if you're asymptomatic
Are you at increased risk for severe illness from COVID-19? While anyone can get extremely ill from catching the virus, the elderly and those with certain underlying medical conditions are more likely to experience the more severe symptoms of COVID-19.
Does your destination have restrictions or requirements for travelers? Some states require those who have recently traveled to quarantine at home for 14 days. Be sure to check state and local public health websites for more information before you travel. If traveling internationally, check your destination's Office of Foreign Affairs or Ministry of Health for details about travel restrictions and protocols due to COVID-19.
The CDC strongly recommends travelers wear face masks at all times while on public transportation.

Free COVID testing for all
FREE COVID-19 testing is available to the public at Lakepointe Church (701 E Interstate 30). The test site is open Mon.-Fri. from 9 a.m. to 5 p.m.; Sat. from 9 a.m. to 4 p.m.; and Sun. from 1 p.m. to 4 p.m.
An additional test site is now available at Royse City ISD, 700 FM 2642 in Royse City, 75189. Hours are 9 a.m. to 5 p.m. Monday through Friday but may vary.
There are no requirements to get tested, and registering to receive a test is easy – just visit GoGetTested.com. Test results will be made available to you within 48 to 96 hours. Positive results receive a medical consultation from a provider. Remember test result accuracy is directly correlated with the amount of days since exposure. You will receive the most accurate test result from a COVID-19 test if you wait five days after exposure before being tested.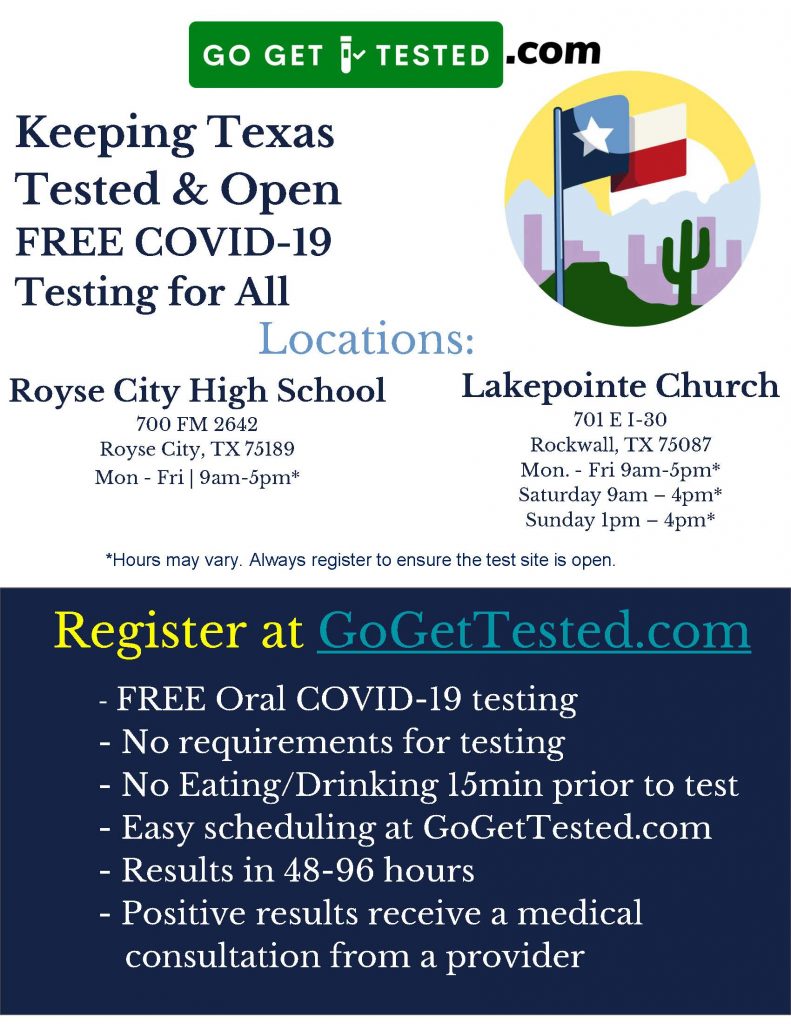 By Austin Wells, as published in our November/December 2020 holiday print edition.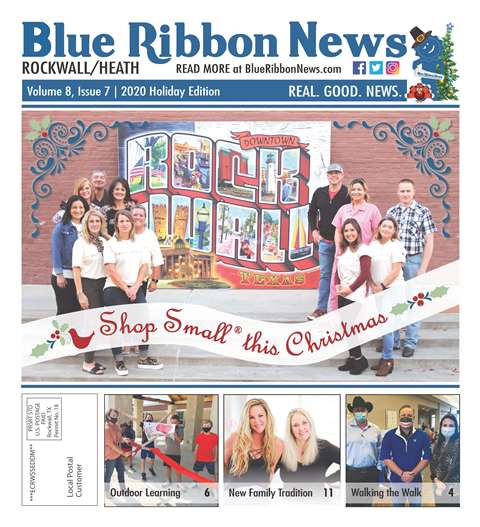 Our print edition is delivered free to ~15,500 homes in Rockwall and Heath, TX.
To share your good news and events, email editor@BlueRibbonNews.com.
Subscribe to our email newsletter here.
Advertising: 214-342-8000 or advertising@BlueRibbonNews.com.