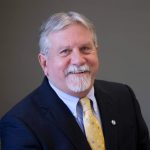 This year has been the one most challenging for all of us on this City Council. I know we have all thought, "When will it end?" In a few days we will celebrate Christmas, and for Christians it is a time for rebirth and reexamination of our lives and how we live our lives.
We have lost friends and fellow residents of our great community to illness and other equally horrible tragedies. We have faced many challenges both in our private lives as well as our public lives. We have been called upon to make decisions that we were never trained to make and have found that no one had the answers we sought. Through it all, we have persevered.
This Council has made difficult decisions in the face of tremendous disagreement in our community. We have had disagreements among ourselves and have cast votes as we saw fit. I know that each and every vote was carefully thought out and was cast in attempt to do what was right for our City, and for that, I am extremely proud.
The City staff has been outstanding in dealing with challenges for our employees and the public. The difficulties in dealing with this pandemic, in a customer service business, seemed insurmountable. They stepped up to the plate and acted with dignity and compassion for our citizens and their fellow workers. We all will continue to rise to meet whatever challenges get thrown at us.
On behalf of your City Council and the great employees of our City, we wish all of you a Merry Christmas and a most welcomed and Happy New Year.
Jim Pruitt
Rockwall Mayor
Submitted press release.